5 Best 4K Video Editing Software for Mac and Windows
4K video editing software is a must-have for anyone who wants to create high-quality videos. With the advent of 4K technology, video editing software has become more advanced and sophisticated. In this article, we will discuss the top 5 video editing software for Mac and Windows that support 4K video editing. These software programs are designed to help you create stunning videos with high resolution and clarity. Whether you're a professional or an amateur, there's a program out there that will suit your needs.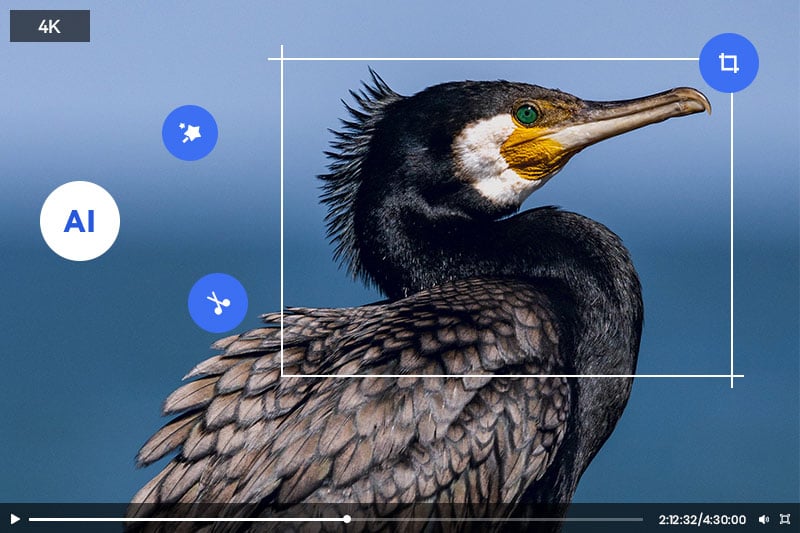 ---
Part 1: What is 4K video?
4K video is a type of video that has a resolution of 3840 x 2160 pixels, which is four times the resolution of Full HD (1080p). It is designed to handle large file sizes and high-resolution footage. 4K video provides more leeway when zeroing in on a close-up and can help you avoid jump cuts while editing. Stabilizing, creating effects, stretching, and repositioning video becomes easier with pixel-by-pixel clarity. Plus, with 8K already becoming the norm for professional videos, shooting and editing 4K will future-proof your content better than lower resolutions can.
Here are some key characteristics of 4K video:
Resolution: 4K video has a significantly higher resolution compared to HD video, which typically has a resolution of 1920 x 1080 pixels. This higher resolution results in sharper and more detailed images.
Clarity: Because of the increased pixel count, 4K video offers exceptional clarity and visual fidelity. It's especially noticeable when viewed on larger screens, where the increased detail becomes more apparent.
Color Depth: 4K video often supports higher color depth and a wider color gamut, allowing for more vibrant and lifelike colors.
Crispness: The increased resolution makes objects and details in the video appear crisper and more defined, which is particularly valuable for applications like video editing, professional filmmaking, and broadcasting.
Scaling: 4K video can be downscaled to lower resolutions (e.g., HD or Full HD) without losing quality, which is useful for distribution on devices or platforms that do not support 4K playback.
---
Part 2: 5 Best 4K Video Editing Software for Mac and Windows
1. Adobe Premiere Pro - The industry standard, best for professionals
Adobe Premiere Pro is the industry's go-to video editing software, renowned for its proficiency in handling 4K and UHD video content. It offers a comprehensive toolkit for precise video editing, color grading, audio refinement, and visual effects, ensuring exceptional quality and creativity in 4K projects. Seamlessly integrated with Adobe Creative Cloud, it streamlines the workflow, making it the preferred choice of professionals for crafting high-quality, immersive 4K videos across various media platforms.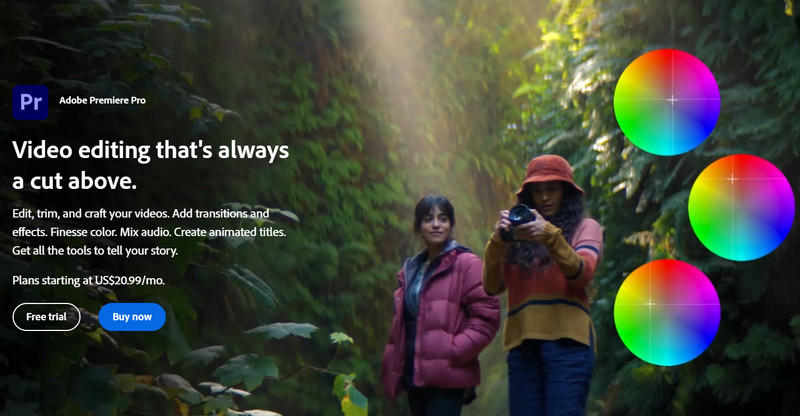 Features:
Adobe Premiere Pro is the industry standard for video editing
It boasts advanced color grading tools
Seamlessly integrates with other Adobe Creative Cloud apps
Supports 360-degree and VR video editing
Receives regular updates with new features and enhancements
Pros:
It's a powerful and versatile software
Offers extensive plugin support for added functionality
Collaboration features facilitate teamwork
Ideal for professionals and demanding projects
Cons:
Comes with a steeper learning curve
Subscription-based pricing model
---
2. Final Cut Pro X - Exclusive to Mac, user-friendly, and powerful
Final Cut Pro X is a premium video editing software tailored exclusively for Mac users, setting the industry standard for 4K and high-resolution video editing. Known for its powerful features and intuitive interface, it seamlessly handles native 4K footage, enabling efficient editing, color grading, and audio enhancement. With advanced tools, including support for HDR and Wide Color Gamut, Final Cut Pro X empowers both novice and professional editors to craft visually stunning videos. Its deep integration with the Apple ecosystem, lightning-fast performance, and one-time purchase model make it a top choice for Mac-based video creators seeking precision and creativity in their projects.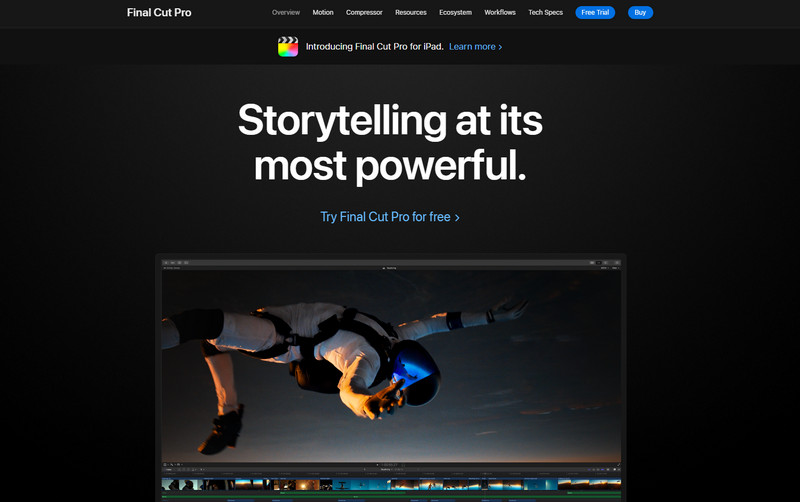 Features:
Designed exclusively for Mac users and optimized for 4K
Offers an intuitive interface
Advanced color grading and audio editing capabilities
Supports HDR and 360-degree video
Seamlessly integrates with the Apple ecosystem
Pros:
Delivers excellent performance on Mac systems
User-friendly, making it suitable for beginners
Powerful features cater to professionals
Available for a one-time purchase (no subscription)
Cons:
Limited to Mac users
Limited collaboration options compared to some competitors
---
3. DaVinci Resolve
DaVinci Resolve is a cutting-edge video editing software that stands out for its robust color grading and post-production capabilities. This versatile tool is renowned for its powerful color correction and grading tools, making it an industry favorite for enhancing the visual quality of video content, including 4K and high-resolution footage. With seamless integration of audio post-production, visual effects, and motion graphics, DaVinci Resolve offers a comprehensive suite for professional video editing. Its unique feature includes Fusion integration for visual effects (VFX), enabling users to create stunning, cinematic visuals.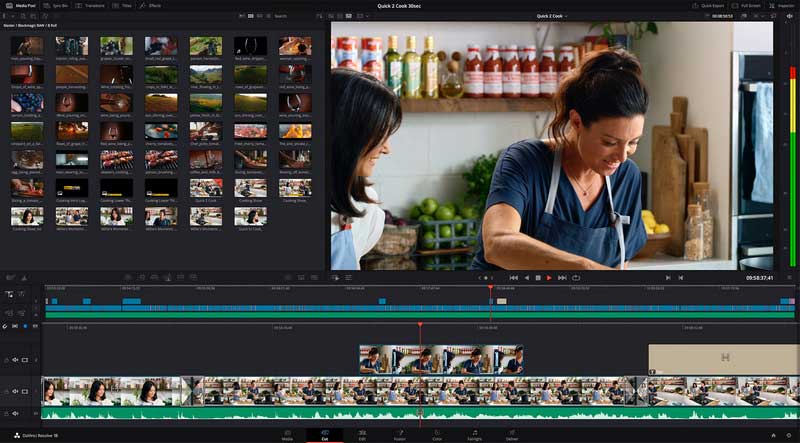 Features:
Known for its powerful color correction and grading tools
Offers professional-grade audio post-production
Includes visual effects and motion graphics capabilities
Integrates Fairlight audio for enhanced audio editing
A free version is available with robust features
Pros:
Outstanding color grading capabilities
Fusion integration for visual effects (VFX)
Comprehensive features in the free version
Compatible with both Mac and Windows
Cons:
Has a steeper learning curve, especially for beginners
Demands hardware with adequate specifications for smooth 4K editing
---
4. CyberLink PowerDirector
CyberLink PowerDirector is a user-friendly yet powerful video editing software designed for Windows users. This software is perfect for those seeking an accessible entry point into video editing, making it an ideal choice for beginners. With its AI-powered features, PowerDirector simplifies the editing process, offering speedy performance even when working with 4K video. It provides tools for 360-degree video editing, making it versatile for various content styles. CyberLink PowerDirector strikes a balance between ease of use and functionality, making it an affordable and practical choice for those looking to create high-quality videos without the complexities often associated with professional-grade software.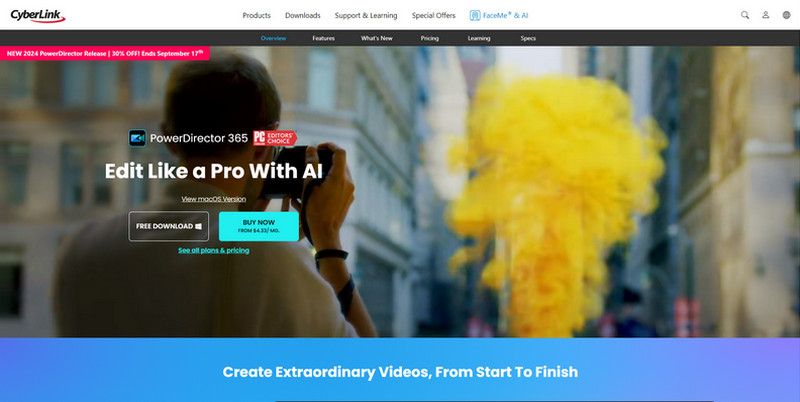 Features:
Boasts a user-friendly interface
Supports 360-degree video editing
Utilizes AI-powered features for quick edits
Offers fast rendering and export capabilities
Provides affordable pricing options
Pros:
Easy to learn, making it ideal for beginners
AI-enhanced tools expedite the editing process
Speedy performance, even with 4K video
Budget-friendly pricing
Cons:
May not be as feature-rich as some competitors
Advanced users may find it limiting in terms of features
---
5. iMovie
iMovie is Apple's user-friendly 4K video editing software designed for Mac and iOS users. This software offers an intuitive interface, making it accessible for beginners and those within the Apple ecosystem. iMovie supports 4K video editing, empowering users to create high-resolution videos effortlessly. It provides templates, themes, and basic audio editing tools for added creativity. While iMovie is free for Mac and iOS users, it may lack some advanced features required for professional video projects. Nonetheless, it's an excellent choice for Mac users seeking to edit videos with ease and finesse.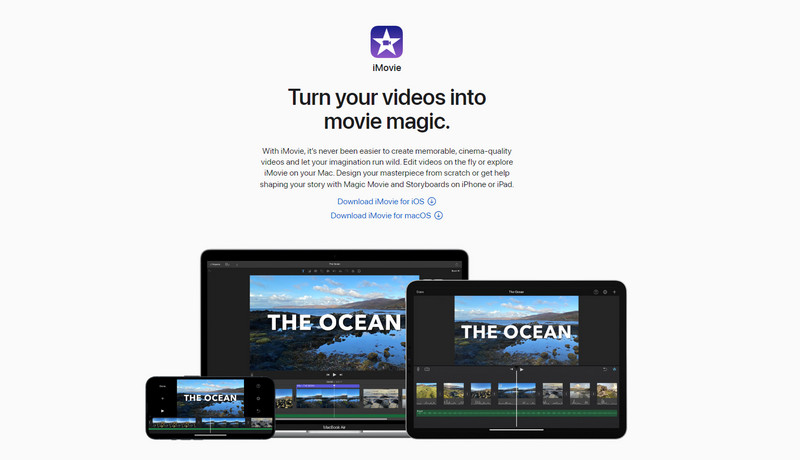 Features:
iMovie is known for its straightforward and intuitive interface
Offers a variety of templates and themes
Enhance your videos with a range of built-in video effects and transitions
Easily share your edited videos directly to social media platforms
Includes basic audio editing tools, enabling users to adjust audio levels
Pros:
Free for Mac and iOS Users
User-Friendly
Seamless Apple Ecosystem Integration
Templates and Themes for Quick Production
Cons:
Limited Advanced Features
Mac Exclusive
---
Part 3: AVCLabs Video Enhancer AI - Specializes in AI-powered Enhancement
While not a traditional video editor, AVCLabs Video Enhancer AI plays a crucial role in the 4K video editing process by enhancing video quality. AVCLabs Video Enhancer AI is an exceptional tool that specializes in upscaling videos to 4K resolution. Leveraging advanced artificial intelligence (AI) algorithms, this software can enhance the quality and clarity of your videos, transforming them into stunning high-resolution content. Whether you have old footage or lower-resolution videos that need a boost, AVCLabs Video Enhancer AI offers a powerful solution to elevate your video quality to the impressive standard of 4K.
Key Features of AVCLabs Video Enhancer AI
AI Upscale video to HD, 4K and even 8K
Enhance video quality with multi-frame
Improves sharpness, detail, and overall visual fidelity
Recover and enhance facial details with AI
Compatible with a wide range of video formats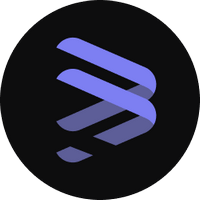 Pros:
Exceptional AI-powered enhancement capabilities
Streamlines the enhancement process
Can breathe new life into older or lower-quality footage
Cons:
Works best in combination with a full-fledged video editing software
---
Steps to Upscale Video to 4K with AVCLabs Video Enhancer AI
Note: Before enhancing video quality with AVCLabs Video Enhancer AI, it is important to make sure that your computer configuration meets all system and hardware requirements for an optimal viewing and processing experience.
Step 1: Run AVCLabs Video Enhancer AI And Import Low-quality Videos
Download and install AVCLabs Video Enhancer AI. Launch it and click the Browse button or drag and drop to import your low-quality videos.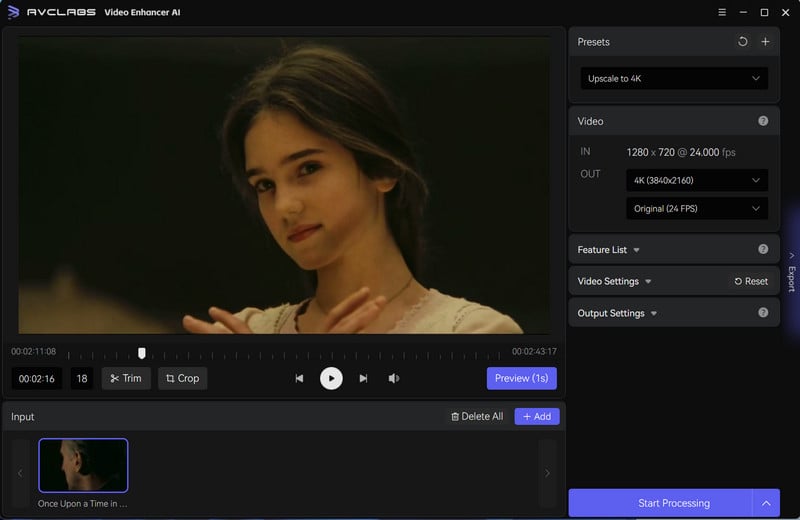 Step 2: Select the AI Model and Set the Output Resolution
The most direct way to enhance video quality to 4K is to go to Presets section and select the Upscale Video to 4K.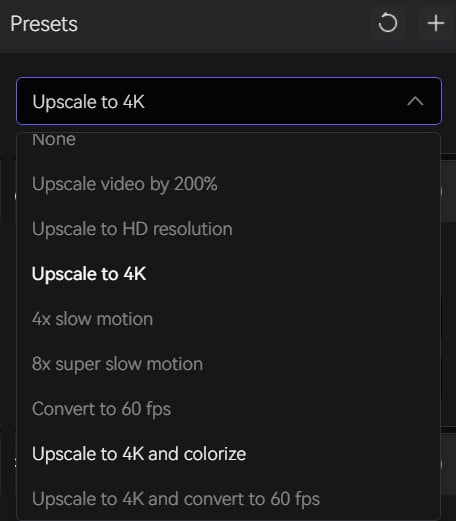 1. Video Settings: you are allowed to adjust the brightness, saturation, and contrast of the video and preview the effect in real time.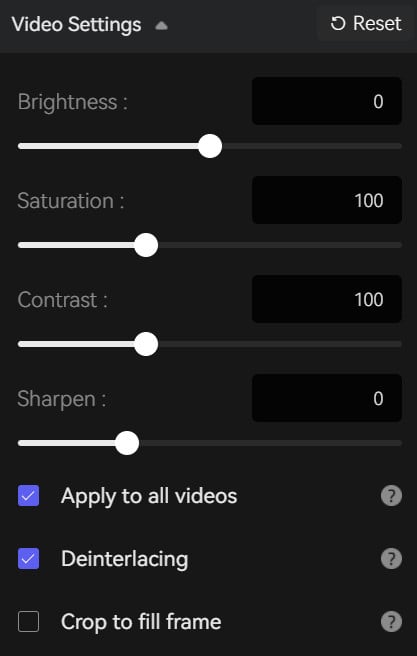 2. Output Settings: In the Output Settings part, you can set the output video format(MKV, MP4, AVI, MOV, WEBM), the encoder (H.264, H.265, VP9 Good, VP9 Best, AV1), the bitrate, audio settings, as well as the output path.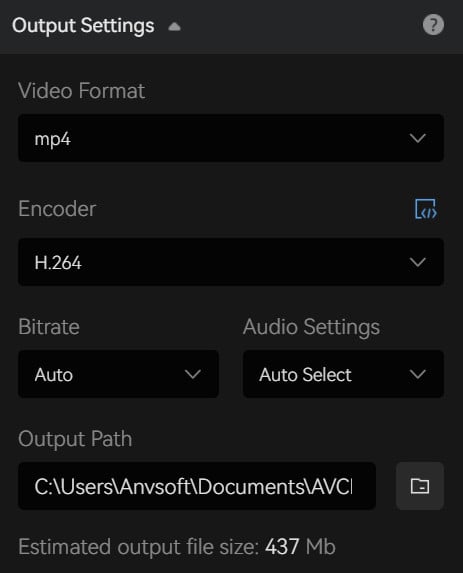 Step 3: Start Upscaling Video Quality
Once all the necessary preparations have been finished, click on the Eye icon to review 30 frames in order to ensure that the processed video meets your requirements. If it doesn't, please adjust the settings accordingly. Lastly, initiate the video quality enhancement process by clicking the "Start Processing" button.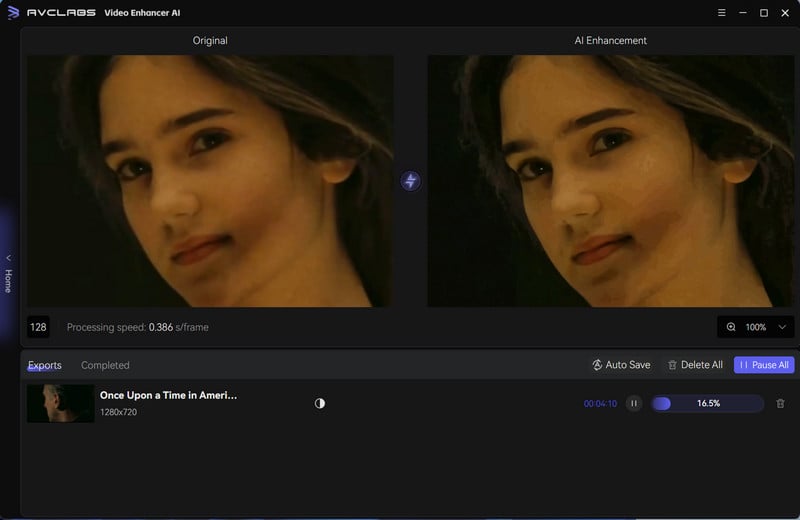 ---
Part 4: Q&A on 4K Video Editing
Q1: What is needed for 4K video editing?
A: To effectively engage in 4K video editing, you'll require a potent computer with a robust processor (like Intel Core i9 or AMD Ryzen 9), ample RAM (32GB or more), and a capable GPU (NVIDIA GeForce RTX or AMD Radeon with at least 8GB VRAM) to manage the computational demands of 4K footage. Fast storage solutions, such as SSDs, are crucial for smooth data access and editing performance. Additionally, a 4K monitor with precise color accuracy is vital for accurate video editing.
Q2: Which video editing software is best for 4K editing?
A: Popular video editing software options for 4K editing include Adobe Premiere Pro, Final Cut Pro X (for Mac users), and DaVinci Resolve, among others. The choice depends on your preferences and needs.
Q3: Is 4K better than 1080 for editing?
A: Yes, 4K is generally considered superior to 1080p for video editing. 4K offers a higher resolution, four times that of 1080p, providing more detail and flexibility during editing, such as cropping and stabilizing footage without quality loss. It also future-proofs your content for evolving display technology, and downscaling 4K footage to 1080p often results in superior image quality compared to native 1080p footage.
Q4: What software or tools can I use to upscale 1080p to 4K?
A: There are several video editing and upscaling software options available, including Adobe Premiere Pro, DaVinci Resolve, and specialized upscaling tools like AVCLabs Video Enhance AI. Some AI-powered solutions claim to enhance the upscaling process.
---
Conclusion
The advent of 4K technology has ushered in a new era of video quality, allowing creators to craft visually stunning and future-proof content. In this exploration of the top 5 4K video editing software options for both Mac and Windows, we've unveiled a diverse range of tools, each catering to distinct needs. From industry-standard solutions like Adobe Premiere Pro to the user-friendly accessibility of iMovie and the powerful capabilities of DaVinci Resolve, there's a software choice for every level of expertise and project scale. The introduction of AVCLabs Video Enhancer AI as a specialized upscaling tool further expands the creative toolkit.
In conclusion, the world of 4K video editing is teeming with options that empower creators to bring their visions to life with unprecedented clarity and quality. The choice is yours, and with the right software, your video projects are poised for excellence in the evolving landscape of visual storytelling.
---
Related Articles