AVCLabs Video Enhancer AI In-depth Review: Is it Worth Trying for Video Enhancement?
"Has anyone tried AVCLabs Video Enhancer AI? What's your experience with video enhancing by using AVCLabs Video Enhancer AI?"
When searching for keywords like video enhancer or video upscaler, you'll come across a wide range of options to choose from. Prominent brands such as Topaz, AVCLabs, DVDFab, and Hitpaw, as well as various online tools, might catch your attention. Naturally, you may find yourself wondering which one is the best fit for you or which one can fulfill your specific requirements. To provide you with valuable insights so that you can confidently make the right choice for your needs, we have prepared a comprehensive and in-depth review of AVCLabs Video Enhancer AI.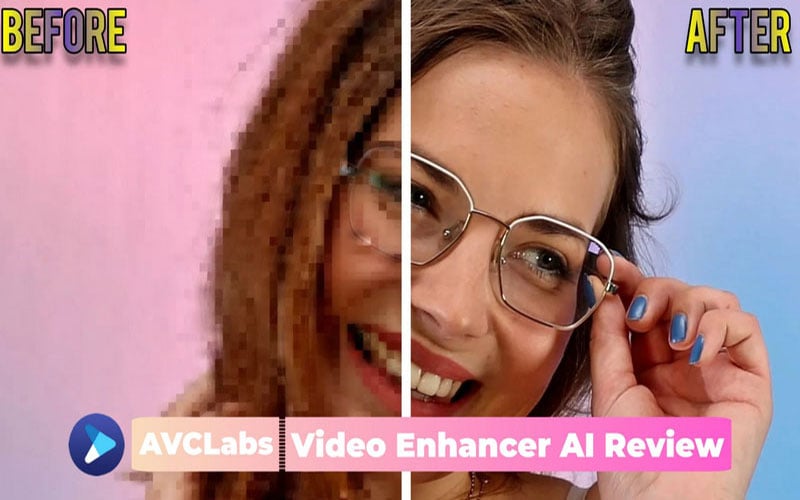 ---
Before Starting: What Should You Know Before Using AVCLabs Video Enhancer AI?
Welcome to this informative section where you can learn more before trying out AVCLabs Video Enhancer! If you've heard about it and are curious to give it a try, keep reading for all the details you need to get started.
1. Brief Introduction: What Is AVCLabs Video Enhancer AI?
AVCLabs Video Enhancer AI is a specialized desktop software designed to enhance video quality, upscale videos to HD and 4K resolution, recover&refine face, colorize black and white videos, and convert videos into higher frame rates.
AVCLabs Video Enhancer AI was released in November 2021, although it had some imperfections at that time, including an unstylish user interface, rough features, slow processing speed, and inferior quality. However, with several updates and continuous improvements, AVCLabs Video Enhancer AI has made significant progress. Its latest versions showcase remarkable advancements and demonstrate its commitment to delivering the best video enhancement capabilities.
More significantly, AVCLabs is the first one who introduces the technique of face detection, face recognition, and face refinement into video enhancement. As far as is known, this piece of technique has been under continuous improvement through algorithm adjustments and training with samples. As a result, you can definitely expect big improvements in the higher accuracy of face recognition and better overall quality of face refinement.
2. System and Hardware Requirements: Is Your Machine Capable of Running AVCLabs?
As we know, most AI-powered video enhancement software relies on machine learning or deep learning techniques. Therefore, to ensure better performance and a happier user experience, you are recommended to have a desktop with a good GPU (at least 4GB VRAM), a decent CPU, and sufficient physical memory.
System requirements: Windows 10 (64-bit) and Windows 11, with at least 4 GB of RAM; macOS Catalina 10.15 and above with M1 or M2 chip.
Hardware requirements: dedicated GPU with at least 4GB VRAM (GPU memory), including NVIDIA GTX 600 series and above, AMD Radeon HD 7000 series and above, and Intel HD Integrated Graphics.
You can also refer to this page for more detailed information about the system and hardware requirements for AVCLabs Video Enhancer AI.
3. The Price Information: Is AVCLabs Video Enhancer AI Affordable?
3.1 Price and plans
① $299.90/One-time purchase, free lifelong updates without additional fee;
② $119.95/Year, billed yearly, you can cancel the subscription anytime;
③ $39.95/Month, billed monthly, you can cancel the subscription anytime.
3.2 Is it a bit more expensive?
It is obvious that AI-powered video enhancers are more expensive than other desktop software. This can be attributed to the substantial investment of resources in research and development.
3.3 Do you dislike subscriptions?
AVCLabs offers a monthly subscription plan designed to cater to users looking for cost-effective options and those who require the program for occasional projects. While some users express their dislike towards subscription plans, this model allows for flexible and affordable access to AVCLabs for various evaluation needs.
3.4 Looking for a better deal? Is it possible to purchase it at a lower cost?
AVCLabs Video Enhancer AI is available for purchase at a price of $299.90 as a one-time option, which offers the greatest value. However, keep an eye out for special holiday promotions or occasional discounts in specific months to potentially enjoy savings of $50-$100.
4.Input and Output Formats: What Kinds of Video Footage Are Supported by AVCLabs?
4.1 Supported input formats
3G2, 3GP, AVI, DIVX, FLV, F4V, M2TS, MTS, MOV, MP4, M4V, MPEG, MPG, DAT, MKV, OGM, RMVB, RM, TS, TP, VOB, WMV, WTV, ASF, DV, WEBM, etc.
4.2 Supported output formats
MP4, MKV, MOV, AVI, Webm.
4.3 What should you do if you find the video is not supported?
If you encounter the prompt "the video format is not supported" while using AVCLabs Video Enhancer AI, there's no need to worry. The technical team will make sure it becomes supported soon. All you have to do is send this feedback to their support team.
4.4 What kinds of videos can be enhanced by AVCLabs Video Enhancer AI
In general, AVCLabs Video Enhancer AI is capable of processing all low-quality and low-resolution video footage. To give you a better idea of its capabilities, let's take a closer look at some of the video types that can benefit from the quality improvement offered by AVCLabs Video Enhancer AI.
① SD resolution video footage in 240p, 360p, 480p, 640p;
② HD resolution video footage in 720p, 1080p;
③ Noisy video footage recorded in low light conditions with a high IOS rating;
④ Blurry video footage caused by out-of-focus, or motion blur;
⑤ Highly compressed video with artifacts and quality loss;
⑥ Pixelated video footage that is stretched by traditional upscalers;
⑦ Anime videos in low frame rate and low quality;
⑧ Interlaced video footage with obvious lines in the screen;
⑨ Old black-and-white video footage.
5. The User Interface: Is it Friendly for Beginners and Easy to Get Started?
AVCLabs Video Enhancer AI boasts an impeccably clean user interface, renowned for its user-friendly UI. It is a breeze for users to navigate through the software and effortlessly access all desired functionalities.
5.1 Main interface
Clean and intuitive. Users can easily find how to import videos.
5.2 Configuration interface
Neat and well-organized. With 99% of functions consolidated into a single interface, it offers an intuitive and seamless navigation experience for users.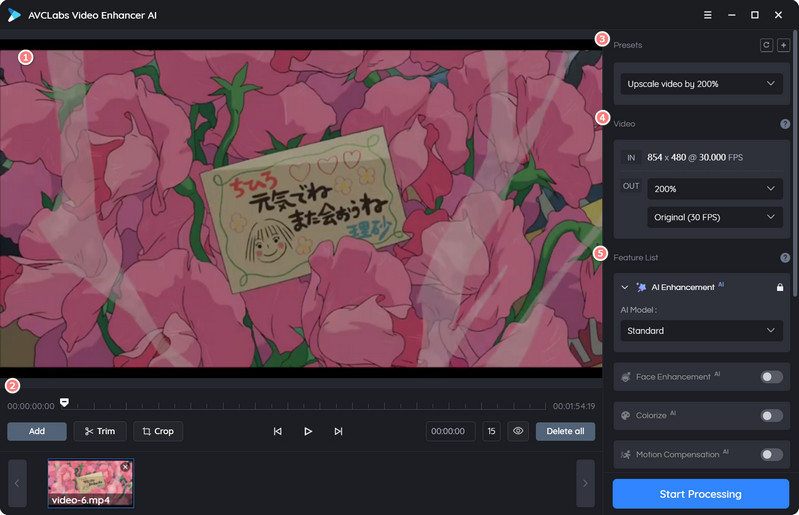 ① The video playback window: you can play and preview the video here.
② Bottom menu bar: you can do some basic things here.
Click the "Add" button to add new videos, the "X" icon to delete current videos, and the "Delete all" button to delete all videos you added;
Edit videos by trimming and cropping;
Preview the video between before and after by clicking the "EYE" icon.

③ Presets: listed here are 8 presets that you can conveniently utilize to enhance videos without the need for manual configuration.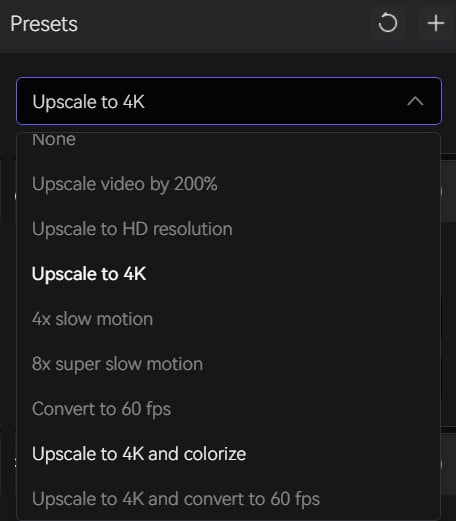 ④ Video IN and OUT: the IN option displays the source video metadata information, including resolution and FPS; the OUT option allows you to select your desired output resolution and FPS.
⑤ Feature list: you can see 4 AI filters and 1 non-AI filter here.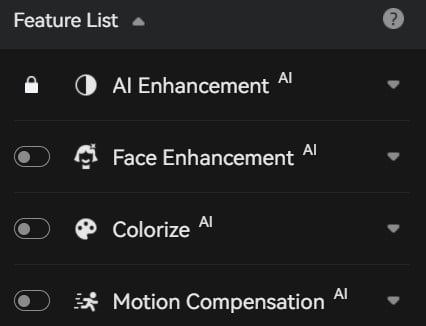 ⑥ Output settings: you can select the Output Format, Encoder, Bitrate, Audio Settings, and Output Path here.
The "Audio Settings" feature is specifically designed for creating slow motion effects. You can leave it untouched unless you want to customize the audio track for your slow motion video.
5.3 General settings
Performance: switch the AI processor from CPU to GPU and change the max memory consumption.
Global Settings: modifying the output format, output encoder, and output path here, these changes will take effect as the default settings for all videos. However, if you wish to modify them again, you can do so in the main interface.
Face Recognition Accuracy: designed for the Face Enhancement filter, low recognition accuracy can detect more faces in a video.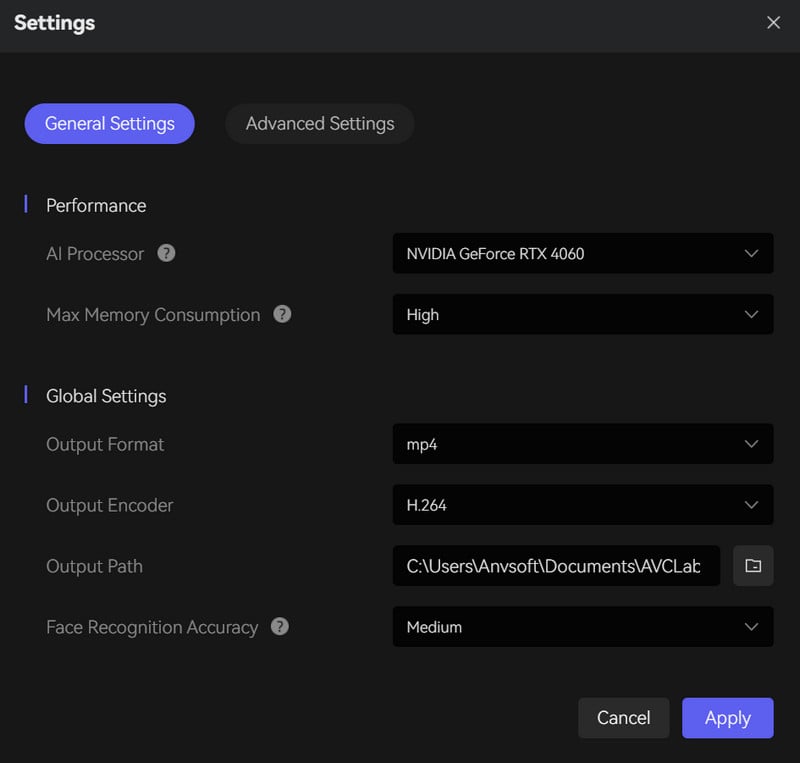 5.4 Advanced settings
Auto Save: to ensure that you don't lose your progress due to any kind of interruptions, the system will automatically save the video processing progress.
NVIDIA TensorRT Acceleration: if your computer has a dedicated NVIDIA GPU (RTX 1060 and above), turn it on to boost the processing speed while minimizing the GPU memory usage.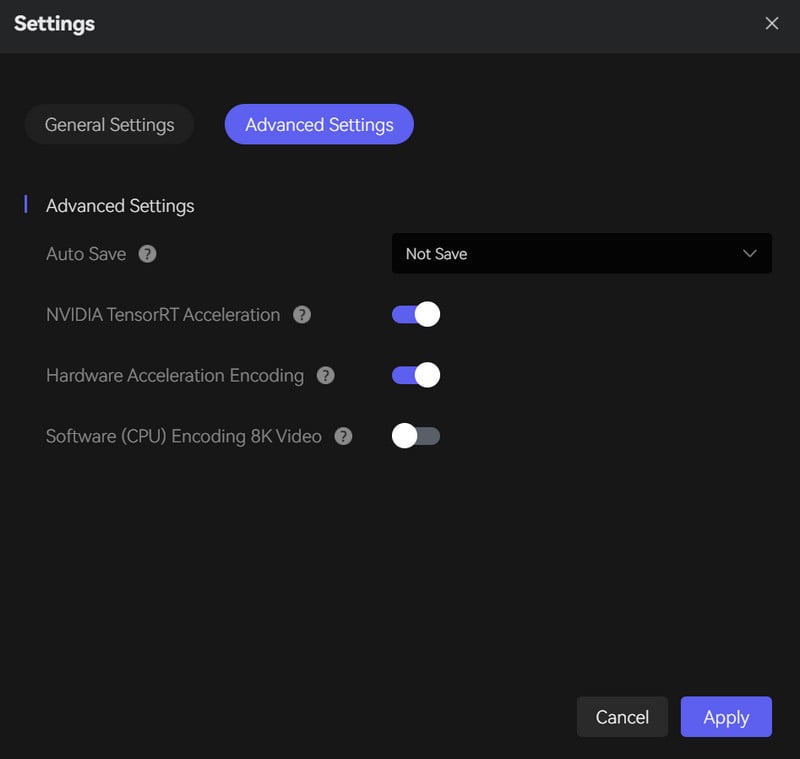 6. AI Models Explanation: How Does AVCLabs Video Enhancer Work?
It is extremely easy to understand the AI filters and models of AVCLabs Video Enhancer AI: you can easily comprehend their purpose without wasting time on model changes or generating multiple rendered previews.
6.1 AI Enhancement
The AI Enhancement model, as its name implies, serves the purpose of enhancing the quality of old videos and upscaling low-resolution videos to HD, 4K, and even 8K resolutions. It works great for old blurry, noisy, and pixelated video footage.
It provides users with a range of five model options that cater to their specific needs. These options include the Standard, Ultra, Standard (Multi-Frame), Ultra (Multi-Frame), and Denoise models.
Standard: Process a video frame-by-frame, in standard quality, at the fastest processing speed. If your computer has an outdated GPU or integrated GPU, you should definitely choose the Standard model.
Ultra: Process a video frame-by-frame as well, in ultra quality, but at a 2x slower processing speed than the Standard mode. Please ensure that your computer should have a dedicated GPU with a minimum of 4GB VRAM (GPU memory).
Standard (Multi-Frame): Process a video with 13 frames at a time in standard quality, to maintain motion consistency. Your computer should have a dedicated GPU (RTX 2060 and above) with a minimum of 6GB VRAM.
Ultra (Multi-Frame): Process a video with 13 frames at a time, in Ultra quality. The processing time of this model is 3x slower compared to the Standard (Multi-Frame) model.
Denoise: Remove noise from a video to make it clearer and keep more details.
6.2 Face Enhancement
Detect, and recognize the faces with high accuracy, thus recovering the faces from the blurry video and enhancing the facial details.
6.3 Colorize
Turn the black and white videos into colors.
6.4 Motion Compensation
Convert frame rates from low to high, and create slow-motion effects.
6.5 Video Settings
Non-AI filter, just for the necessity to adjust the contrast, transparency, and brightness.
---
During Using: What's the Experience While Using AVCLabs Video Enhancer AI?
1.User Experience: How about the Performance (Speed and Stability)?
The processing speed and stability are the basic factors that you should take into consideration when choosing video enhancement software. Though the great majority of AI software is more demanding on computer hardware parts and spends more time in project processing than other non-AI software, speed is one of the top priorities. Additionally, stability is vital as it ensures the program doesn't crash or stop working during processing, thus ensuring you will not waste time on the project.
1.1 Speed
AVCLabs Video Enhancer AI delivers smooth and swift performance when used on desktops with NVIDIA GPUs. However, it may show some performance limitations on AMD/Intel GPUs, as well as Apple M1/M2 chips.
NVIDIA GPU: When it came to speed, AVCLabs Video Enhancer AI used to lack a competitive advantage over rivals, such as Topaz Video AI. However, everything changed with the release of V3.2.0, which introduced support for TensorRT models. The table below showcases the remarkable speed improvements brought about by these TRT models.

Though AVCLabs Video Enhancer AI pulls off in improving the processing speed on NVIDIA graphic cards basis, it's also important to address the performance on other GPUs, such as AMD or Intel-integrated GPUs, and Apple M1/M2 chips. What's the performance of AVCLabs in these GPUs?
Intel's CPU, integrated GPU, and dedicated GPU: V3.3.0 has introduced OpenVINO acceleration for Intel graphic cards basis, but the overall performance is somewhat limited when compared to NVIDIA GPUs.
One noteworthy aspect to highlight is the capability of AVCLabs Video Enhancer AI to function even on low-end machines. AVCLabs received positive feedback from a happy customer. Let's going to share it with you:
"You say the minimum is an Intel processor from somewhere past 2010. The program runs fine on a Dell Inspiron 530s, which is a slimline computer with a Core 2 Duo E8600 processor at 3.33 GHz, with 8 GB of 800 MHz DDR2, and a Geforce GTX 6xx series. One of the first Nvidia GPUs to support Vulkan.

Yes, the software runs slower than most people would find acceptable, but for the few people who have patience, it runs! This is very important. Your probably biggest competitor, Topaz Video AI, doesn't even install if your computer lacks an i3 processor - the installer looks for some CPU instruction. Furthermore, even if you manage to cheat the installer and run the software, two very useful AI models don't run.

None of these problems exist at all on your software. So if someone has an old but maxed-out computer, it can still be used actively. You keep saying that your program is good for enhancing small or bad-quality videos. Well, you can also use your old computer to do it!" --- from [email protected] in 2023.8.24
AMD GPU: Currently, there are no plans in place to enhance the performance of AVCLabs on desktops that have AMD GPUs. Probably the main reason is that AMD is not yet a good option to run AI-generated/AI-rendering tasks.
Apple M1/M2 chip: The performance of the deep learning workstation on the Apple M1/M2 chip is good but still far behind what you can get on the current NVIDIA desktop GPUs. Nevertheless, we are expecting potential improvements for AVCLabs to enhance its performance on macOS with Apple M1/M2 chip.
2.2 Stability
When using a GPU as the AI processor to process videos, insufficient GPU memory can pose a risk to the program's stability, potentially resulting in stopping working or crashes.
In addition, the processing may become extremely slow or halt altogether due to inadequate hardware conditions after just a few hours of processing.
2. Output Quality: Can AVCLabs Video Enhance AI Really Improve the Quality of Video?
The core aspect of video enhancement software lies in the quality of the output, which takes precedence over speed and stability. This emphasis on superior output quality serves as compelling proof to customers, showcasing the company's ability to invest in research, development, and extensive model training.
Are you wondering if AVCLabs Video Enhancer AI can truly improve video quality? We guess this is your real concern, so let's explore the output video quality that AVCLabs can produce.
Test case 1: Upscale video
AI Preset: Upscale wildlife video footage to 1080p.
Before and After: Crisp HD quality and highlight the details, without losing any quality.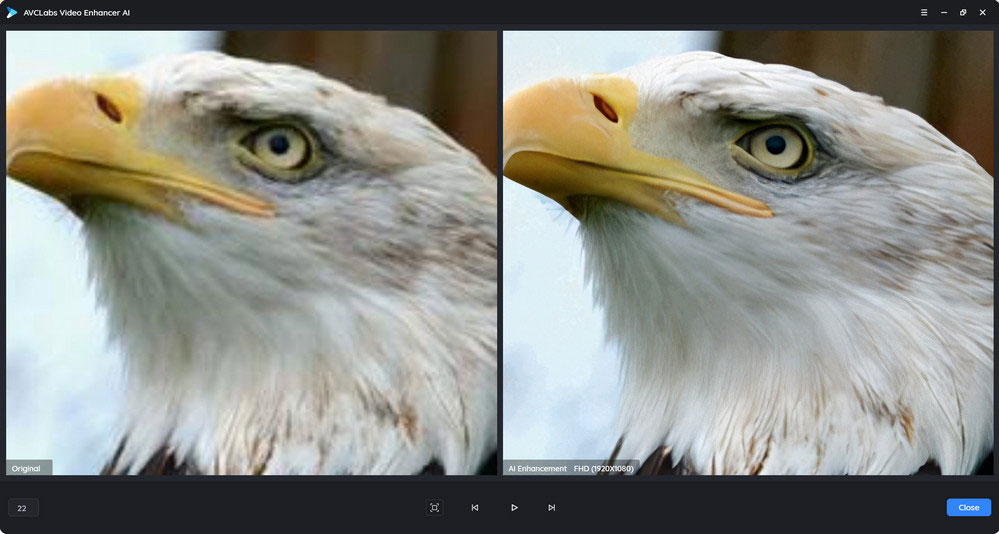 AI Preset: Upscale old video footage to 1080p.
Before and After: Restore the details from the extremely poor-quality video.
Tips: It is weak to enhance the quality of some natural elements including trees, grasslands, etc.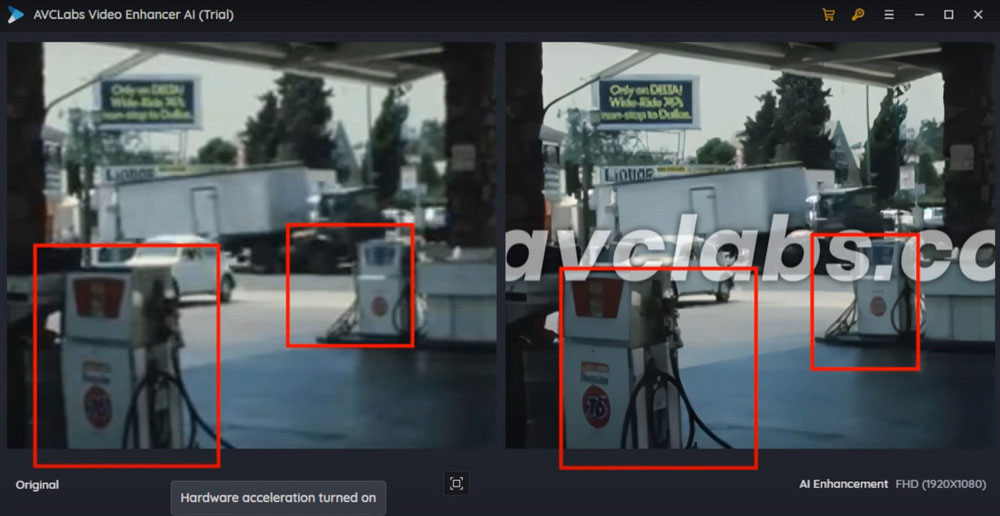 AI Preset: Upscale portrait video footage to 2K.
Before and After: The blurry face becomes clearer.

AI Preset: Upscale anime video footage to 4K.
Before and After: Natural, and keep most of the details.
Tips: The lines/outline of some objects in the anime videos need to be more smooth and natural.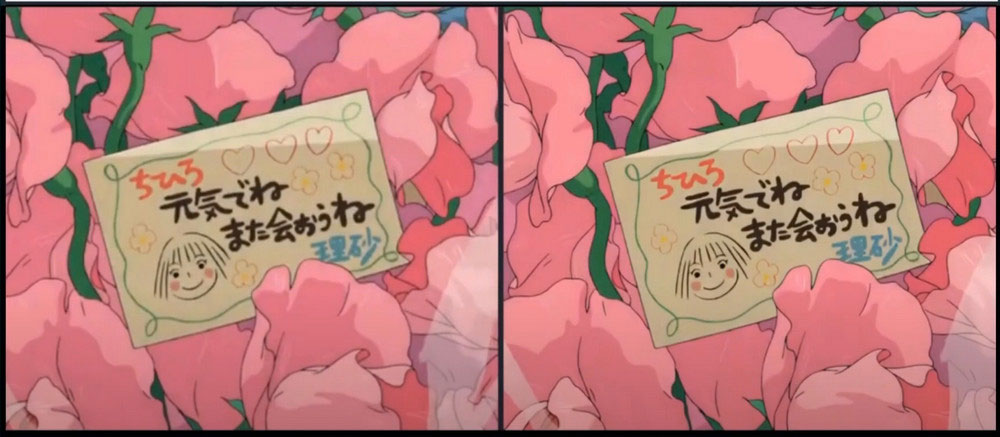 Test case 2: Face Enhancement
AI Preset: Face recovery and refinement for medium-quality video.
Before and After: The face becomes clearer with details enhanced.
Tips: A little bit of cartoonish like, not natural enough.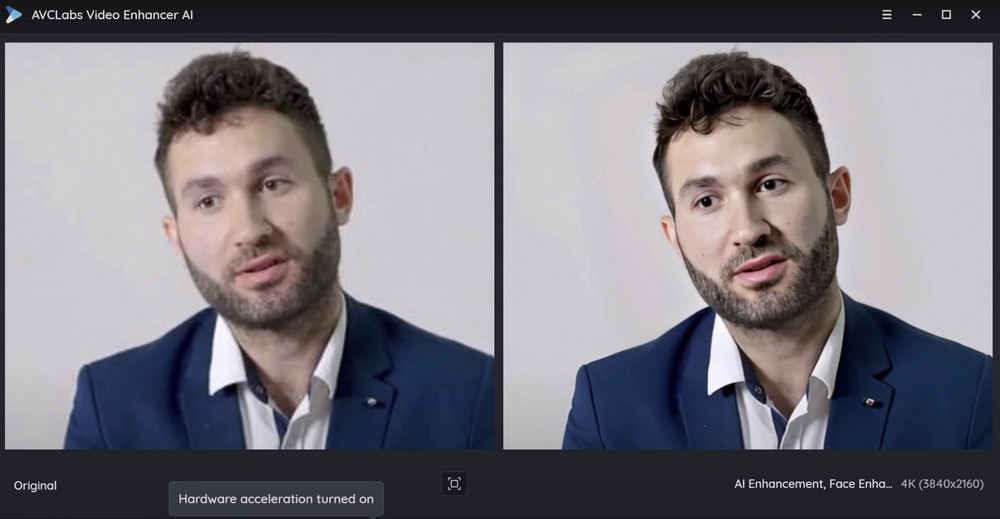 AI Preset: Face recovery and refinement for out-of-focus video.
Before and After: The face recognition and recovery is great.
Notes: Facial details were over-enhanced.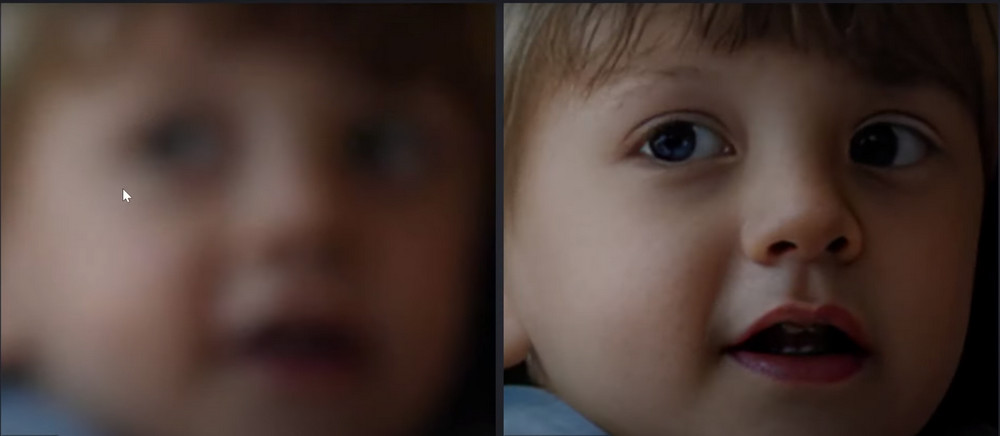 "You people weren't kidding. The face enhancement tool is unbelievable. I'm still in shock. Before last night I would have thought this was impossible but damn. From almost blurred beyond recognition to being able to see the creases in lips on magnification. That is some crazy stuff, call me a believer." -- James in 2023.10.7
Test case 3: Denoise
AI Preset: Denoise old low-quality video footage.
Before and After: The blurry video becomes cleaner and clearer; keep most of the details to the maximum extent possible.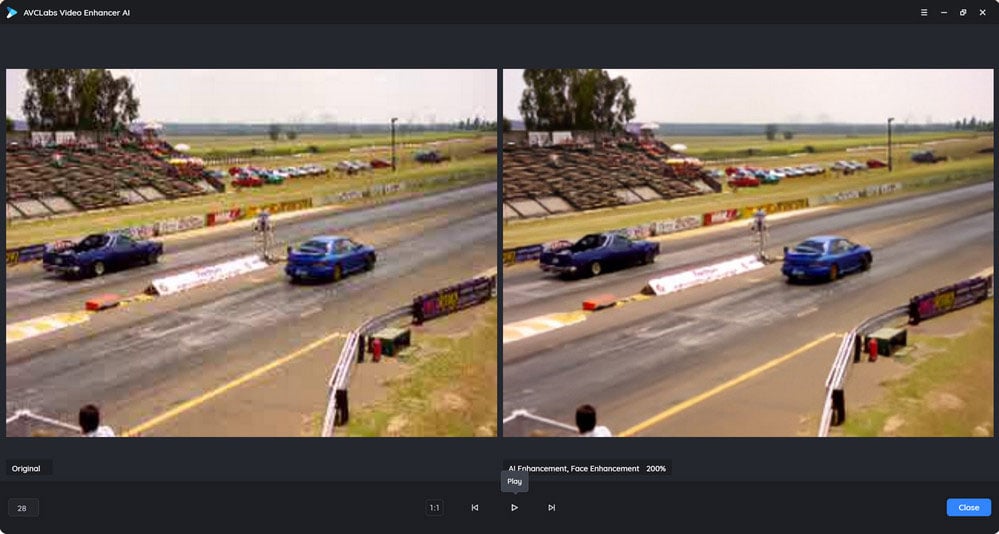 AI Preset: Denoise medium-quality video footage.
Before and After: The video's main object becomes more discernible and refined.
Tips: Not sharper enough.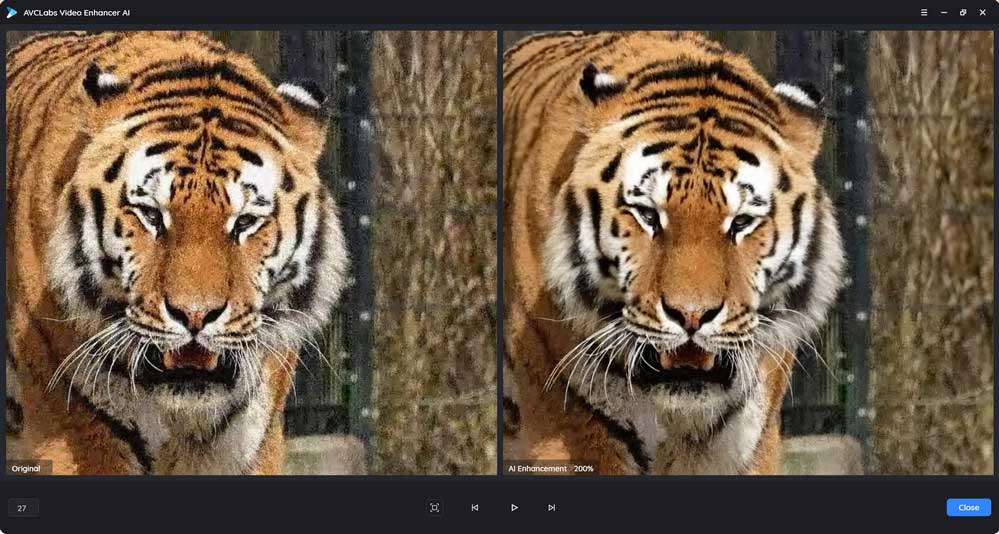 AI Preset: Denoise video footage recorded in low lights (camera raw footage).
Before and After: Greatly remove overall noise, without losing details.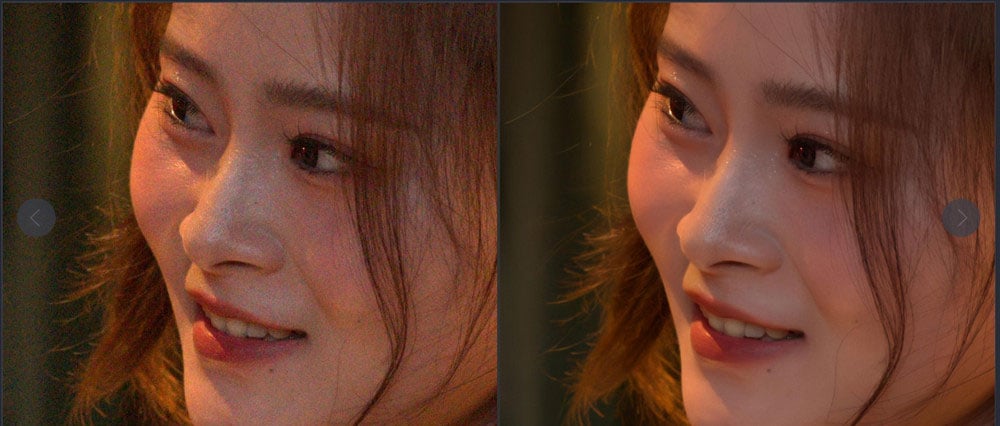 Test case 4: Unpixelate Video
AI Preset: Fix the pixelated video.
Before and After: Make the pixelated video sharper and clearer; remove the pixelated blocks and artifacts.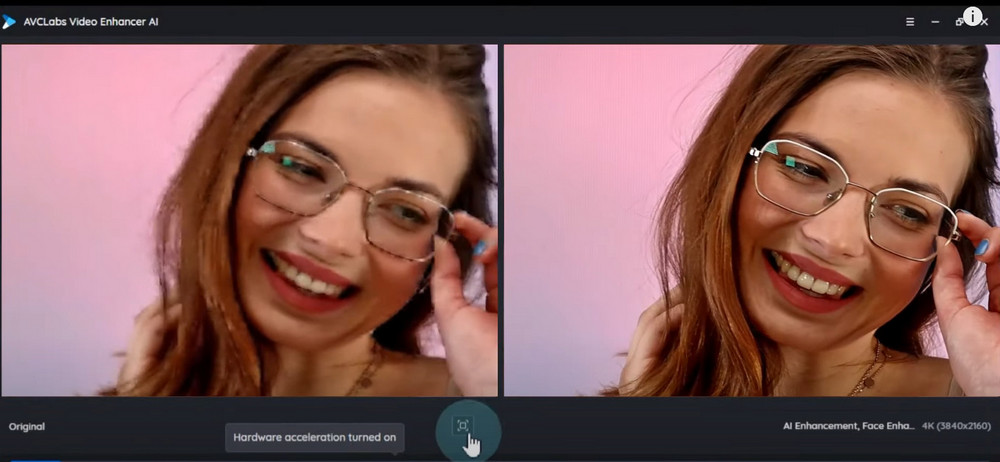 Test case 5: Colorize Video
AI Preset: Colorize old portrait video footage.
Before and After: The colors really popped and it is probably the easiest product out there for colorization of any quality.
Tips: Need to fix the color issues like red overexposure.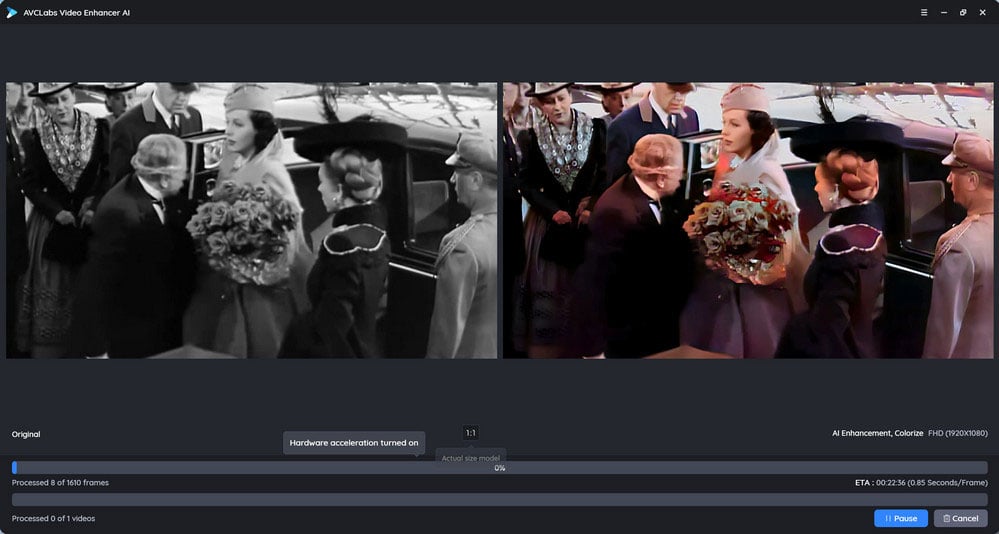 AI Preset: Colorize landscape video footage.
Before and After: Nice but the sand is blue in color also.
Tips: It would be better if there were more stabilized colors.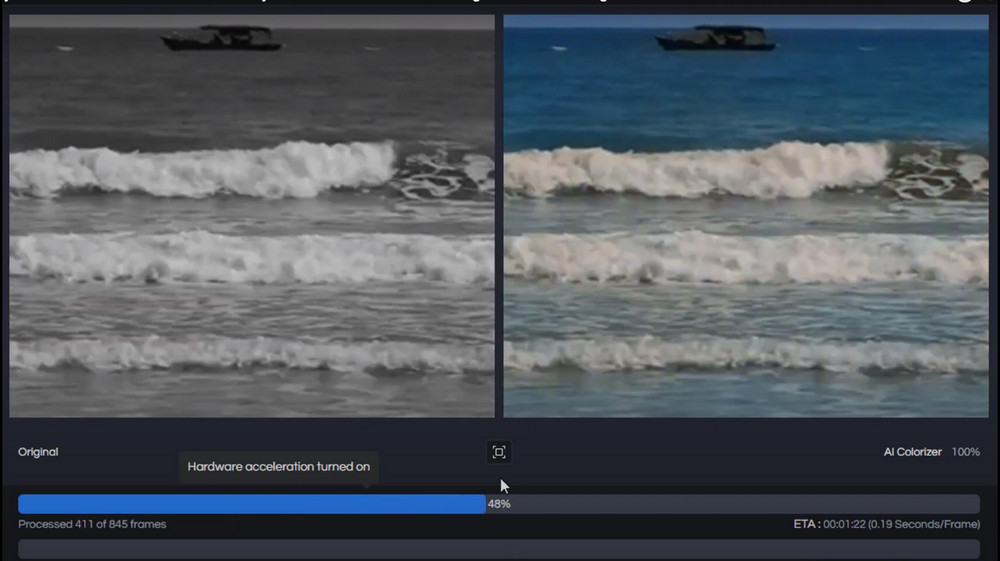 3. User Summary: What Are the Pros and Cons of AVCLabs Video Enhancer AI?
Now, let's come to the final yet important section where we will provide a comprehensive summary of the advantages and disadvantages of AVCLabs Video Enhancer AI.
3.1 Pros:
① Very easy to use:
Simplicity emerges as a key competence for AVCLabs Video Enhancer AI, which is the fundamental attribute that empowers users with an intuitive and user-friendly experience.
② Brings greater experience for the users of NVIDIA GPUs:
TensorRT models play a crucial role in optimizing and enhancing overall performance. They are instrumental in delivering significant improvements to speed and stability.
③ The output quality is generally good for the majority of footage:
You can view the visible improvements between the original and the enhanced video footage, especially the denoise and upscaling features.
④ The face enhancement is remarkable:
The face enhancement is really impressive to most users. It works perfectly on recognizing, recovering, and refining faces from the extremely blurry footage.
3.2 Cons:
① Slower processing speed on non-NVIDIA GPUs laptops or desktops:
On laptops and desktops with AMD GPUs and Apple M1/M2 processors, the processing speed needs further improvement.
② Imperfect output quality on certain types of video footage:
Enhance the output quality of specific types of video footage, such as landscape videography.
A better colorizing model is needed to fix the existing unstable color issues in the colorized videos.
③ Need to achieve a more natural output quality in face enhancement:
AVCLabs excels at face recognition, recovery, and refinement. However, since video footage resolutions differ, and the program utilizes the same AI face recognition model for processing, some face enhancement outputs may have a slight touch of CG effects, which can make them appear unnatural.
---
After Using: Should You Choose AVCLabs Video Enhancer AI?
There are numerous video quality enhancers, video upscalers, and video colorizers available in the market, each with its own set of advantages and disadvantages. Do you find it challenging to decide which one is worth your investment? In this article, we provide you with comprehensive and unbiased reviews, as well as valuable advice, to help you make an informed decision.
For Windows users, AVCLabs Video Enhancer AI is more compatible than others, as it can be installed and run properly on any Windows 10 (64-bit) and Windows 11 laptop or desktop, regardless of the absence of the latest CPU and dedicated GPUs. If your computer has a dedicated NVIDIA GPU, AVCLabs Video Enhancer AI is definitely your first choice.
For Mac users, AVCLabs Video Enhancer AI is one of the few video enhancers that support macOS, although it declares that it can be only used on machines with M1/M2 chips, it still can be used on any computer that is compatible with macOS 10.15 and above.
When it comes to video quality, AVCLabs Video Enhancer AI emerges as one of the top options, as it delivers remarkable quality in video upscaling, denoising, and face enhancements. While there may be a few minor imperfections, we believe that you will witness significant improvements in the short run.
---
Related Articles