How to Enhance Video Quality for Free with the Best Video Quality Enhancer - AVCLabs Video Enhancer AI
In this digital age, visuals play a significant role in communication, entertainment, and education. Whether you're a vlogger, a video editor, or just someone who enjoys watching content online, video quality matters. But what can you do when you come across videos with poor quality? The answer lies in free video quality enhancers. These tools help you transform your low-quality videos into high-definition masterpieces without breaking the bank. This article will dive into the world of an all-in-one AI-powered video quality enhancer- AVCLabs Video Enhancer AI, and explore its incredible features, as well as how to enhance video quality with it for free.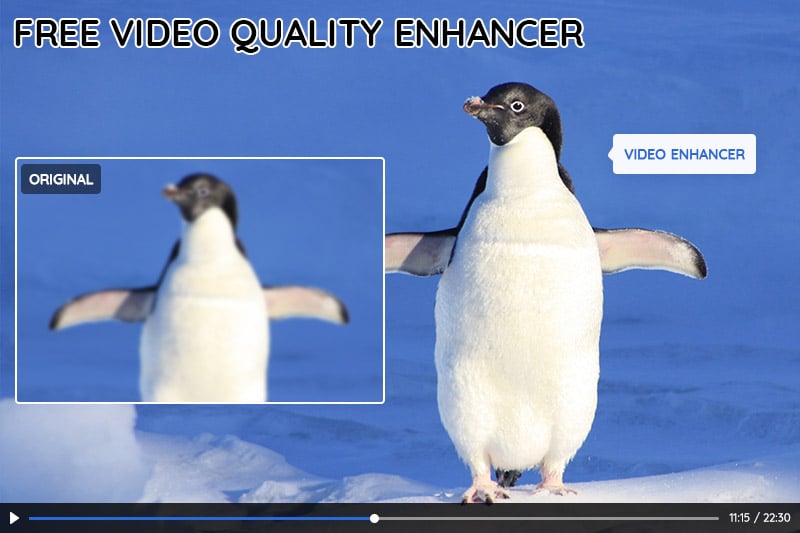 ---
Part 1: Different Types of Free Video Quality Enhancers
There are various types of free video quality enhancers available that offer different benefits depending on the user's needs.
The first type is basic video editing software, which can be used to crop, rotate, and adjust the brightness and contrast of videos. This type of enhancer is typically very easy to use and doesn't require any additional hardware, making it a popular choice for users who don't want to invest in more advanced equipment. However, this type of enhancer is limited in its ability to manipulate videos and has limited effects options.
The second type of free video quality enhancers is plugins or add-ons that can be used with certain video editing software programs. These plugins can provide additional features and effects, such as the ability to stabilize shaky footage or add special transitions and filters. This type of enhancer can be more complex than basic video editing software and may require additional hardware or powerful computers to run properly.
Finally, there are stand-alone applications that offer a variety of tools and features that are specifically designed for video quality enhancement, like some AI-based video enhancers. These applications can provide more professional-level tools, such as noise reduction, color correction, and advanced motion compensation.
---
Part 2: AVCLabs Video Enhancer AI - An All-in-one AI-powered Video Quality Enhancer
AVCLabs Video Enhancer AI is a video quality enhancer that is designed to improve the quality of videos with utmost ease. This cutting-edge technology utilizes breakthrough artificial intelligence to meticulously analyze and enhance the quality of videos, refining resolution, color, brightness, and overall visual fidelity. Employing advanced machine learning algorithms, AVCLabs Video Enhancer AI intelligently upscales low-resolution footage up to 4K while simultaneously preserving intricate details and mitigating common issues such as noise and artifacts.
Consequently, this groundbreaking software empowers both professionals and amateurs alike by enabling the transformation of ordinary videos into visually stunning masterpieces, thereby catering to a diverse range of applications, including film restoration, content creation, and personal entertainment.
Key Features of AVCLabs Video Enhancer AI
AI Upscale video to HD, 4K and even 8K
Enhance video quality with multi-frame
Remove noise to make the video clearer
Recover and enhance facial details with AI
Colorize B&W videos to bring them to life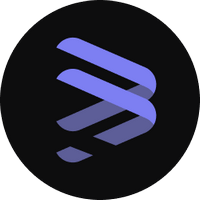 ---
Part 3: How to Enhance Video Quality for Free with AVCLabs Video Enhancer AI
Please check whether the configuration of your computer meets the system and hardware requirements before using this video quality enhancer.
Step 1: Install AVCLabs Video Enhancer AI and Upload Videos
Install AVCLabs Video Enhancer AI and launch it. You can enhance 3 videos for free without a subscription.
Click the "Browse" button or drag and drop videos to upload them to the workplace.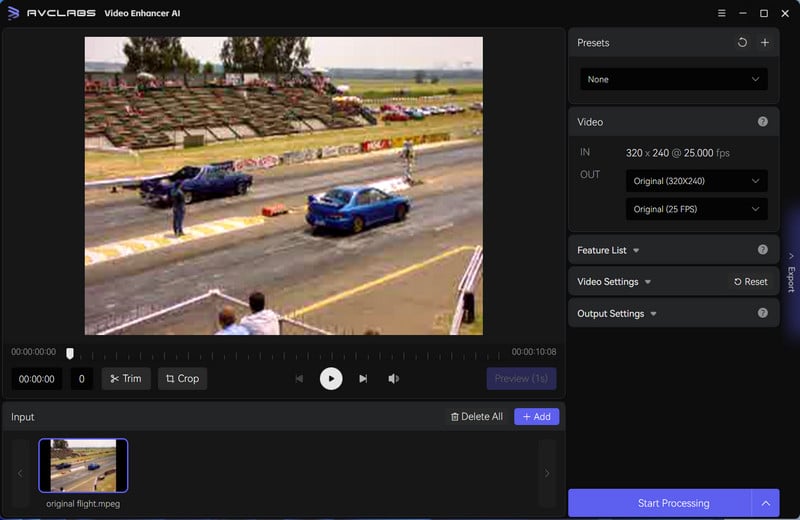 Step 2: Select Targeted AI Features
Examine video quality issues and decide which area to enhance. Choose the appropriate AI features for your needs. There are four AI features that can fulfill most requirements. You can use multiple features simultaneously, like upgrading videos to 4k and adding color.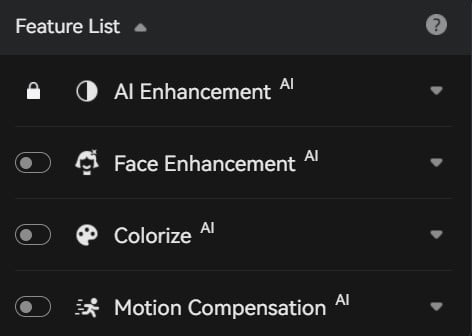 Additionally, you can pick from seven preset options in the Presets section.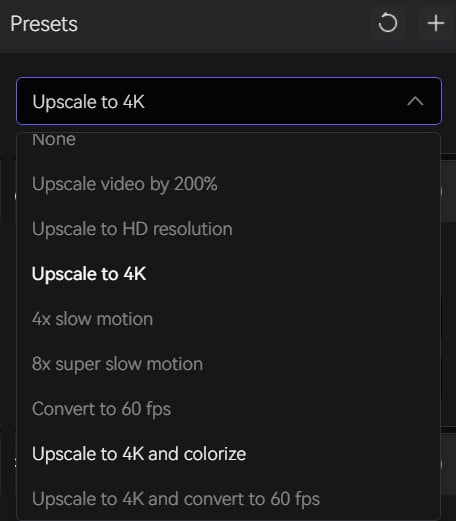 Step 3: Configure Output and Video Settings
Video Settings: manually adjust the brightness, saturation, and contrast of your videos to enhance the visual quality. Or you can also crop to fill the frame and deinterlace.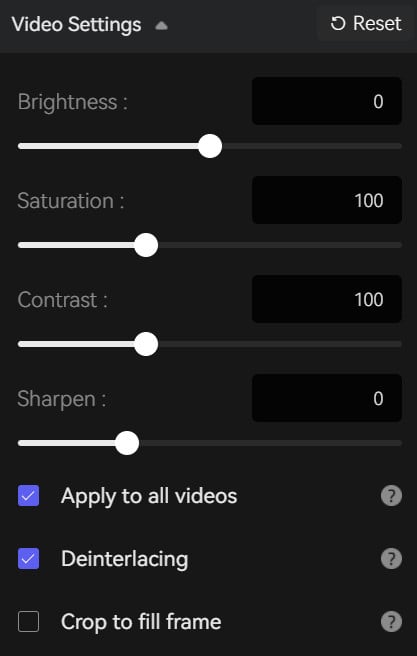 Output Settings: set the output video format(MKV, MP4, AVI, MOV, WEBM), the encoder (H.264, H.265, VP9 Good, VP9 Best, AV1), the bitrate, audio settings, as well as the output path.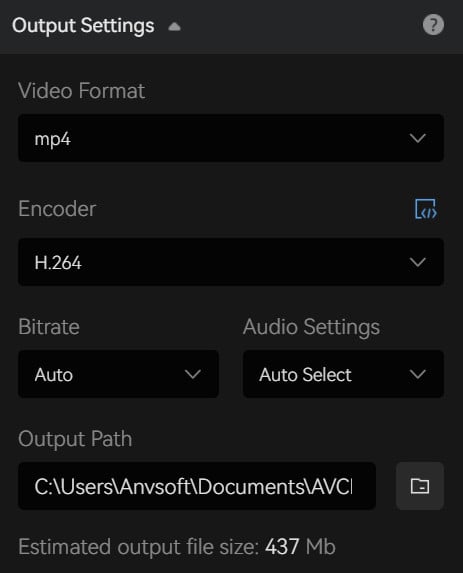 Step 4: Start Enhancing Video Quality
Finally, click the Start Processing button to enhance video quality. Before this, you can click the Eye button to preview 30 frames to make sure the final result is what you want.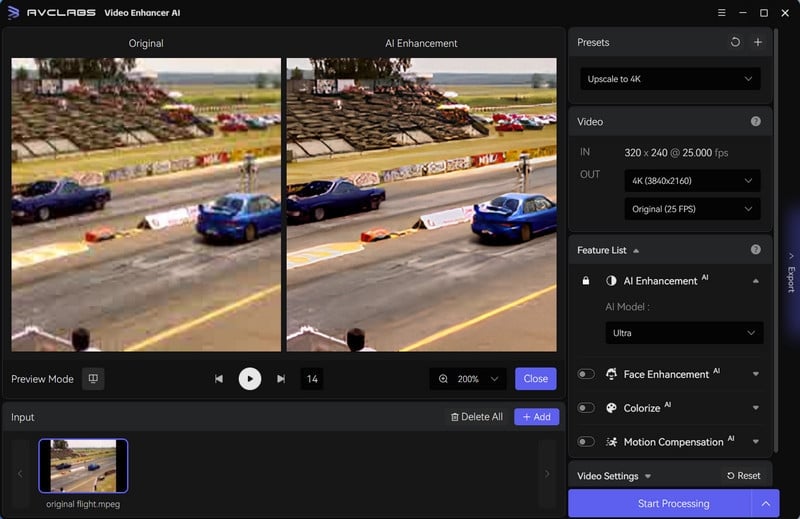 ---
Part 4: Why Choose AVCLabs Video Enhancer AI?
1. User-friendly interface: Navigating through advanced video editing software can be an intimidating task for beginners. AVCLabs Video Enhancer AI features an intuitive and straightforward interface that eliminates any guesswork. Simply import your video into the program, choose the enhancement settings, and let the software handle the rest.
2. Cutting-edge AI technology: AVCLabs Video Enhancer AI employs state-of-the-art artificial intelligence algorithms to analyze each frame of your video and optimize its quality. It corrects various imperfections such as noise, blurriness, and compression artifacts, resulting in stunning visuals that will impress even the most critical viewers.
3. Versatile application: Whether you're dealing with low-resolution footage from an old camcorder or improving the sharpness and clarity of a new HD recording, AVCLabs Video Enhancer AI can tackle any challenge. The software supports a wide range of formats and resolutions, so you can rest assured that your videos will look their best on any platform.
4. Time-saving solution: Thanks to its AI-powered technology, AVCLabs Video Enhancer AI drastically cuts down on editing time. Gone are the days of laborious manual adjustments or waiting for slow, inefficient processes to complete. With AVCLabs Video Enhancer AI, you can achieve professional-grade quality in just a few clicks.
---
Conclusion
There are so many free video quality enhancers available on the market, while AVCLabs Video Enhancer AI ultimately redefines the possibilities within the realm of video enhancement by harnessing the power of AI to deliver exceptional results effortlessly. With that being said, if you're looking for a free and effortless way to enhance your video quality, it is wholeheartedly recommended to download AVCLabs Video Enhancer AI and try it by yourself.
---
Related Articles