Unbelievable Black Friday Deals from AVCLabs: Save up to $170 on AI Tools
New York, November 14, 2023--AVCLabs is a leading company for developing multimedia solutions including Video Enhancer, Photo Enhancer AI, PhotoPro AI, Video Blur AI, etc. As Black Friday is approaching, AVCLabs is ready to wow customers with epic prices and massive discounts on their premium AI tools. The deals have been live since November 11 and will continue until November 30. Don't miss this opportunity to get your hands on the best AI enhancing and editing software at never-before-seen prices.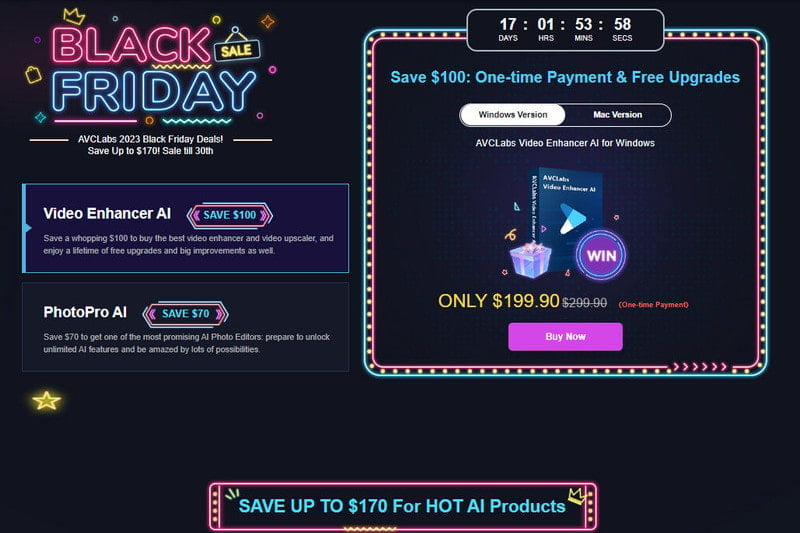 For more information about the 2023 AVCLabs Black Friday Deals, please visit: https://www.avclabs.com/special-offer/2023-black-friday/
Get the Best Black Friday Deals of 2023
Save $100 on AVCLabs Video Enhancer AI
AVCLabs Video Enhancer is a groundbreaking software that leverages the power of artificial intelligence to improve the quality of videos by sharpening, denoising, deblurring and lossless upscaling. Equipped with a dedicated Face Refinement model, it also excels in restoring blurry or out-of-focus faces. The software is also adept at increasing video frame rate and colorizing black-and-white videos.
Available for Windows and Mac Systems: Was $299.90 / perpetual, Now $199.90 / perpetual.
Save $70 on AVCLabs PhotoPro AI
AVCLabs PhotoPro AI is a versatile photo editor that automates photo editing workflow with a magnitude of AI-based features. This tool allows users to erase unwanted objects, cut out and customize photo background, increase photo size by up to 8x, enhance faces, colorize B&W photos, adjust color and more with a few clicks. Partial editing is made possible by various selection tools. The long-awaited replacement AI will be available in its next version enabling users to create new objects based on text prompts.
Available for Windows and Mac Systems: Was $169.90 / perpetual, Now $99.90 / perpetual.
Save $60 on AVCLabs Photo Enhancer AI
AVCLabs Photo Enhancer AI is a dedicated photo enhancement software. This powerful tool uses AI technology to enhance photo quality, improve clarity, and bring out the best in your images. It features AI upscaler, AI denoiser, AI colorizer and AI BG removal, offering similar functions to PhotoPro AI but designed to process a whole image. With a simple interface, this tool will revolutionize your photo editing capabilities whether you're a professional photographer or a casual user.
Available for Windows and Mac Systems: Was $159.90 / perpetual, Now $99.90 / perpetual.
Save $60 on AVCLabs Video Blur AI
AVCLabs Video Blur AI is an AI-powered video anonymization app to mask any objects that you do not want others to see. By utilizing deep-learning algorithms, it automatically detects, recognizes, tracks and blurs selected targets including faces (all or selectively), license plates, foreground/background, etc. Users can also adjust the blur intensity and customize the blur area with a picture or some funny stickers.
Available for Windows and Mac Systems: Was $159.90 / perpetual, Now $99.90 / perpetual.
Save $170 on AVCLabs AI Bundle
AVCLabs AI Bundle includes Video Enhancer AI and Photo Enhancer AI, giving you everything you need to enhance and edit your photos and videos like a pro. For those who want these two products, AVCLabs is offering the AI Bundle at an unbeatable discount of $170.
Available for Windows and Mac Systems: Was $459.80 / perpetual, Now $289.90 / perpetual.
This Black Friday, don't settle for less. Pay once and get a perpetual license with free updates and technical support, but hurry, the deals won't last for long. For more information about the deals, visit this page.
About AVCLabs
AVCLabs is a leading developer of multimedia software, dedicated to providing creative and productive AI video and photo editing tools that enhance workflow. With a focus on innovation and ease-of-use, AVCLabs empowers users to make complex video and photo edits simpler than ever before.
Contact Us
Email: [email protected]
Website: https://www.avclabs.com/
Campaign page: https://www.avclabs.com/special-offer/2023-black-friday/
Facebook page: https://www.facebook.com/AVCLabs.Official2022
Postal Address: New York, NY, 136 Madison Ave., FL 10, New York, NY 10016
---
Related Articles