AI License Plate Recognition: How to Track and Blur Moving License Plates in a Video
Blurring license plates in video content is essential for safeguarding individual privacy and ensuring compliance with legal and ethical standards. While traditional manual blurring methods within video editors exist, the integration of artificial intelligence has streamlined and improved the process significantly. Now this article will introduce an automated solution using AI License Plate Recognition technology to efficiently blur stationary or moving license plates in video footage.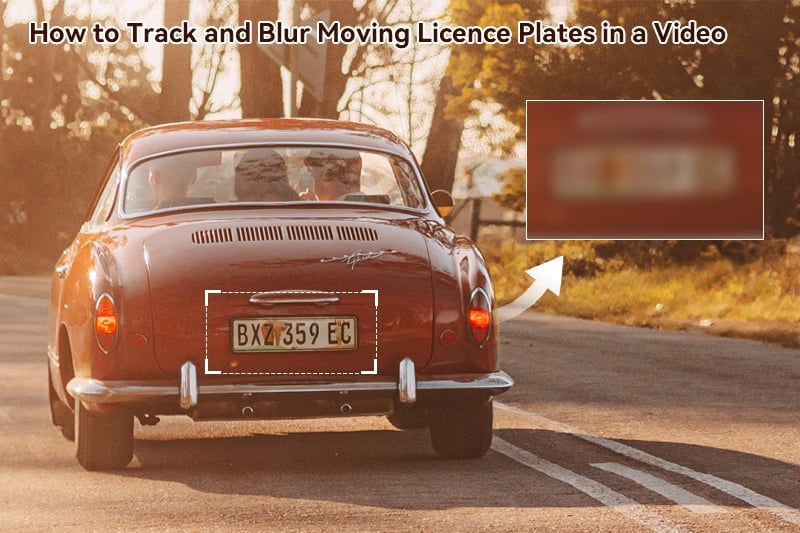 ---
Part 1: What is License Plate Recognition?
License plate recognition (LPR), also known as automatic number plate recognition (ANPR), is a technology that uses optical character recognition (OCR) on images to read vehicle registration plates. This systems can be used to identify and track vehicles, as well as to collect data on traffic patterns and vehicle movements. LPR technology has become increasingly sophisticated and accurate in recent years. Modern LPR systems can read license plates from a variety of angles and in different lighting conditions. They can also read license plates from moving vehicles at high speeds.
---
Part 2: How to Automatically Blur License Plates in Videos with AI License Plate Recognizer?
Automatically blurring license plates in videos necessitates a tool capable of high-speed vehicle tracking. AVCLabs Video Blur AI is an AI-based license plate recognition and blurring tool designed to capture and process license plate images. This automatic recognition feature proves highly valuable for post-processing tasks, especially when the need arises to obscure license plates. It can efficiently detect, analyze, track, and blur moving car plates in videos, whether they are stationary, in motion, or part of traffic scenes, all without introducing overlays or keyframes.
AVCLabs Video Blur AI offers four distinct types of blurring functionalities, which include Face Blur for tracking and blurring faces in videos, Fixed Blur for blurring selected video sections, Background Blur, and License Plate Blur. To blur license plates using AVCLabs Video Blur AI, the process is simple and can be accomplished in just a few steps.
Key Features of AVCLabs Video Blur AI
Automatically detect, track and blur moving license plates in videos
Blur any selected parts of a video as you wish
Blur the detected faces selectively for single face or multiple faces in a video
AI-automated solutions for face, background, foreground, object and license plates blurring.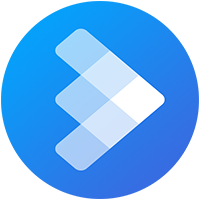 Steps to Blur License Plates with AVCLabs Video Blur AI
Step 1: Install and Import a Video to AVCLabs Video Blur AI
Download and install AVCLabs Video Blur AI to your computer. Double-click to launch it and proceed to import your video either by clicking the "Browse" button or simply dragging and dropping the video file.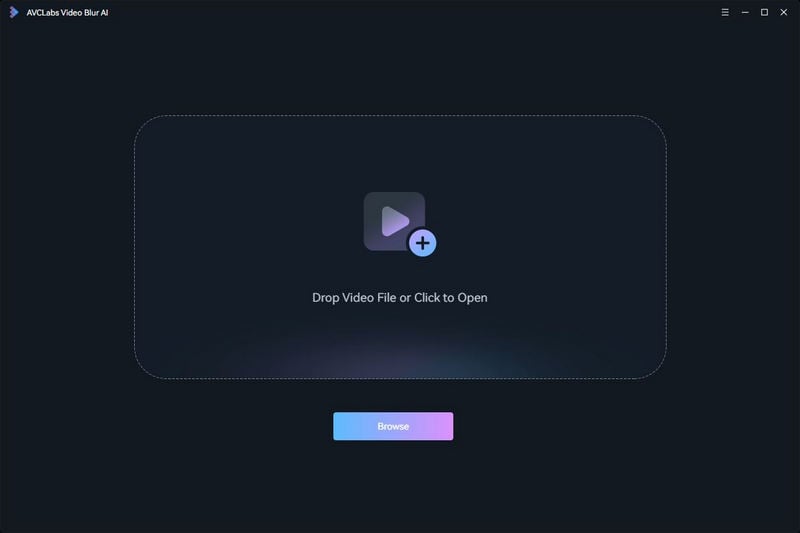 Step 2: Add License Plate Blur Task
At the top of the interface, there are four types of blur options. Select the blur type according to your needs. To blur car plates you should click "License Plate Blur", then it will be automatically added to the taskbar below. For one single video, you can apply multiple blur options simultaneously.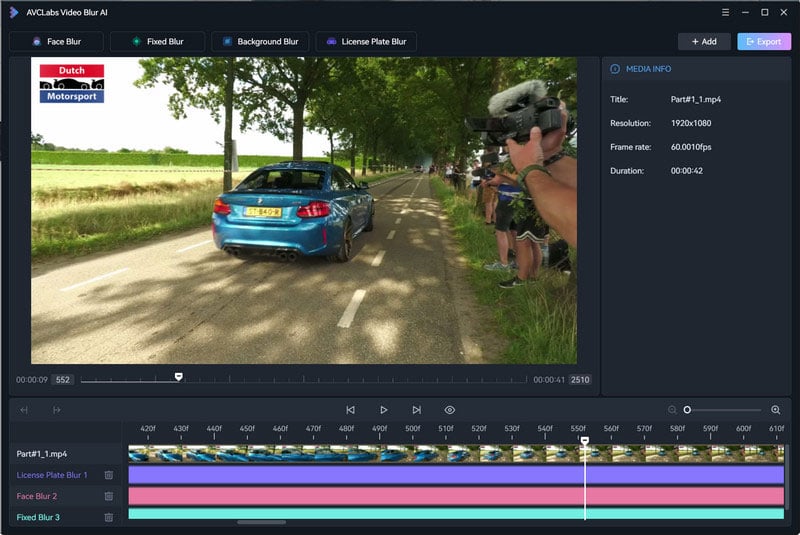 Step 3: Edit Blur Task
1. Edit license Plate Blur Settings
This program blurs all license plates in the video by default. What users need to change are the blur type (Mosaics, Gaussian blur, customized images, and preset stickers) and blur strength.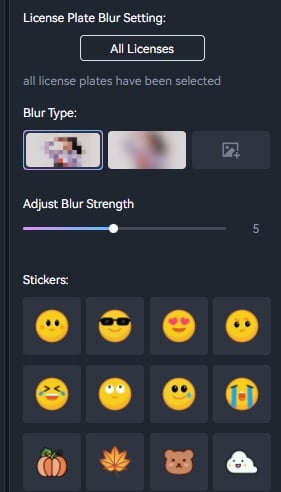 2.Edit Blur Task
Right-click the timeline panel at the bottom to edit this task. You can delete the current blurring task, set specific start and end frames for the video segment you wish to blur, or directly adjust the task duration by dragging the taskbar slider.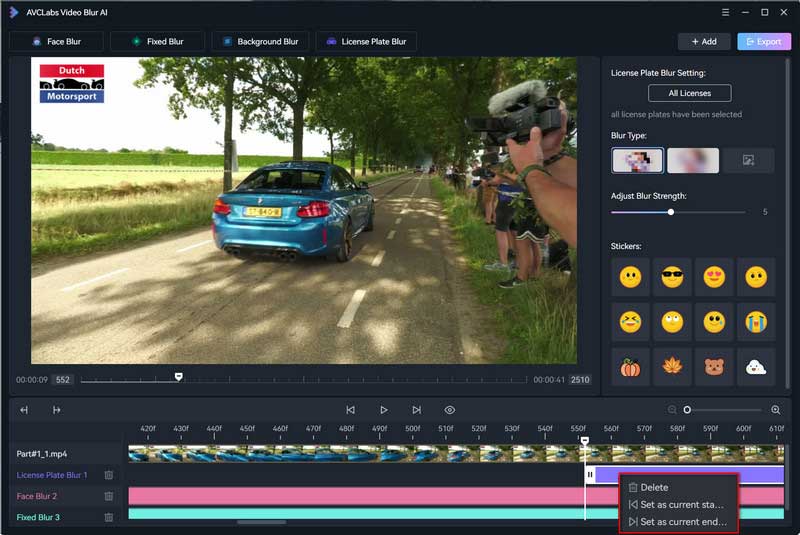 Step 4: Preview and Export Blurred Video
Once you've completed all the necessary settings, click the "Eye" button to preview the effect. You can always go back to make adjustments if needed. When you're satisfied with the result, click the "Export" button to generate the final blurred video.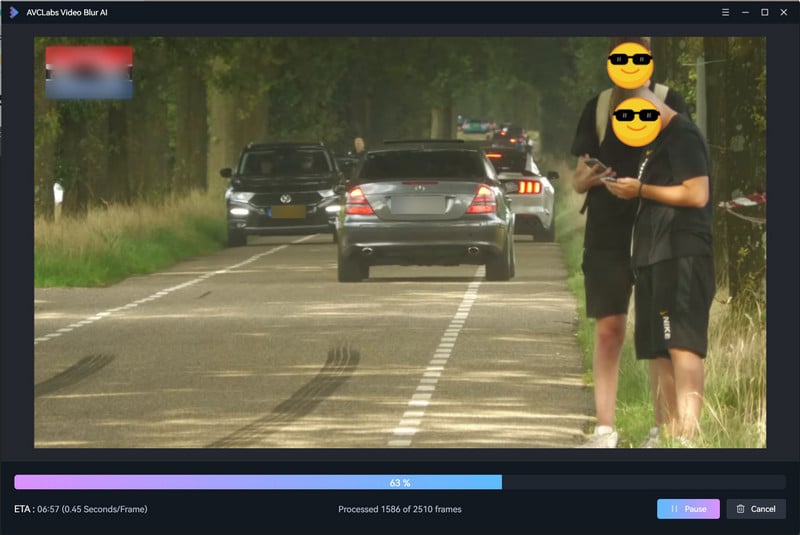 Video Presentation: Blur License Plates with AVCLabs Video Blur AI
---
Part 3: Comparison of the Traditional Way and AI Method to Blur License Plates
3.1 How License Plate Blurring Works in Video Editors - Take CapCut as an Example
Before comparing the two ways of blurring license plates in videos, let's first make it clear how license plate blurring works in video editors, taking Capcut as an example.
Step 1: Click the import button to upload the video that requires blurring. Once uploaded, drag the video to the timeline. Make a duplicate of this video to serve as an overlay.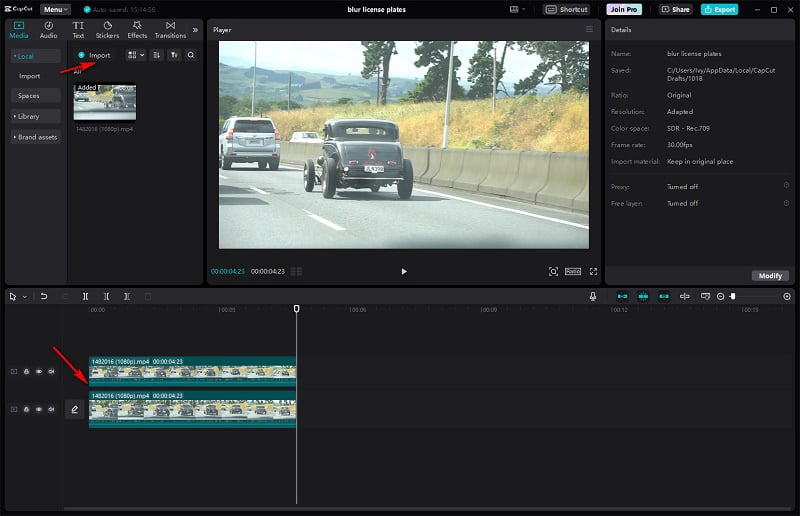 Step 2: Drag the blur effect to the overlay you want to apply and adjust the blur strength.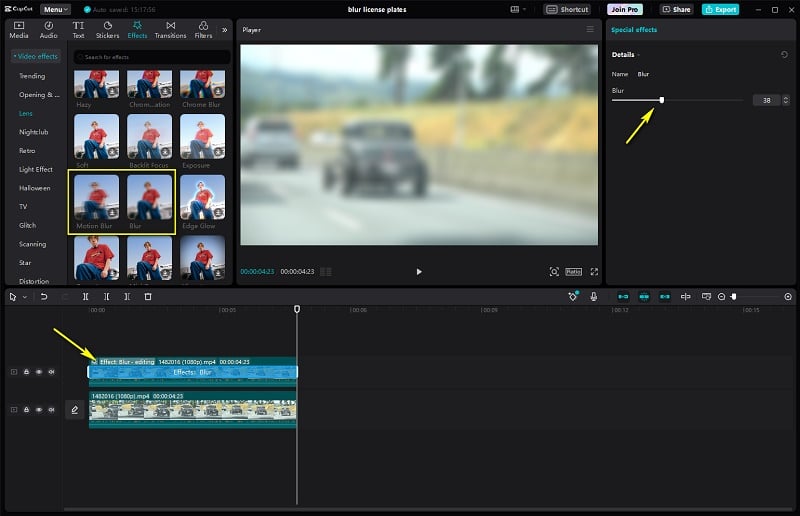 Step 3: Access the layer containing the blur effect and select "Mask." Opt for the Rectangle mask and adjust its size to ensure it perfectly covers the license plate.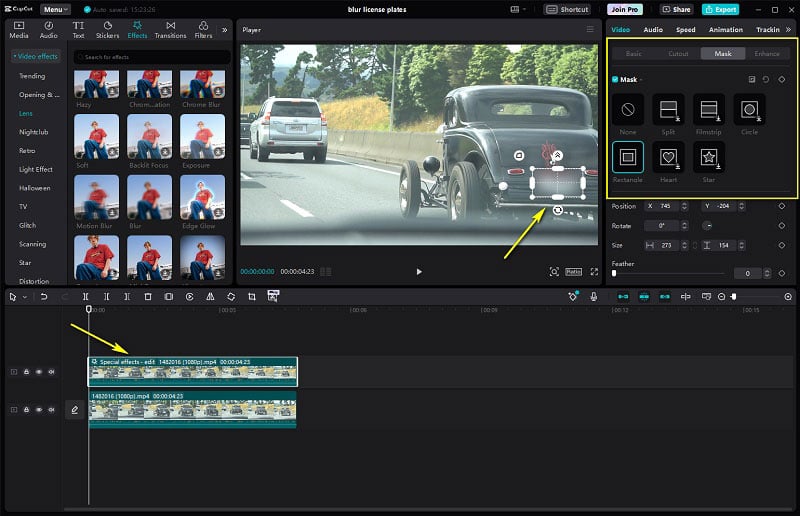 Step 4: To track the license plate with the blur mask, you need to add keyframes. Click the "Add Keyframe" button located on the right side. Then drag the line to play the video. If the license plate moves and is not covered by the blur mask, simply drag the mask to cover it again. Repeat this process until the video is complete. After that, you will notice some white diamond marks on the overlay.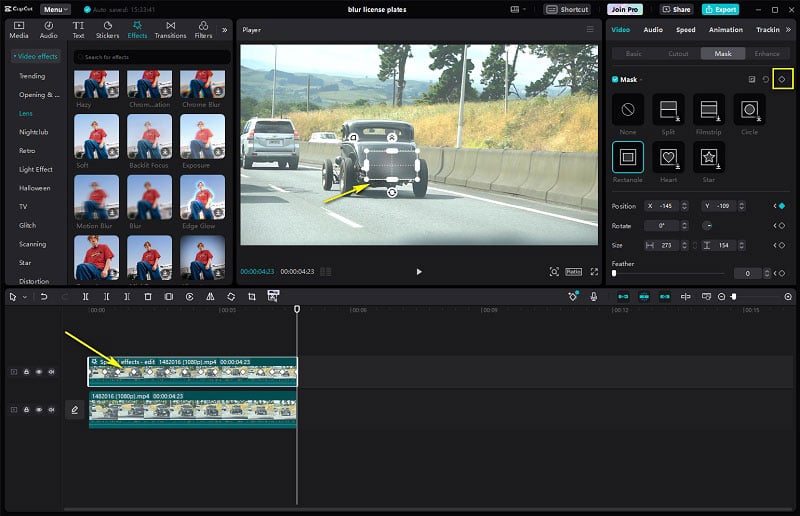 Now, when you play the video, you'll observe that the blur mask effectively tracks and blurs the license plate. If there are multiple license plates in the video that require blurring, add another overlay and repeat the aforementioned steps.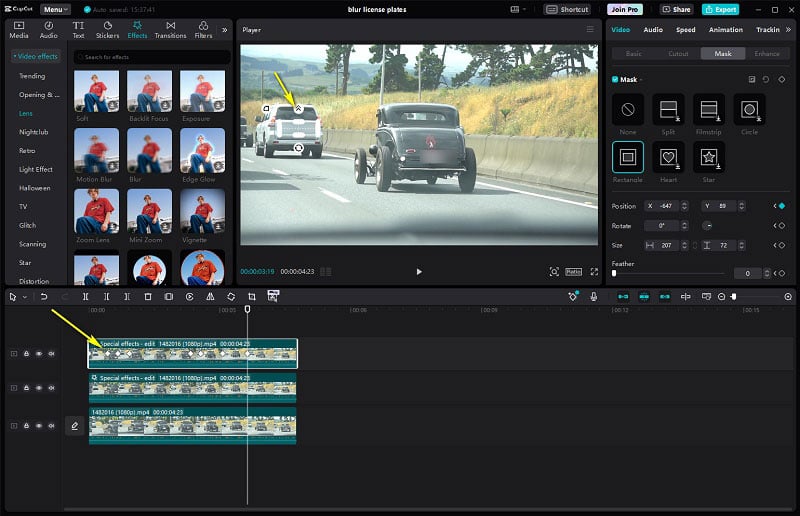 The process is not complicated, but it tests the patience of the editor. It is not suitable for processing long videos since it is very time-consuming.
---
3.2 Pros and Challenges of This AI License Plate Recognition and Blur Software
Pros: Blurring license plates using an AI License Plate Recognition software like AVCLabs Video Blur AI is more efficient compared to traditional video editing. AI tools can automatically detect and blur license plates, making the process faster and more precise, especially for large video datasets or real-time privacy concerns. In contrast, traditional video editing is manual, time-consuming, and less suitable for long videos.
Challenges: One common challenge with such software is that the blur may briefly disappear when the object changes direction, which AVCLabs Video Blur AI also faces, though it handles this issue relatively well.
---
Conclusion
AI has improved the speed and ease of blurring license plates in videos for privacy and legal compliance. Tools like AVCLabs Video Blur AI simplify the process, making it more efficient, even for large videos. Though there are some minor challenges, AI solutions are valuable for enhancing privacy and security. Besides, as technology continues to advance, further optimization is expected.
---
Related Articles