AI Video Upscaling: An Easy Way to Upscale Video to 1080p or 4K
Are you satisfied with watching SD videos on your 4K TVs? Of course not. There is no doubt that watching a high-resolution video such as 1080p or 4K can be really a pleasure. So how to upscale video to high-resolution video? There are many types of video enhancement software to realize this purpose, including AI-powered video upscaling software and non-AI video improving software, and the truth is AI video upscaling software works much better than non-AI software. And the whole process is easy and automatic. This article would like to show users what the easiest method is to upscale video to 1080p and 4K.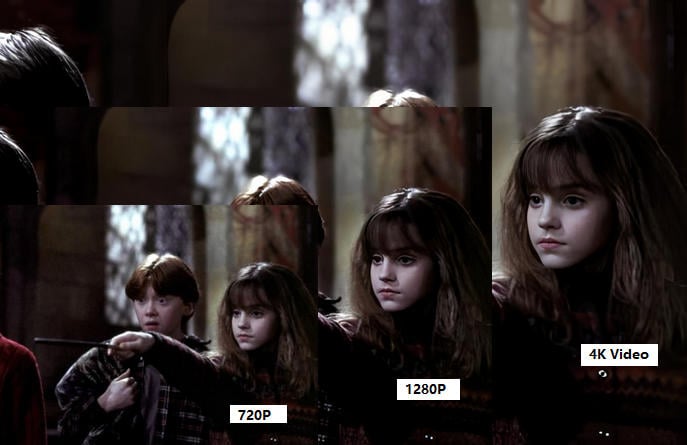 Part 1: What is AI Upscaling
What is AI Upscaling? Does it work?
Al upscaling is the process of generating additional pixels of image information in order to add detail where there was none previously, which helps to replicate the appearance of a higher-resolution image and then apply machine learning to enhance the outcome.
Is AI Video Upscaling possible?
By raising the bit rate of the video, it is possible to slightly increase the visual quality. However, raising the bit rate of movies with resolution upscaled does not significantly improve their image quality.
The good news is that upscaling software based on artificial intelligence technology has been developed, making it possible to increase the picture quality of DVDs as well as lower-quality movies.
Part 2: How AI Video Upscaling Software Work
There are so many AI Upscaling software, while the enhanced results are different accordingly, which mostly depends on the machine-learning and trained models of Articular Intelligent. And AVCLabs Video Enhancer AI is applied with the top-level AI models.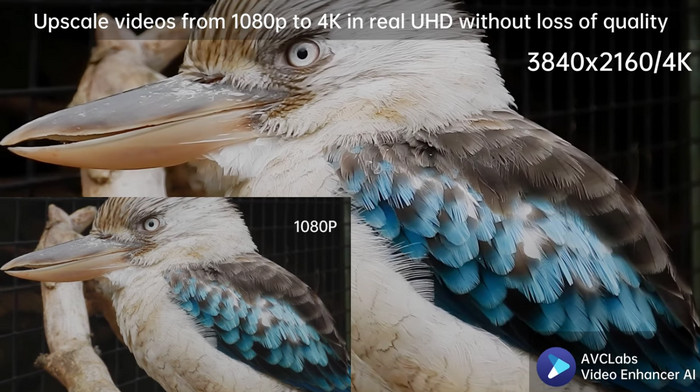 AVCLabs Video Enhancer AI is a powerful tool to improve the video quality, whether the videos were taken from your old camera, old mobile, or other devices a long time ago. This automatic AI video upscaling and enhancing tool can upscale the movie easily and boost the video quality to a high level. With AVCLabs Video Enhancer AI, you can get the low-resolution videos to high-resolution and to be improved automatically with a few clicks, without too much effort on unfamiliar things or skills.
Steps to upscale video with AI
Step 1:
Download and install.
At first, please download and install the AVCLabs Video Enhancer AI program on your computer. And high-end dedicated graphics cards (NVIDIA GTX 1050 Ti and upper) are recommended strongly for GPU acceleration when processing the videos in high efficiency and saving time. To know more about the system requirement, please refer to the Tech Spec page to get to know the system and hardware requirements of AVCLabs Video Enhancer AI.
Step 2:
Run the program and add source video.
After installing, launch Video Enhancer AI and you will see the intuitive interface shown below.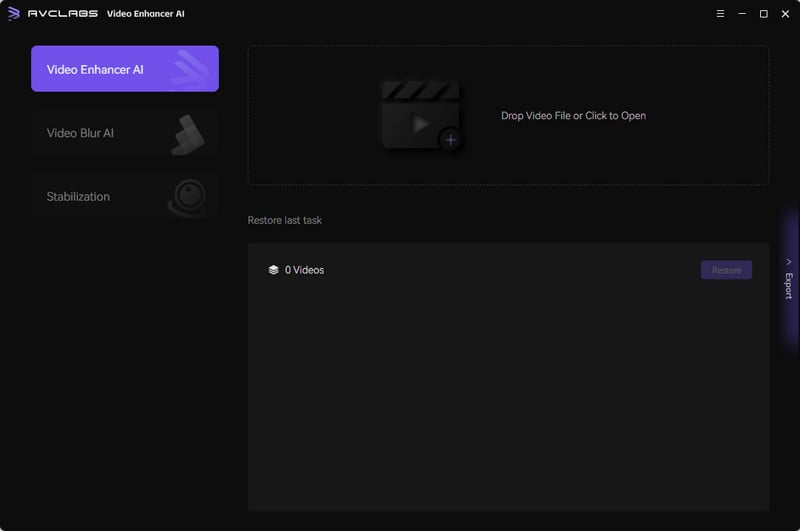 You can drag and drop the video file to the square area to open the video in the program. Also, you can click the Browse button or click "File--Open" to add the source video.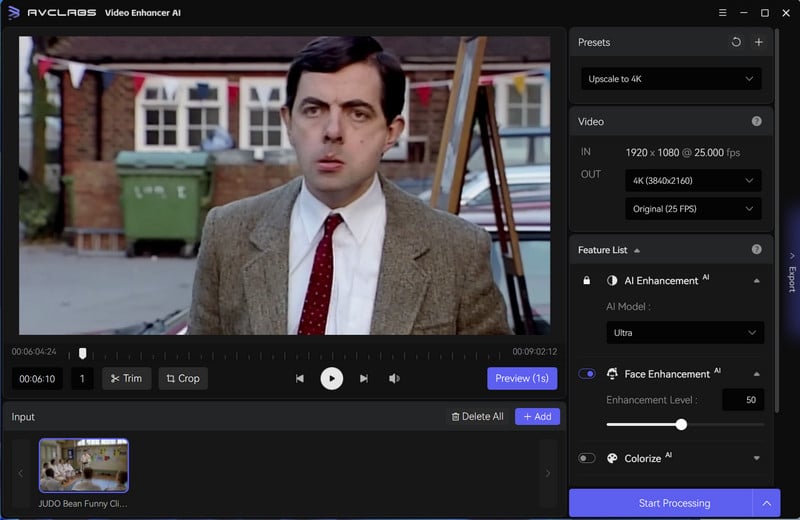 Step 3:
Choose an AI mode and the resolution.
After loading the video files, you could view setting options on the right panel. Here you can choose an AI model.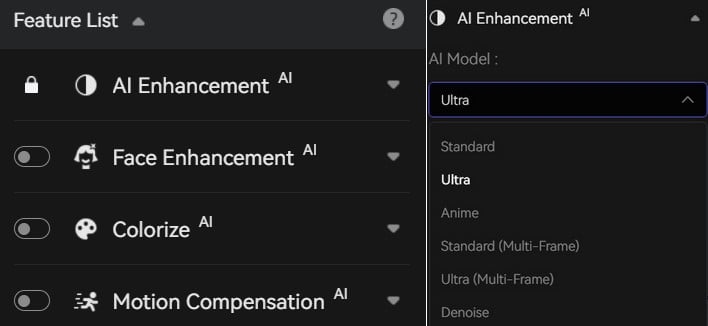 Then you can choose the resolution you prefer.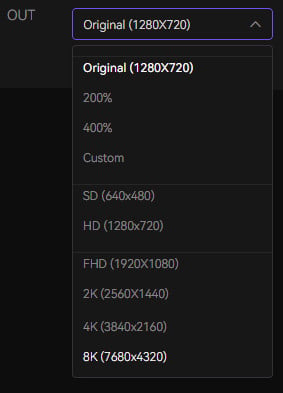 Note: Video resolution affects video size, higher resolutions are not always a better choice, so you can consider your end deliverable when choosing a resolution.
Step 4:
Start the enhancement with AI.
After the simple settings, click Start Processing. The program will start to change a low-resolution video to high resolution. On the processing interface, you can preview the original and processed video, progress bar, processing time and the use of GPU.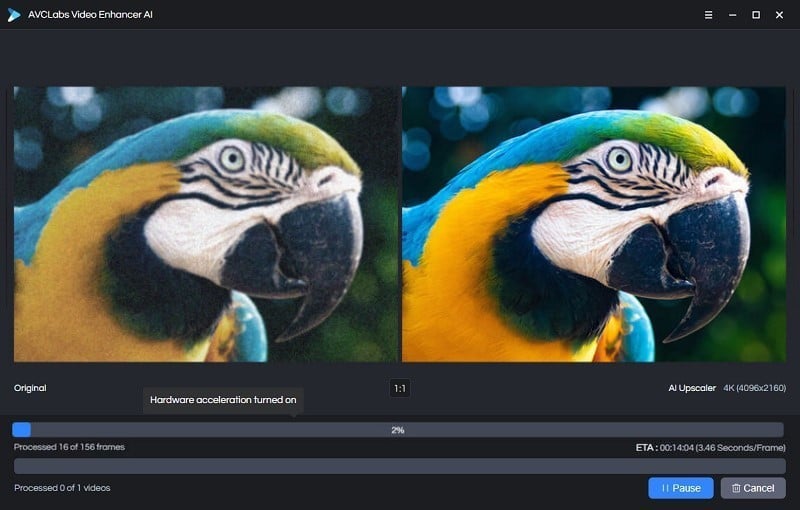 After the processing progress is completed, you can go to the output folder to check the upscaled video. With this AI-based video enhancer, you can get better video quality while upscaling the video resolution to a higher one.
---
Conclusion
Quality is thus the first concern when creating video content. AI video upscaling tool comes in useful to get this goal. And it has already got remarkable results just like AVCLabs Video Enhancer AI and it would get better every year since their algorithms will be trained every day and get better and better. Why not have a try to upscale your video with AI?
Features of AVCLabs Video Enhancer AI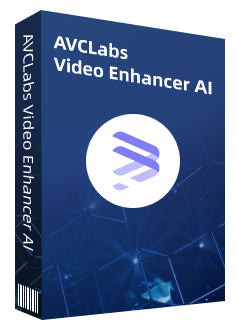 Video Enhancer AI
Improve your video quality with the power of AI
Upscale video from SD to HD, HD to 4K, or 8K
Trim your footage to delete the unwanted part
100% automatically process the video without fine-tuning
Enhance and restore video quality
with the power of AI