Best AI Video Enhancer and Best AI Upscaling Software to Enhance Video Up to 8K
Video quality enhancers are tools that enable you to improve the resolution of a video. And with AI (artificial intelligence), cloud computing, and machine learning, enhancing and improving video quality is more and more in demand. So there are AI applications to help you to optimize the brightness, saturation, and contrast of clips with ease. It helps you to crop, upscale, and enhance clips with minimal effort. And some of them can really get perfect results while some get horrible output video. In this article, a full intro to a powerful AI Video Enhancer is offered. And the operation is so easy and user-friendly. No skill is needed. And if your computer embeds a better graphic card, the output result is better than Topaz Labs.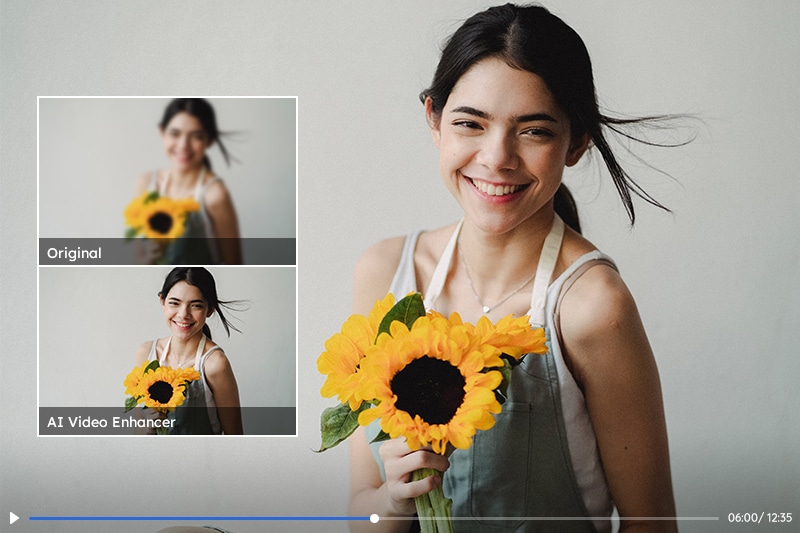 ---
Part 1: What is the Best AI Video Enhancer
AVCLabs Video Enhancer AI is developed by AVC software, which is famous for its Any Video Converter, the popular one on CNET Download.com. And this newly developed video enhancement AI software is based on AI technology. With the power of AI, it can enlarge the video footage with low-resolution up to 4K or 8K. Its identified "Multi-Frame Enhance" model even helps the forensic expert in finding evidence. Does not require any training or skills.
Key Features of AVCLabs Video Enhancer AI
AI Upscale video to HD, 4K and even 8K
Enhance video quality with multi-frame
Remove noise to make the video clearer
Recover and enhance facial details with AI
Colorize B&W videos to bring them to life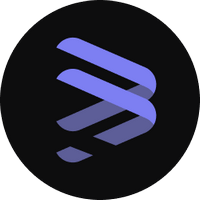 ---
Part 2: How to Enhance Video Quality or Upscale Resolution with the Best AI Video Enahncer
Step 1: Download and install the program on your computer
Download the AVCLabs Video Enhancer AI with the provided links for Windows and Mac versions.
For CPU, GPU and RAM, it's always recommended to have newer or more powerful CPU or GPUs, or larger RAM to speed up the AI video upscaling. And for Windows, DirectX 12 is needed. For Mac, an M1 chip is required.
AVCLabs Video Enhancer AI supports both CPU and GPU for video enhancement. However, we know that AI upscaling for videos is time-consuming, and CPU processing is even slower. So it's officially recommended that you'd better run this kind of process on machines with GPU, the more powerful and more RAM, the better.
To get a better result and faster speed, the Nvidia RTX graphic cards are recommended. The performance is compared like this Nvidia RTX 3090>3080>3070>3060>3050. And 3060 and above is suggested strongly to process the videos with high efficiency and saving time.
Click here for more system requirements of AVCLabs Video Enhancer AI.
Step 2: Run the program and upload videos
If this is the first time for you to run the program, it needs to download the model components, which will take a few minutes.
After launching the program, you can click the Browse button or click the Menu button

on the top-right corner and choose "Open Video File...". Surly you can also drag and drop the video file to the square area to open the video in the program directly.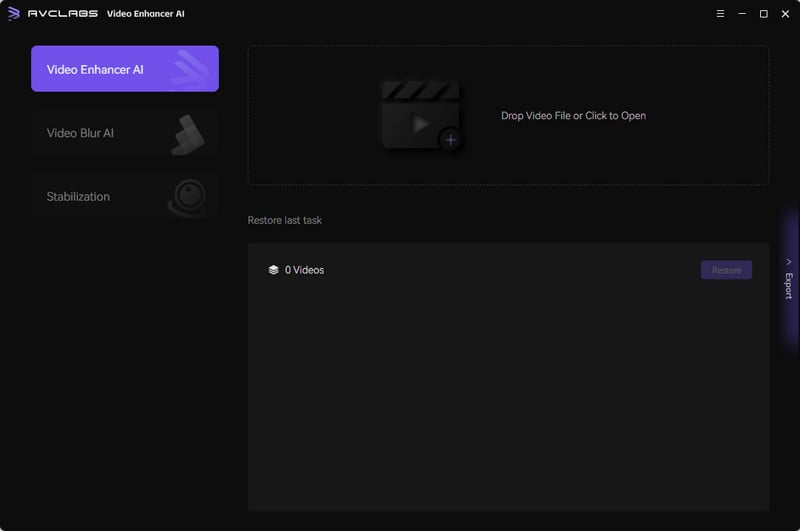 Step 3: Choose the AI feature
After loading the video files, you could view the options to upscale and enhance your video quality on the main window like the below image.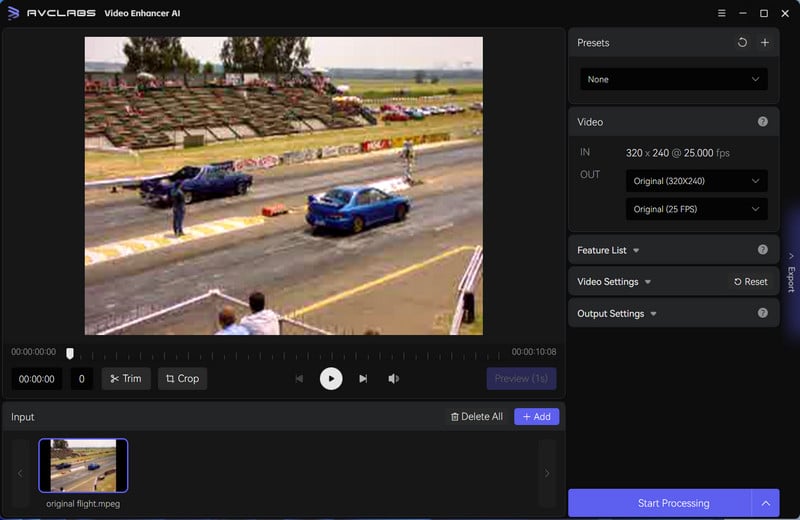 AVCLabs Video Enhancer AI provides users with four AI features: AI Enhancement, Face Refinement, Colorize, and Motion Compensation. Just select anyone according to your needs. To enhance or upscale videos to 8K, you need to enable the AI Enhancement feature. And in the Video section, you can select the desired output resolution under the Out part.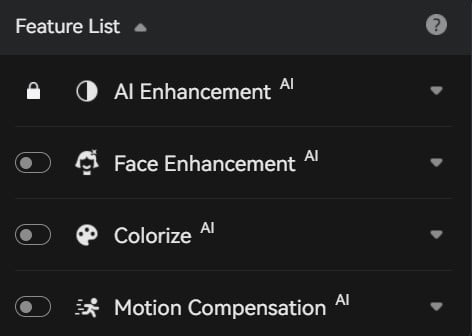 Or there is a much easier way to upscale videos. Under the Presets section, there is a list of pre-configured options that you can use right away. Once you select one, the corresponding AI features will be enabled and other parameters will be set automatically.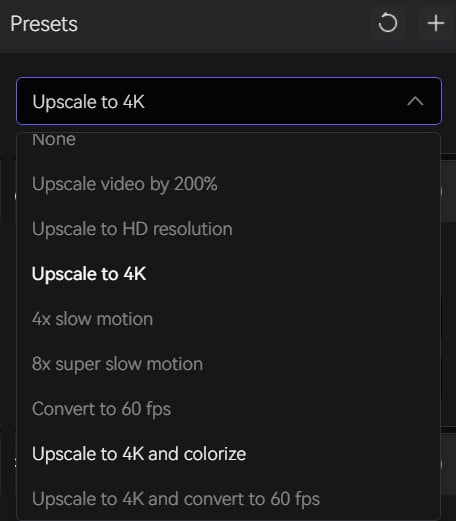 Step 3: Configure the Video and Output Settings
01. Video Settings: you can manually adjust parameters such as brightness, saturation, and contrast to enhance the video quality.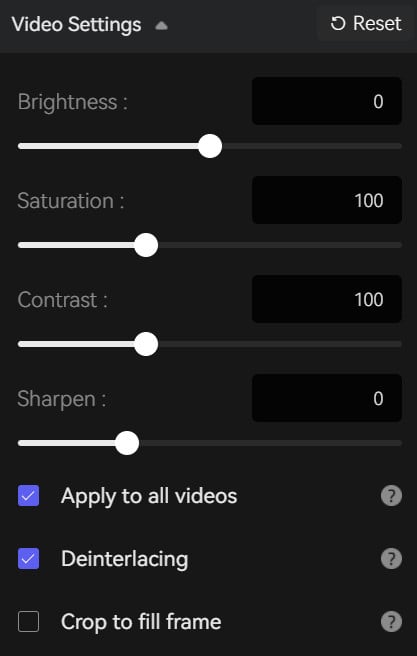 02. Output Settings: the section where you can set the output video format(MKV, MP4, AVI, MOV, WEBM), the encoder (H.264, H.265, VP9 Good, VP9 Best, AV1), bitrate, audio settings, and output path.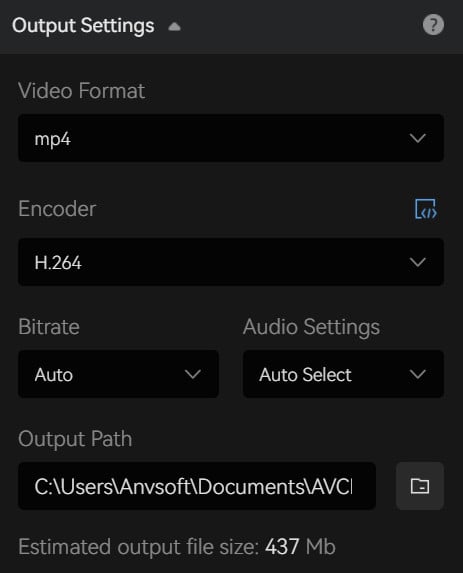 Step 4: Preview the effect and start enhancing video quality with AI
Before you start the processing, the program supplies a 30-frame preview by clicking the Eye button. If you are not satisfied with it, you can change the settings until output the best result.
After the above settings, click the button "Start Processing". The program will start to enhance the quality of movies. On the processing interface, you can see the original and processed video in a comparison view, as well as the progress bar, processing time, etc.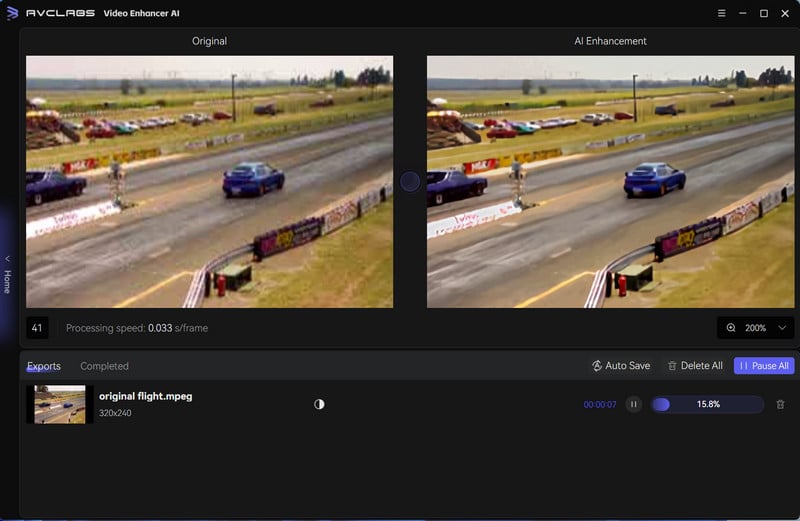 ---
Video Tutorial: Best AI Video Quality Enhancer to Turn Old Videos into Crispy 4K
---
Part 3: Other Tips about Using this AI Video Enhancer
1. How to Trim Video?
If you only need to enhance one clip of the video, you can directly use AVCLabs Video Enhancer AI to trim or crop the video without pre-processing with other editing software. Click the Trim button below the video, then move the cursor to where you want to set it as the start or end part and click set current as the start/ end frame on the right side.Finally, click the Apply button.

2. How Long Does It Take to Upscale and Enhance the Video?
There are some factors that affect the processing speed:
1). The resolution of the original video and the enlarged resolution: the larger the resolution, the slower the speed.
2). DirectX 12 or above is installed on Windows which can enable the GPU acceleration.
3). The Graphic Card of your computer. We recommend NVIDIA Kepler (GTX 600 series) and above; AMD GCN 1st Gen (Radeon HD 7000 series) and above; Intel Haswell (4th-gen core) HD Integrated Graphics and above.
If the graphic card is better, the speed will be faster. For example, if the original one is 576p, and the export is 1080p, the processing speed is 0.3s per frame. For a 15-second video, according to the 30FPS, there are 450 frames in 15-second so it will cost 2.25 minutes or so. If you use GPU GTX 3060 or above, it will take less time.
3. The Pros and Cons of this AI Video Enhancer
Some pros and cons of this AI video enhancer are listed below to help you quickly determine if it is the best AI video enhancer for your or fits your needs.
Pros:
Improve your video quality with the power of AI.
Upscale video from SD to HD, HD to 4K, or 8K.
Trim and crop your footage by frames to delete the unwanted part.
100% automatically process the video without fine-tuning.
Offer a free trial to test all features: Users can enhance 3 videos for free.
Fully compatible with Windows PC and Mac.
Little learning curve and no editing skills are required.
Cons:
Has requirements for the computer hardware.
---
Conclusion
As an alternative to Topaz, AVCLabs Video Enhancer AI is worth having a try. It provides a free trial version for user evaluation. You will find it is so easy and works for your needs best. Just download and try it.
---
Related Articles