How to Fix Grainy Videos Automatically to Make them Clear
"How do you make a grainy video clearer?"
If you have old videos from your childhood or even recent events like wedding ceremonies, you may be eagerly waiting for the day when you can show them to your kids and grandkids. However, what if the videos are grainy and noisy? Do you think they'll be worth watching? Thankfully, it doesn't have to be that bad. Even if the video is noisy and blurred, it is quite possible to get rid of the grain and noise from video and bring back its clarity with a bit of digital magic. In this article, we are going to look at various techniques that can help you fix grainy or noisy videos quickly and easily.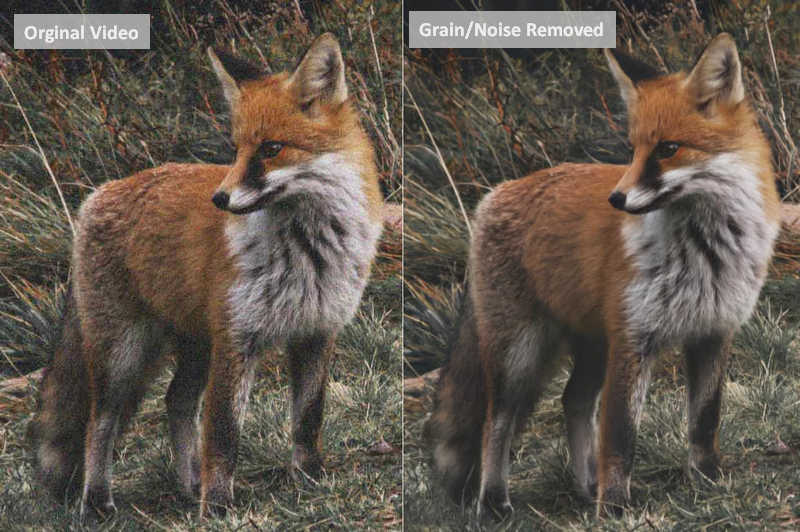 ---
Part 1: Why Is My Video Grainy
Grainy video is an unwanted effect that can make your videos look less sharp and clear. It is caused by various factors, including low-quality recording devices, poor lighting, wrong camera settings and excessive digital zooming.
When recording video, ensure the device you are using is of high quality. Low resolution or a small number of pixels can make your video grainy. Additionally, the lighting should be adequate and not too dark or overexposed. The camera settings should also be adjusted to optimize image quality such as reducing digital noise or increasing sharpness. Lastly, avoid excessively zooming in or out as this will reduce picture clarity and may lead to grainy footage.
---
Part 2: How to Fix Grainy Videos via AVCLabs Video Enhancer AI
When it comes to how to fix grainy and noisy videos, Adobe may come to your mind firstly, and yes, it has a piece of software called After Effects which can offer the function "Remove Grain". But it requires a certain extent of video editing skills, thus it seems not a wise choice for a layman. Is there a piece of video enhancement software that requires zero editing skills and has an excellent effect? Yes, AVCLabs Video Enhancer AI is exactly the answer. With its powerful artificial intelligence (AI) technology as well as an easy-operation system--it allows laymen like you or me to remove noise and grain from all kinds o video without any trouble at all!
Key Features of AVCLabs Video Enhancer AI
AI Upscale video to HD, 4K and even 8K
Enhance video quality with multi-frame
Remove noise to make the video clearer
Recover and enhance facial details with AI
Colorize B&W videos to bring them to life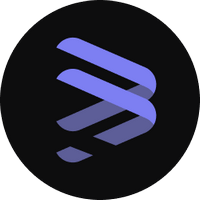 Steps to Fix Grainy Videos with AVCLabs Video Enhancer AI
Step 1: Import Your Original Grainy Or Noisy Video
To begin with, you need to download and install the AI enhancement tool on your computer first. When it completes the installation, launch it and you will see a very clean and simple interface.
Warm Tips: Check he system requirements of AVCLabs Video Enhancer AI:
Before getting started, go to see the System and Hardware Requirements of AVCLabs Video Enhancer AI .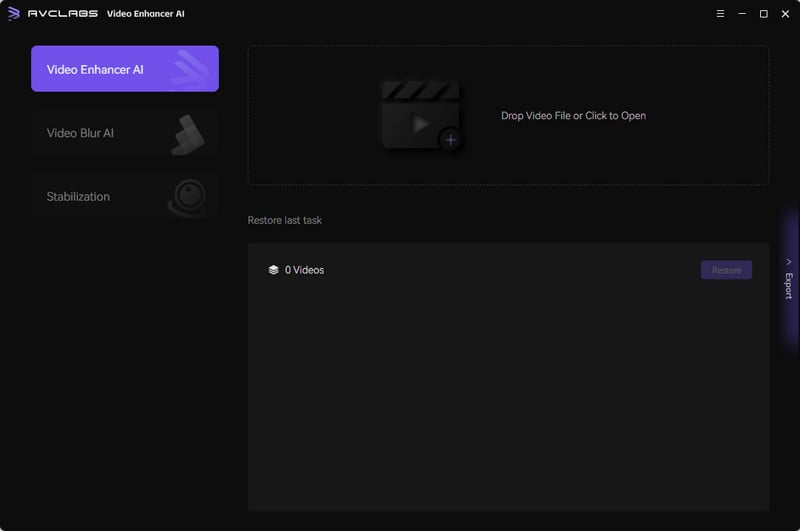 To import the video, you can drag the file in the middle of the interface or click on the Browse button to import the original video.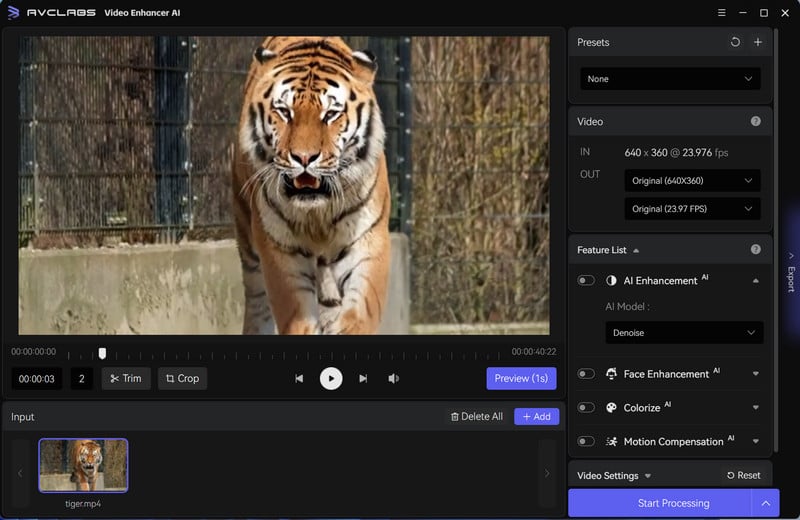 Step 2: Select the AI Model and Output Resolution
After importing the original video, you will see the options like Video Settings, Video Format, Feature List in the right panel. Here you can turn on the AI Enhancement and select the Denoise as the AI Model.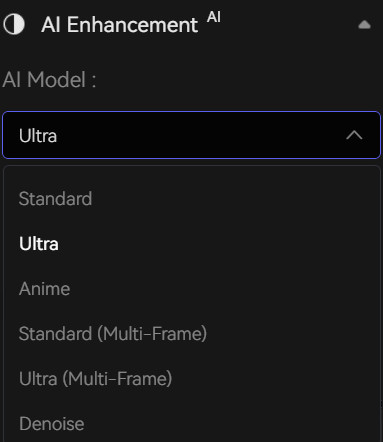 Step 3: Configure Settings
Output Settings: you can set the output video format(MKV, MP4, AVI, MOV, WEBM), the encoder (H.264, H.265, VP9 Good, VP9 Best, AV1), the bitrate, audio settings, as well as the output path as you prefer.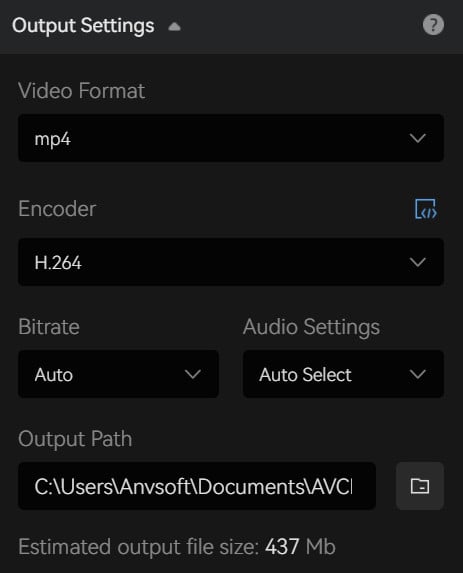 Video Settings: If you need more hands-on control, you are able to manually adjust the brightness, saturation, and contrast of your videos to enhance the visual quality under Video Settings. Or you can also check the box of cropping to fill the frame and deinterlacing.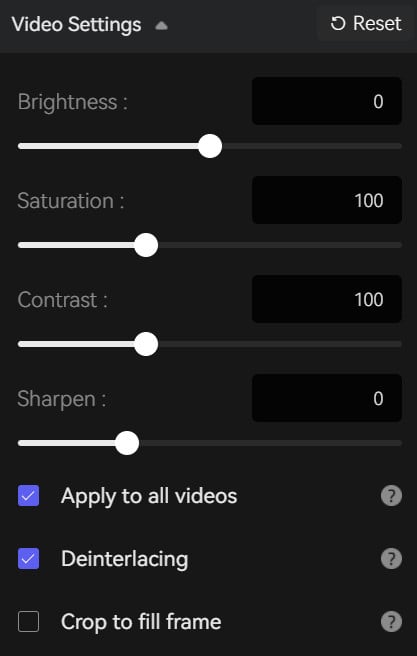 Step 4: Start Fixing Grainy Videos with AI
After you finish the settings of AI Model and Resolution, you can click on the Start Processing to begin fixing the grainy and noisy video. To this step, you have almost completed all the procedures, and what you need to do now is wait for AVCLabs Video Enhancer AI to fix the video automatically and efficiently. During the processing, you can view the grainy video and the fixed one at the same time.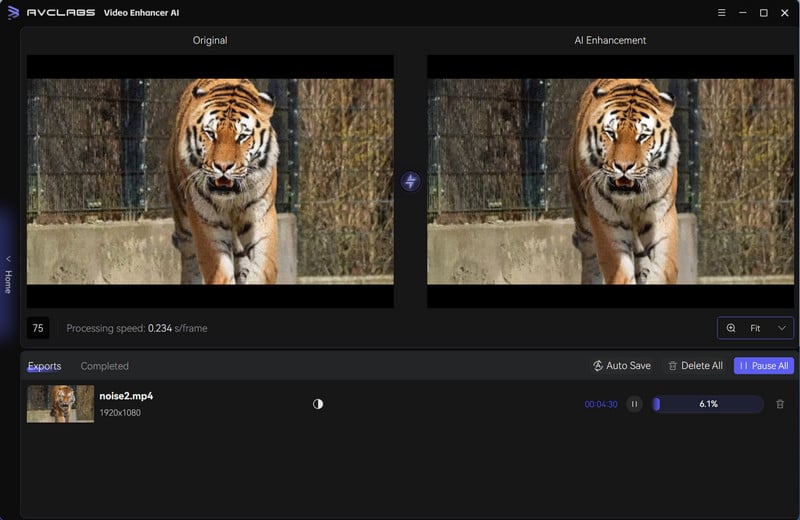 ---
Video Tutorial: How to Fix Noisy/Grainy Videos
---
Part 3: How to Avoid Grainy Videos
One of the most common problems when shooting videos is creating footage that appears grainy or blurry. This can be a result of a number of factors, including low light levels or camera settings that are not optimized for capturing video. In order to make sure you get the best quality video possible, here are some tips on how to avoid grainy videos.
First, make sure you are shooting in an area with plenty of light. Natural lighting is best, but if that's not available, use additional light sources such as lamps or floodlights to illuminate the scene. This will help your camera capture more detail and reduce grainy footage.
Second, adjust your camera's ISO settings. ISO is the measure of how sensitive the camera's sensor is to light. The lower the ISO, the less noise you will see in your video. If possible, set it as low as possible to avoid grainy footage.
Third, if you can't adjust your camera's ISO setting manuall, use the exposure compensation setting. This allows you to adjust the brightness of your footage without changing the ISO. Again, this can help reduce grainy results.
Finally, use a tripod or other stabilization tool when shooting video. Even if you have steady hands, any movement can cause grainy and blurry footage. A good tripod will help keep your footage steady and reduce any graininess.
By following these tips, you can eliminate the chances of getting grainy videos and ensure that your footage looks professional and sharp. With a little practice and patience, you'll be on your way to shooting great-looking videos in no time!
---
Conclusion
Overall, grainy videos can be extremely annoying to watch. However, by taking the appropriate steps and using the right tools as discussed in this tutorial such as AVCLabs Video Enhancer AI, you can easily fix any grainy videos you may have taken. And if you take the necessary measures now to increase your video quality and avoid grainy footage down the line, you'll be well on your way to creating high-quality, professional-looking videos that won't turn away potential viewers. From adjusting ISO settings to using a tripod or gimbal to investing in a digital image stabilization software, following our tips will prevent future grainy videos — delivering smoother, more consistent visuals without compromising on quality. Learn how good your video can be with AVCLabs Video Enhancer AI today!
---
Related Articles