10 Best Video Background Blur Apps for 2023
Blurring video background is a technique that can help you create stunning and professional-looking videos, as well as protect the privacy and identity of the people in your footage. This technique can be used to create a cinematic effect, to make a subject stand out from their surroundings, or to simply make a video more visually appealing.
Whether you want to blur the background to focus on the foreground, or blur any part of your video to hide sensitive or unwanted information, you need a good app that can help you achieve your desired results. Whether you're an iOS or Android user, a desktop enthusiast, or someone who prefers online solutions, this article will guide you through the best apps and software for blurring video backgrounds.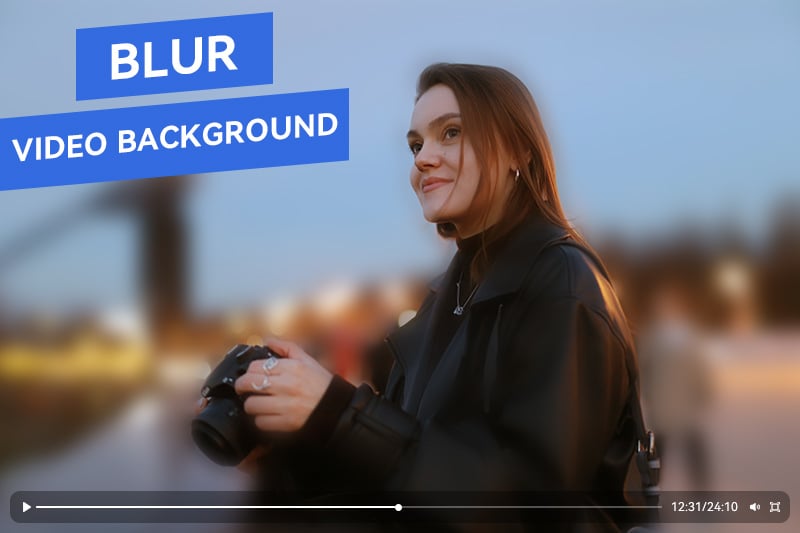 ---
Part 1: 5 Best Blur Video Apps for iPhone and Android
If you want to blur video background on your iPhone or Android device, you have several options to choose from. Here are some of the best apps that can help you blur video background on your smartphone or tablet.
1.1 BlurEffect-Blur Photo & Video [For iOS]
BlurEffect is an iOS video editing application tailor-made for beginners, simplifying the process of crafting high-quality photos and videos with seamlessly blurred backgrounds. This user-friendly app offers a wide range of blur effects, such as soft focus, pixelation, motion blur, and frame blur, making it effortless to apply blurring to any element within your photos or videos, be it faces, backgrounds, or license plates. Additionally, you have the flexibility to fine-tune the intensity and extent of the blur, catering to your specific requirements and areas needing a soft, hazy touch.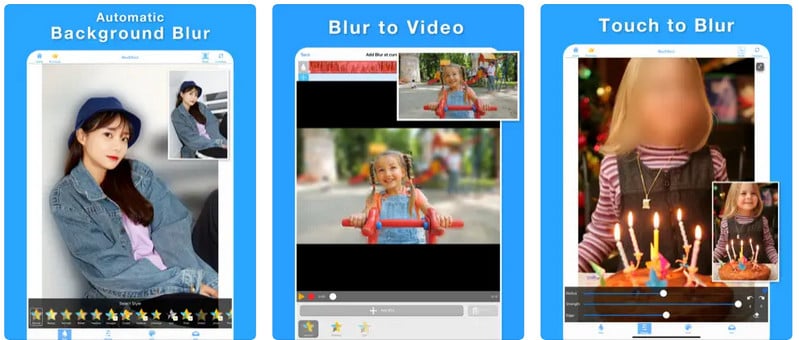 Features:
Blur photos and videos with a variety of blur effects.
Adjust the intensity of the blur.
Easy to use interface.
Works with both photos and videos.
1.2 Blur Video [For Android]
Blur Video is a standout Android app built with a social media focus, designed to effortlessly blur videos in popular formats like MP4, WMV and 3GP for platforms such as Snapchat, Instagram, twitter and other social networks. This versatile tool offers users three distinct video blur modes, including Free Style Blur, Instagram no Crop, and Fun Blur. The Free Style Blur mode allows for unrestricted blurring anywhere within your video, with adjustable blur intensity to cater to your specific needs and preferences.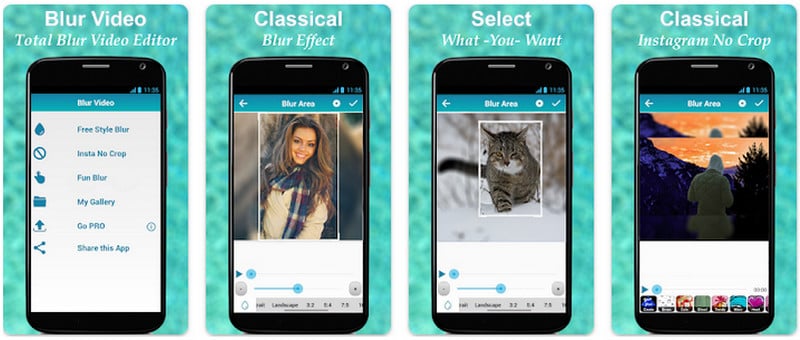 Features:
Designed for Instagram and other social media platforms.
Free Style, Instagram no Crop, and Fun Blur for different needs.
Fine-tune Easy to use even for beginners.
Blur effect from subtle to dramatic.
1.3 MagoVideo [For Android]
MagoVideo stands out as an enjoyable video editing application tailored for Android devices. This versatile app empowers you to effortlessly blur faces, backgrounds, or any object within your videos, providing the flexibility to fine-tune the degree and scope of blurring to match your specific requirements. In addition to its blurring capabilities, MagoVideo also offers an array of creative tools, including enchanting magic effects, blending options, stickers, emojis, text overlays, frames, and the ability to incorporate music, all designed to enhance the visual appeal of your videos.

Features:
Video background filters.
Change blurring shape and position.
Add special effects, music to videos.
Easy file saving and sharing option.
1.4 MovStash [For iOS]
MovStash is a flexible video editing application specially crafted for adding mosaic and blurring effects to videos. It provides users with four distinct blur modes, namely Simple, Timeline, Face Tracking, and Whole Video mode. In the Simple mode, individuals have the freedom to manually specify the areas to blur and fine-tune settings like the intensity of the blur effect. The Timeline mode permits the blurring of multiple sections in a video, and users can customize the blur levels and sizes. MovStash shines as one of the top-notch iPhone apps for blurring video backgrounds, offering a variety of blurring styles, alongside the convenience of face tracking and timeline modes. It's an ideal choice for elevating the quality of your video content.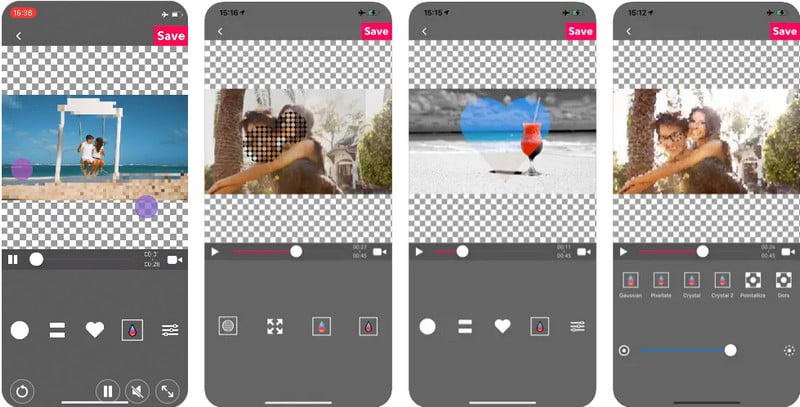 Features:
Four distinct blurring modes available.
Filters for video backgrounds.
Automatic detection of faces for blur tracking.
Ability to modify the shape and position of blurring.
1.5 VLLO [For Android & iOS]
VLLO is a new video editing app, brimming with an array of invaluable features, designed to cater to the ever-growing demand for fast and efficient video editing on a mobile platform. This multifaceted application offers a wide spectrum of tools and capabilities, including a rich selection of filters, seamless transition effects, and the convenient option to blur faces. Moreover, VLLO empowers users to personalize video backgrounds, infuse captivating animation effects, and more. Within this versatile software, you can seamlessly incorporate the art of video blurring, ensuring that specific parts of your video content remain discreet or out of focus.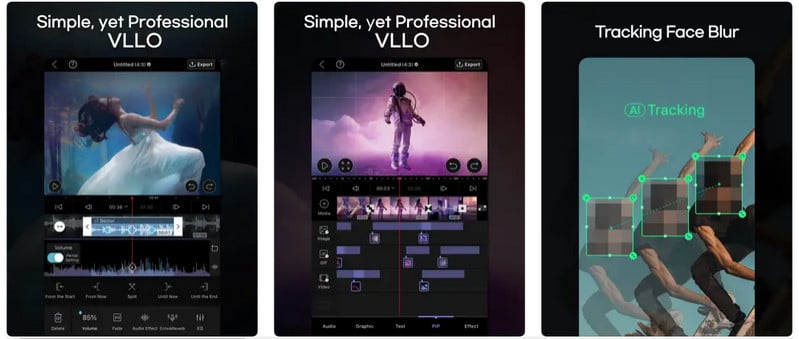 Features:
Add artistic effects to videos.
Incorporate image overlays into any video.
Apply mosaic or blur effects to specific areas in videos.
Various custom functions.
---
Part 2: Recommended Software to Blur Video Backgrounds on Desktop
If you want to blur video background on your desktop computer, you have several options to choose from. Here are some of the best software that can help you blur video background on your Windows or Mac computer.
2.1 AVCLabs Video Blur AI
AVCLabs Video Blur AI is a specialized software tailored for the purpose of blurring in videos. Its standout feature lies in its utilization of artificial intelligence, enabling it to autonomously identify and blur not just video backgrounds but also faces, license plates, and various objects within the footage. The software provides a spectrum of blur effects and extensive customization choices, allowing users to finely tune the blur intensity according to their preferences. This advanced technology proves invaluable in attaining a polished and professional background blur effect.
Key Features of AVCLabs Video Blur AI
AI-automated solutions for face, background, object and license plates blurring
Blur the detected faces selectively for single face or multiple faces in a video
Automatically detect and track license plate in videos
Blur or pixelate parts of a video
High precision and consistency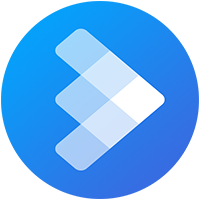 Steps to Blur Video Background with AVCLabs Video Blur AI
Step 1: Install AVCLabs Video Blur AI and Import Video
Download and run the installation package of AVCLabs Video Blur AI. Then click the "Browse" button and select the video file that you want to blur the background of. You can also drag and drop the video file onto the program window.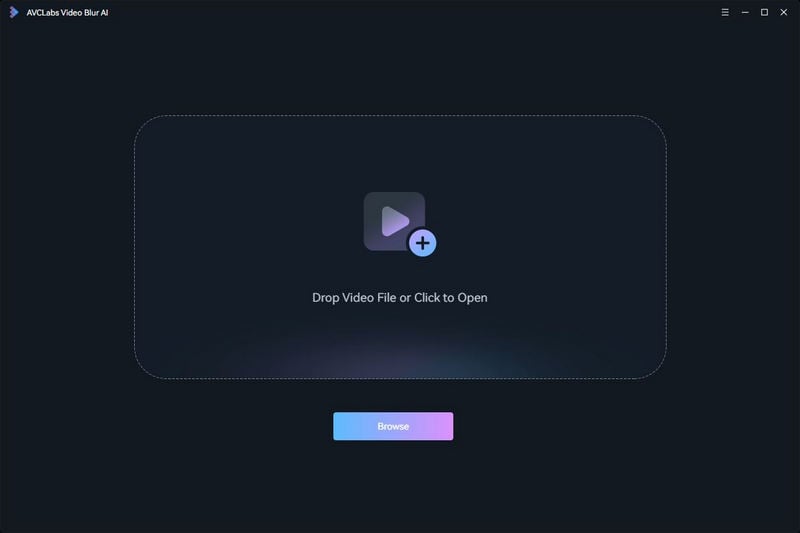 Step 2: Select Background Blur Model and Blur Type
After importing a video to the program, simply navigate to the Background Blur tab at the top of the program to start the background blur task. Then choose the desired blur style: Mosaic, Standard Blur, Longitudinal Blur, Blique Blur, and Particle Blur.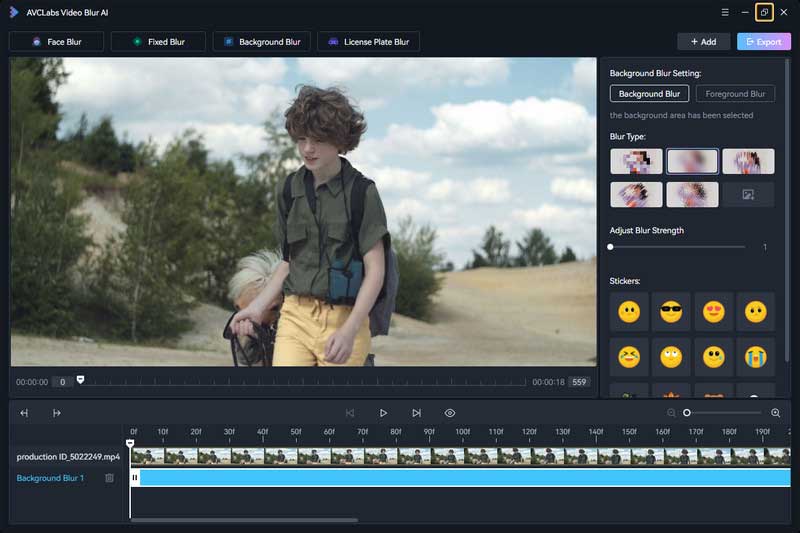 Tips: You have the flexibility to customize the blur strength by simply dragging the Adjust Blur Strength.
Step 3: Edit Background Blur Task
Edit background blur task by right-click the timeline panel at the bottom. Then you can delete current blurring task or set the start and end frames for the video you want to blur the background.

Step 4: Start Blurring Background in Your Video
After configuring all the necessary settings, just click the "Export" button to automatically blur the video background on your computer. Once the video background blurring process is complete, you can review the processed video by selecting the View Output Video button.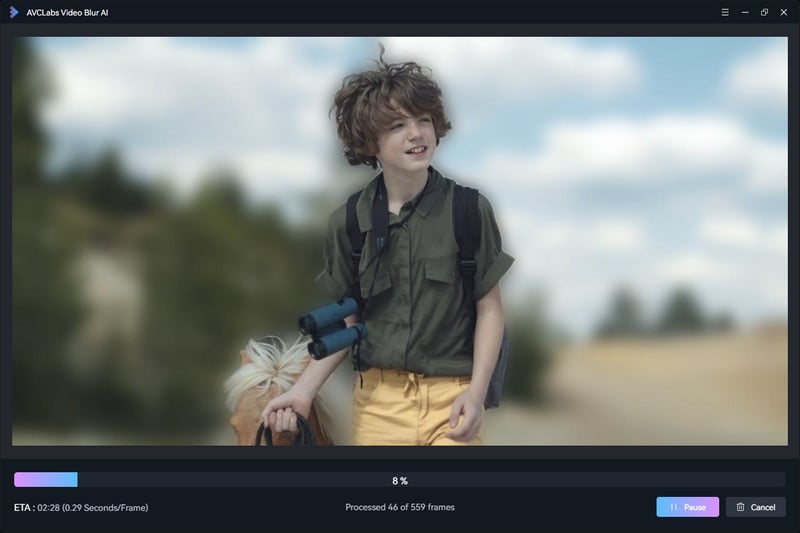 2.2 CapCut
CapCut is a popular, user-friendly, and free video editing software known for its ease of use and powerful features. It offers a wide range of editing options, including the ability to apply background blurs to your videos, even though it may lack AI-powered background detection. With CapCut, you can manually add blur effects to the video background, face, or other parts of your clips, allowing for precise adjustments. Additionally, it provides various creative elements such as text, stickers, filters, transitions, and more to enhance your video editing experience.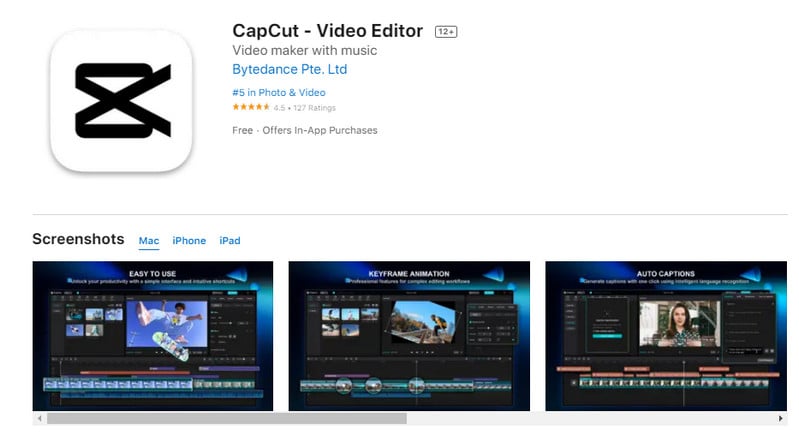 Features:
Adjustable blur intensity.
Easy to use interface.
Edge detection and feathering.
Real-time preview of blur effects.
---
Part 3: Best Video Background Blurring Editors Online
If you're looking for convenient and accessible tools to blur video backgrounds, online video editing platforms offer a range of options that cater to various skill levels and editing needs. These online tools provide a user-friendly interface and eliminate the need for downloading and installing bulky software programs.
3.1 Kapwing
Kapwing is a free and user-friendly online video editor that simplifies the process of blurring your video background. You can effortlessly upload your video, select the blur effect, and fine-tune the blur intensity. Kapwing also provides additional features like video trimming and text overlay for added creativity. However, it's worth noting that while Kapwing's video blur feature is powerful for creating professional-looking videos, it may not offer the same level of robustness as dedicated video editing software. If your editing needs demand more advanced or precise control over your blur effects, you may want to explore more powerful editing tools.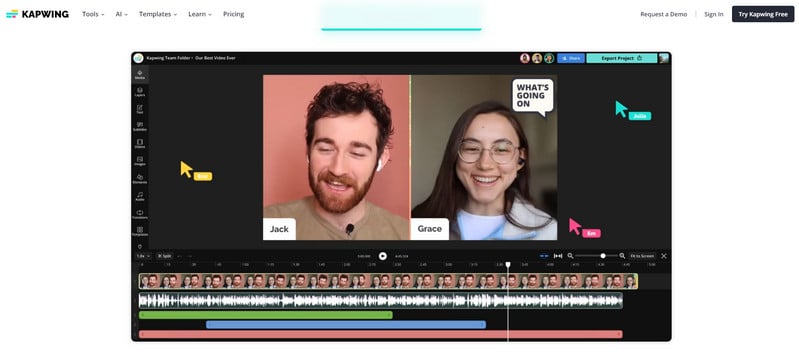 Features:
Control the level of blurriness.
Compatible with a range of video formats.
Offers a comprehensive suite of editing tools.
Effortless sharing across various platforms.
3.2 Clipchamp
Clipchamp is an online video editor that empowers you to enhance your videos with a variety of features. Its intuitive background blur tool allows you to seamlessly blur any part of your video, including faces, backgrounds, and specific objects. Additionally, Clipchamp offers a comprehensive suite of editing tools, enabling you to add subtitles, resize, crop, trim, and apply a range of effects to your videos. With effortless sharing options, you can easily distribute your creations across various platforms, reaching a wider audience.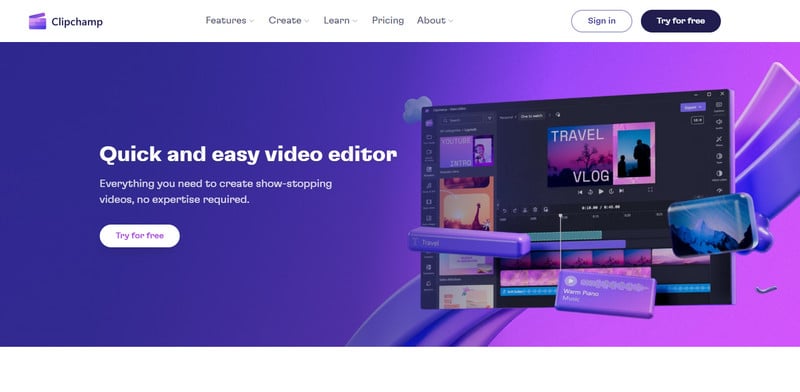 Features:
Adjust background color and blur.
Multi-layer editing function.
Combine video editing and audio editing.
Easy to share on social media platforms.
3.3 Hippo Video
Hippo Video is an enterprise-grade video personalization and distribution platform powered by artificial intelligence. It empowers businesses to create and distribute personalized videos with advanced editing tools and AI-driven effects, including background blur and facial blurring. Hippo Video's advanced editing tools and AI-driven effects enable you to seamlessly blur backgrounds, ensuring your subjects take center stage, captivating your audience.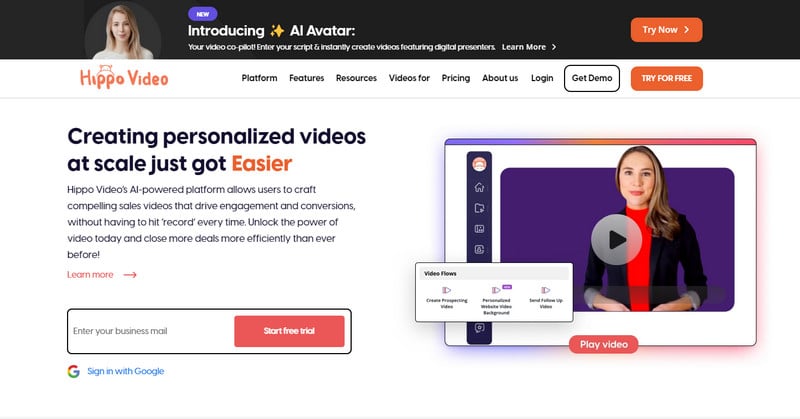 Features:
AI-powered personalization.
Automated video workflows.
Multi-platform support.
Customizable blur shapes.
---
Conclusion:
Blurring video backgrounds can be a great way to enhance your videos and make them more professional-looking. In this comprehensive guide, we have introduced you to the best 10 apps to blur video background for different platforms and devices, such as iOS, Android, Windows, Mac, and online. Among them, the standout convenience of AVCLabs Video Blur AI, particularly with its advanced AI-powered background detection, sets it apart. This unique capability allows for automatic identification and precise blurring of background, faces, license plates, and other elements within the footage, providing a level of ease and efficiency that distinguishes it from other products.
---
Related Articles