How to Upscale Anime Free Online without Losing Quality
When you want to upscale your anime images, how will you do? Surely there are so many sites or tools that can do it, but registration or subscription is required. And the final quality created by some of them is worse. In this article, we will explore the wonders of free online anime upscaling using AI-powered tools, allowing you to transform your favorite anime images into stunning visual masterpieces.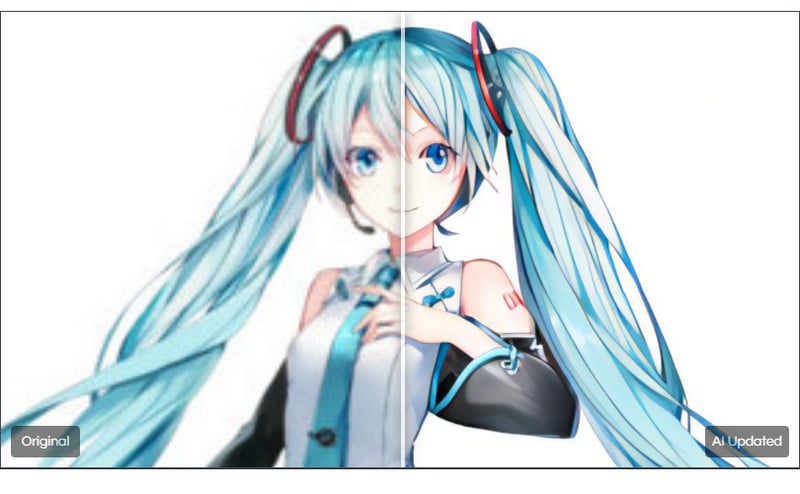 ---
Part 1: Understanding AI-Based Image Upscaling
Before we delve into the realm of anime upscaling, let's briefly understand the magic of AI-based image upscaling algorithms. Unlike traditional interpolation methods, which simply stretch and blur images to increase their size, AI employs deep learning models to intelligently predict and generate high-resolution details, resulting in sharper and more realistic images. The AI algorithms analyze patterns and features in the low-resolution source image and learn to upscale it effectively without compromising quality.
---
Part 2: Upscale Anime Image Online for Free with AI Engine
AVC AI harnesses the formidable power of Artificial Intelligence to revolutionize anime/manga image resolution enhancement and detail restoration. With a guarantee of preserving the authenticity of anime, there is no risk of blur, pixelation, or distortion. The entire process of image quality enhancement, sharpening, denoising, color correction, and pixel upscaling is now fully automated, eliminating the need for any editing skills or manual fine-tuning. The user-friendly process can be completed in just 3 simple steps, ensuring a seamless experience for all users.
How to upscale the anime images free online?
Step 1: Visit the online AI Anime Upscaler and upload your Anime Images
Click here to visit this AI anime image upscaler online. And please make sure there is a stable network condition.
Click on the "Upload Image" button, browse your computer, choose the anime images from your computer.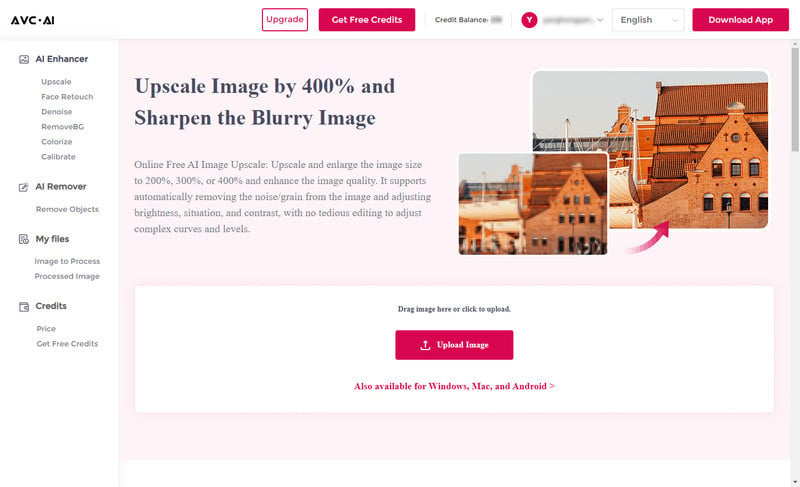 Step 2: Choose the AI Model and Start the Process
There are many AI Models. Just choose the "Upscale" model. And it offers options of 100%, 200%, 300% and 400%. Choose one upscale option according to your needs. Please note the larger size you choose, the more time it will cost.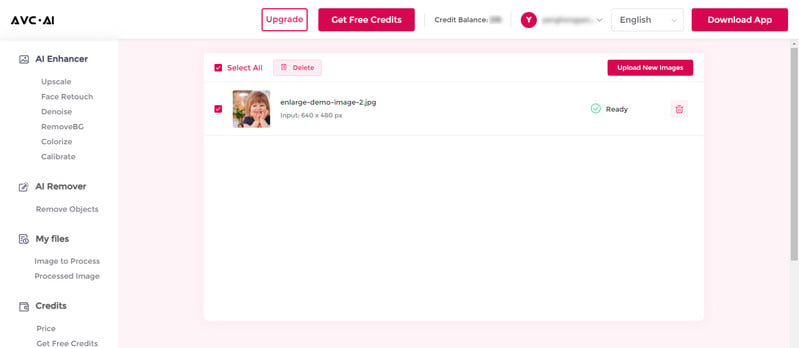 Then click on the "Start Processing" button at the bottom to start the upscaling process.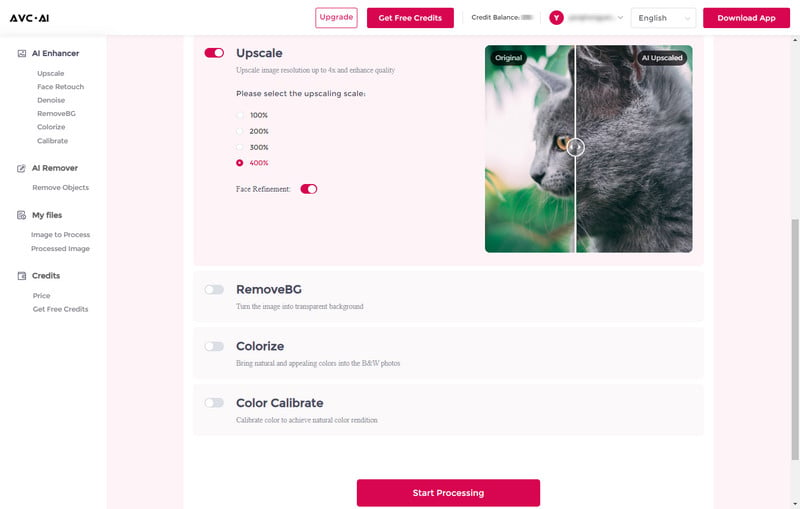 Step 3: Preview and Download the Upscaled Anime Images to your Computer
When the anime upscaling process is finished, you can preview the effect on the web page. Move the cursor on the image and you can have a compare view of both the original photo and the processed one.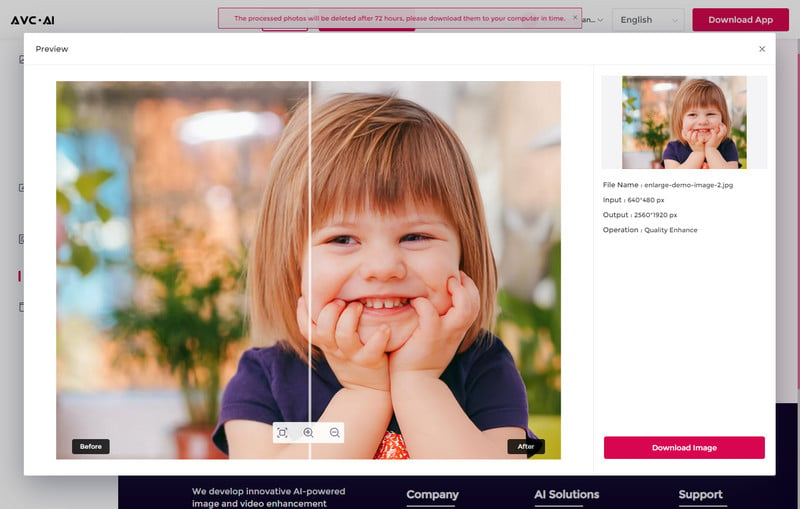 ---
Video Tutorial: How to Enlarge and Upscale Anime Images Online with AI
How does it work?
Basically, when upscaling an anime image, the engine of the online AI Enhancer will draw the lacking pixels on the place of large ones. It was built with the help of Artificial Intelligence. And the engine has been trained in a tremendous photo library. It helps the app to understand how the land, buildings, etc should look like. Now, when you upload the picture, the engine of online AI Enhancer scans it, understands what the object is, and then draws the rest of the pixels. As a result, you get a resized photo of high quality.
Which format can be used? and the output format?
It supports almost all popular image formats like jpg, bmp, png, jpeg, and the output is jpg.
---
Part 3: Upscale Anime Image Locally on your Computer
So if you already have some low-resolution images and you want to convert them to high-resolution ones, is there a way to do it? Of course, there is a professional AI product — AVCLabs PhotoPro AI can do it perfectly. With just a few clicks, it can upscale your image resolution 4 times to make it high-resolution without losing quality. It can deblur and fix other image problems at the same time, and the process is automatic and quick.
Key Features of AVCLabs PhotoPro AI
Enlarge/Upscale the photo size without losing quality
Automatically enhance photo color, contrast, and quality
Increase image resolution without sacrificing quality
Refine images with precision using a wide range of retouching tools and selection tools
Make the old, blurred, or low-quality photos to high-definition and clarity
Refine images with precision using a wide range of retouching tools and selection tools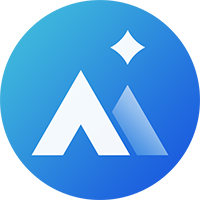 ---
How to Upscale Anime Photo on Desktop
Step 1: Download and Install AVCLabs PhotoPro AI
Download and install AVCLabs PhotoPro AI on your computer, then open it.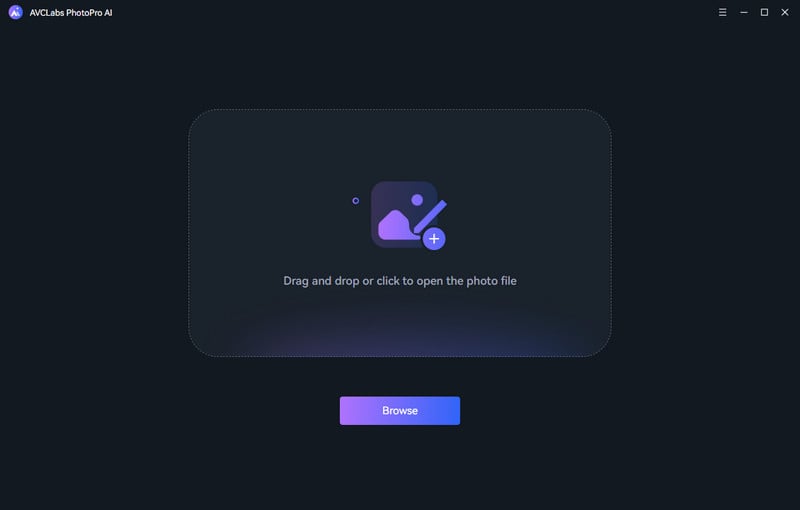 Step 2: Open the Program and Upload Anime Photo
Launching the program and click the Browse button to import the anime photo or drag and drop the anime photo to the program window directly.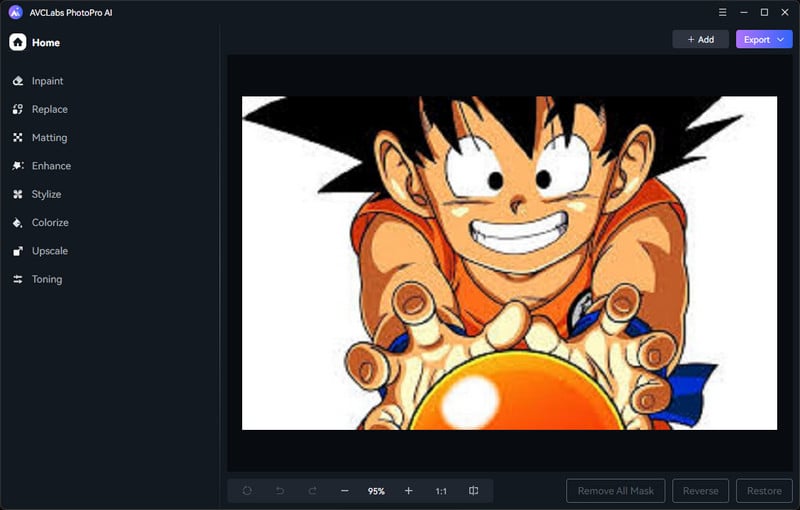 Step 3: Choose an AI Model
If you want to increase the resolution of an anime image while enlarging it, just choose "Upscale" Model. Then go to the "Magnification" option. Here you can choose 1X, 2X, 3X and 4X to upscale the anime image according to your needs.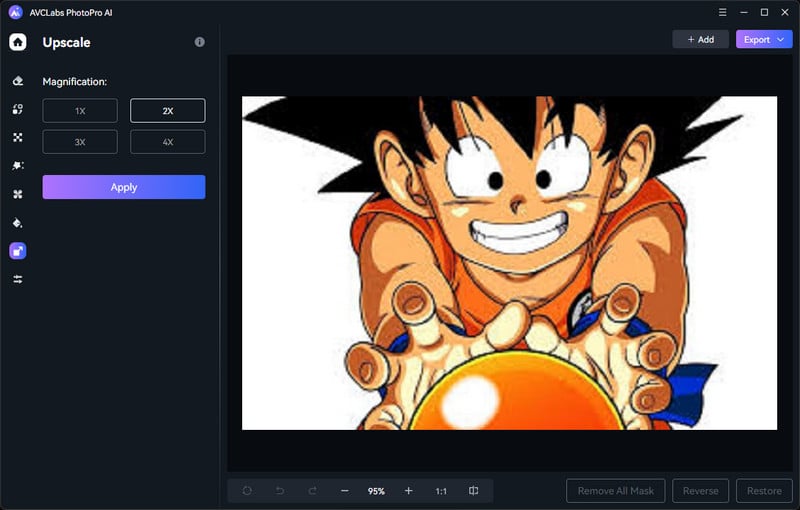 Step 4: Preview and Export the Upscaled Anime Images
When it finishes, you will get the desired effect you want. Just slide the vertical bar left and right to see the comparison before and after Upscale. If you are satisfied with the effect, just click save and the upscaled anime photo will be saved to the defined folder.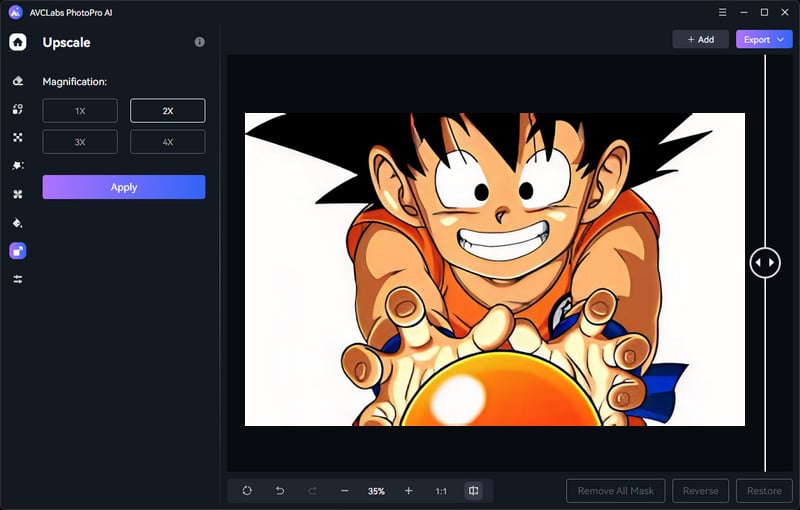 ---
Conclusion
The evolution of AI-based image upscaling has empowered anime enthusiasts to elevate their visual experiences. Free online AI upscaling tools enable users to transform low-resolution anime images into stunning visual masterpieces with just a few clicks. If you are looking for a way to enlarge anime images for free, AVC AI is the one for you. It can realize the anime upscale with high-quality. It is definitely the right tool that can help you to easily and effortlessly increase anime image size online. And if you want to upscale anime images locally, the PC version tool - AVCLabs PhotoPro AI also meets your need. It is also cost-effective, easy to use, 100% safe and really offers high-quality results because of its machine learning and AI technology.
---
Related Articles