How to Free Upscale AI Anime Online with AI
If you're in search of a tool to upscale your anime photos, you'll come across numerous options; however, many of them tend to add watermarks to the exported images. Fortunately, if you're looking for a free anime and cartoon upscaler without any watermarks, this article presents a solution to your needs.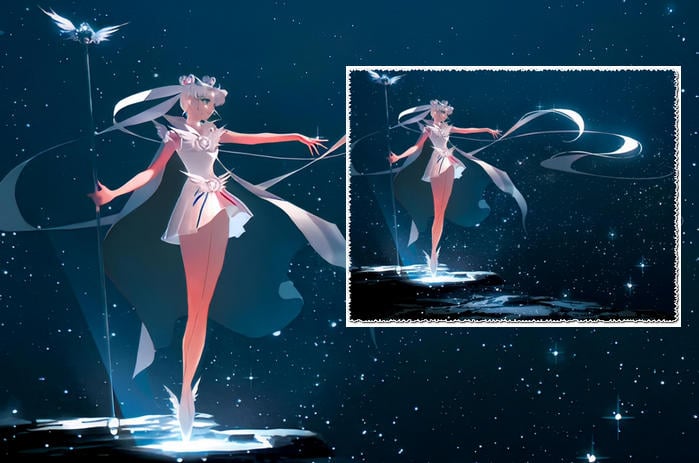 ---
Part 1: Free Online AI Anime Upscaler
Anime photos are really useful and popular images that we tend to use for profile pictures and covers for our various social media platforms. However, it's hard to print the anime photos or use the anime photos as wallpapers or covers since we only can download the low-resolution anime photos from the web. As a result, we need an image upscaler to help us to enlarge anime photos in high quality. And here is a online solution that can help us to upscale the anime & cartoon for free and there is no watermark in the upscaled photos.
1. AVC AI
It is an excellent image upscaling and enhancement tool to apply high AI technology and Machine Learning algorithms infused in all of the models that it offers. With this technology, you can expect to get amazing results within mere seconds. Overall, AVC AI offers free credits for all registered users to upscale, enlarge or enhance their anime photos.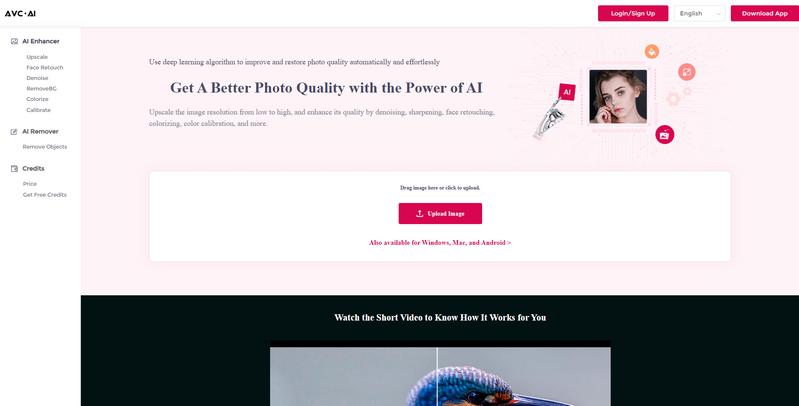 Features:
Upscaling and enlarging photos to 1x, 2x, and 4x without losing details
Automatically detect face details and adjust photo color
Remove image noise and restore real details
Colorize old black and white photos
Steps to Upscale Anime with AVC AI:
Step 1: Go to the Online AI Image Upscaler Site
Search for AVC AI in your default browser, which use AI to free upscale photo online. A good network condition will make the whole process fluent.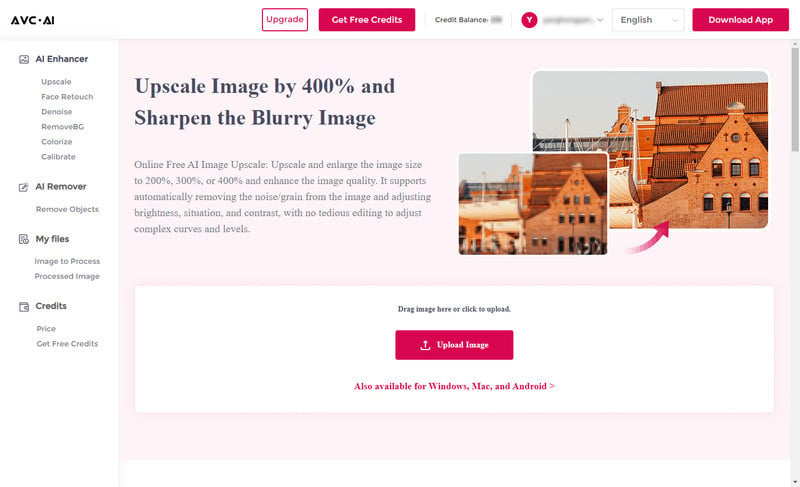 Step 2: Upload the Anime or Cartoon Image.
Click on the "Upload Image" button to upload the image to AVCLabs AI Image Enhancement Online. You can also drag the image to upload it. The supported formats include: *.png, *.jpg, *.jpeg, *.bmp, *.jfif and *.webp.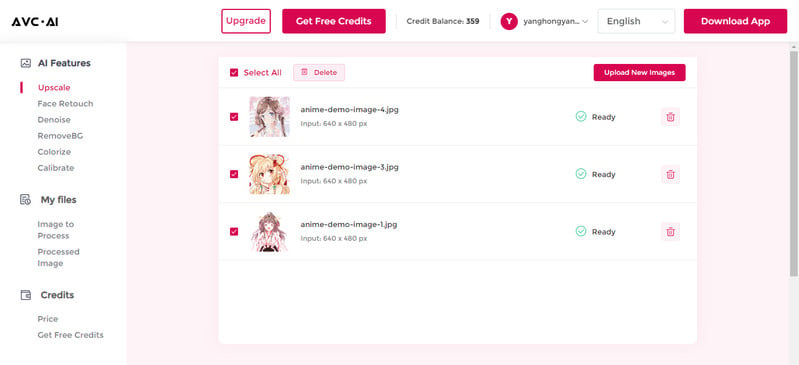 Step 3: Choose an AI feature and Start Processing
To increase the resolution and improve the anime quality we choose "Upscale" model. Then go to option "Scale" and choose a resolution for the photo. You can enlarge the photo to 200%, 300%, and 400%. You can switch off the "Face Refinement" function if your image isn't a portrait.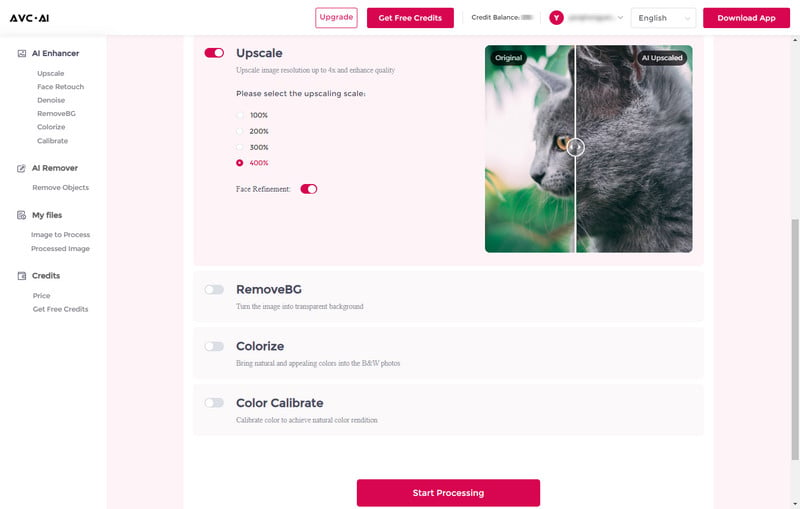 Then click on the "Start Processing" button at the bottom to start the anime upscaling process.
Note: Different AI feature requires different credits. Before you begin the processing, it will prompt you how much credits will cost.
* Processing 1 image costs 1 credit.
* Upscaling 1 image up to 300% costs 3 credits, and 400% costs 4 credits.
* Using Face Refinement costs 2 credits.
Click Yes to continue or pick No to back to set the options again.
Step 4: Preview and Download the Upscaled Anime Images
Once the process finishes you can click the eye icon in the right place to preview the processed image. Put the cursor on the image and move it from side to side, then the dividing line will move accordingly to let you see the final effect on the right side. There is NO Watermark on the photo.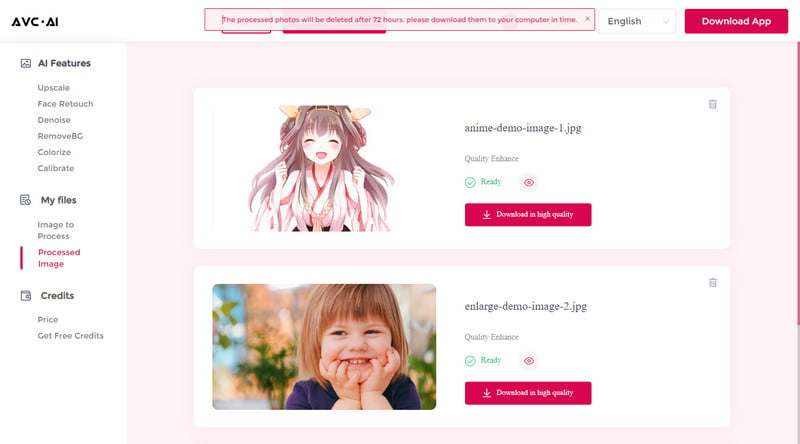 Please note that the processed images will be deleted after 72 hours, so we suggest downloading them to your computer in time. Click on "Download High Quality" to save the image to your computer.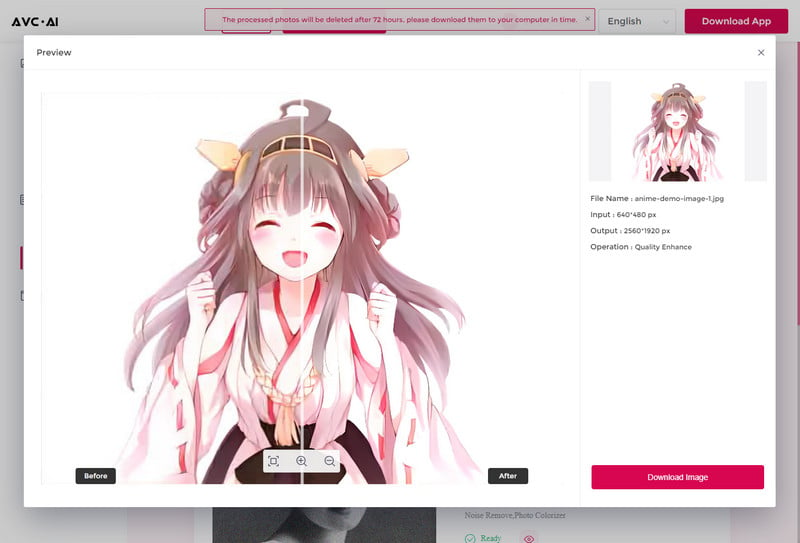 ---
2. Big Jpg
Big Jpg is an online application that provides a free tool, allowing users to edit and manipulate JPEG (Joint Photographic Experts Group) images. While the basic features are available at no cost, there is an option to upgrade to a subscription-based plan. Subscribers gain access to additional image credits and enhanced features, providing a more comprehensive editing experience.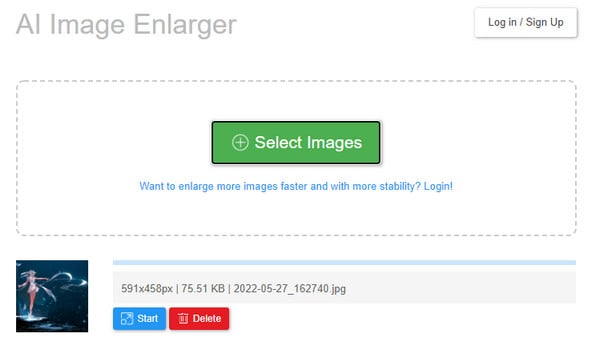 Features:
Mostly free to use with paid options offering extra features and credits for heavy use
Simple UI enables users to get results with convenience and ease
A highly accessible tool that is available on Windows and mobile devices
It can only upscale images and you can set the times of upscale if not register an account. No other features are provided. Takes too long to process images.
Compare the results created by the Gig Jpg (left) and AVC AI (right). Obviously, the AVC AI gets the better effect.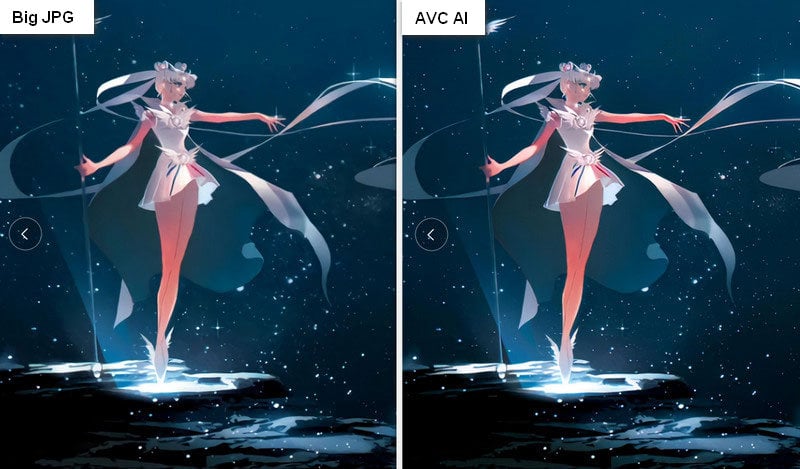 ---
Part 2: Desktop AI Anime Upscaler - AVCLabs PhotoPro AI (Highly Recommended)
While the convenience of the online version is its biggest advantage, it can be susceptible to network-related issues, leading to slower processing speeds and potentially unsatisfactory results. If you prioritize stability, it is highly recommended to explore the desktop version of the AI anime upscaler for a more reliable and efficient experience.
AVCLabs PhotoPro AI is a cutting-edge software designed to revolutionize your photo editing experience. With an array of powerful functions including enhance, colorize, and background removal, PhotoPro AI offers unparalleled versatility. However, its standout feature is its remarkable Upscale function, which intelligently enhances image resolution while preserving intricate details, taking your images to new heights of clarity and quality.
Key Features of AVCLabs PhotoPro AI
Upscale the image resolution without losing quality
Make the blurred photos to high-definition
Immediately improve your portrait photography
Quickly colorize the old black&white images
Automatically Remove the background from images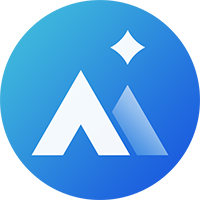 Steps to upscale images with AVCLabs PhotoPro AI:
Step 1: Download and Install AVCLabs PhotoPro AI
Download and install AVCLabs PhotoPro AI on your computer, then open it.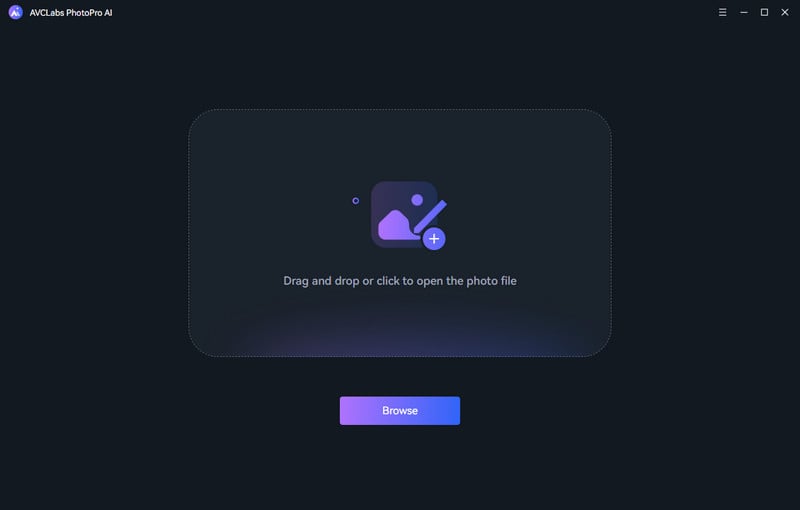 Step 2: Open the Program and Import Low-Resolution Anime Image
Launching the program and then click on the Browse button to import low-res anime image or drag and drop the anime image to the program directly.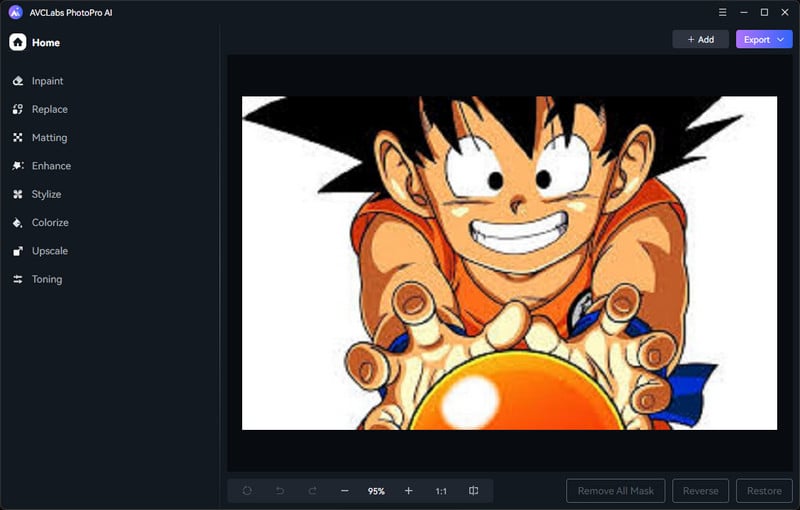 Step 3: Choose an AI Model
To upscale low-res anime,we recommend choosing "Upscale" and then you can go to the "Magnification" option. Here you can choose to enlarge the anime to 1X, 2X, 3X or 4X.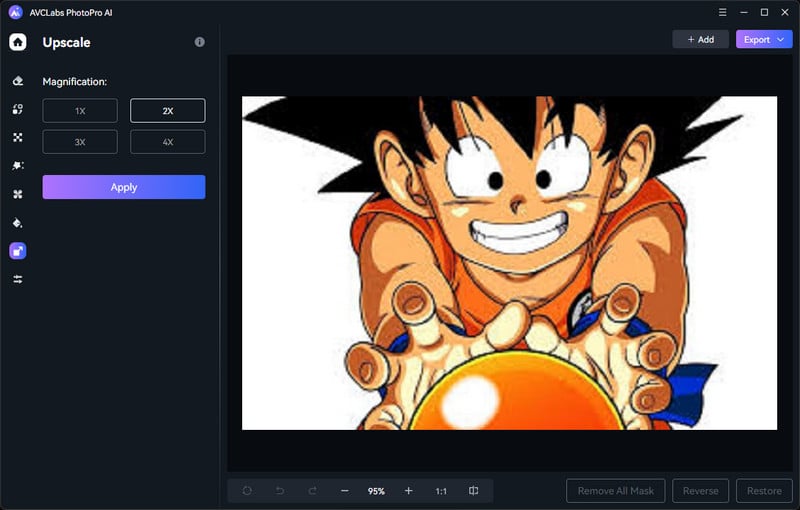 Step 4: Preview and Save Photo
In the preview interface, you can visually see the comparison before and after upscale. If you are satisfied with the upscale effect, just click Save and it will be automatically saved to the corresponding folder.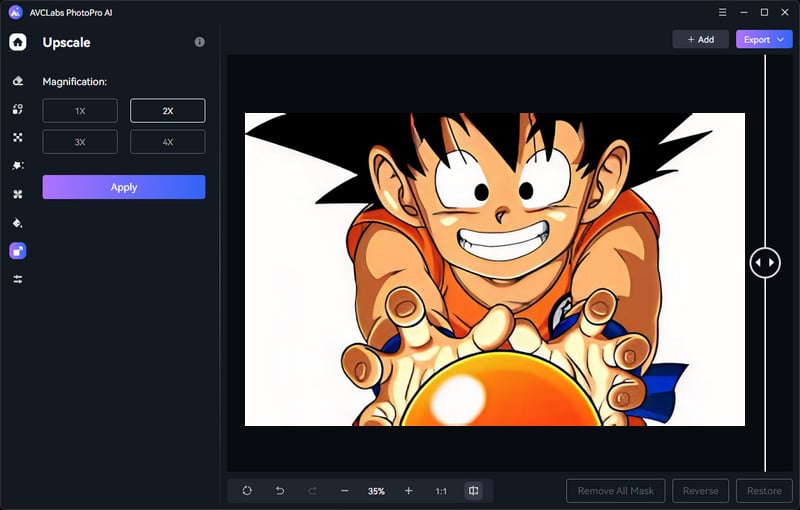 ---
Video Tutorial: How to Upscale Anime Using AI Online
---
Conclusion
Transforming your favorite anime photos into stunning anime wallpapers is a delightful experience. The free online AI anime upscaler allows you to achieve precisely that. However, for those seeking additional advanced features and intricate customization options, the powerful desktop app like AVCLabs PhotoPro AI offers an enhanced and comprehensive solution.
---
Related Articles