How to Free Upscale AI Anime Online with AI
If you are seeking a tool to upscale your anime photos, there will be a lot, but most of the exported photos with a watermark. Is there a free anime & cartoon upscaler? You will find a solution in this article.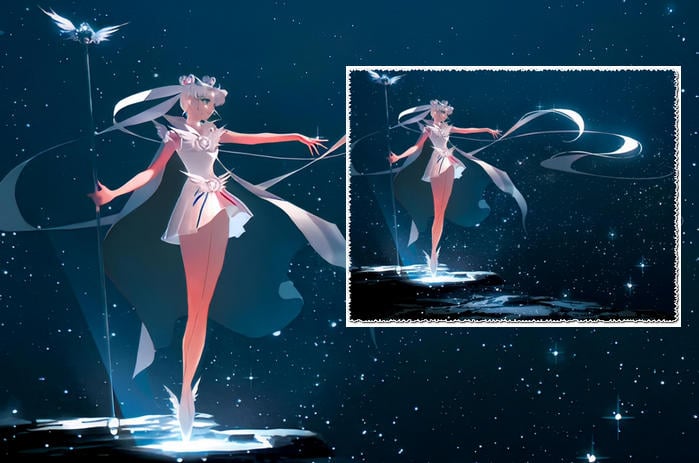 Anime photos are really useful and popular images that we tend to use for profile pictures and covers for our various social media platforms. However, it's hard to print the anime photos or use the anime photos as wallpapers or covers since we only can download the low-resolution anime photos from the web. As a result, we need an image upscaler to help us to enlarge anime photos in high quality. And here is a solution that can help us to upscale the anime & cartoon for free and there is no watermark in the upscaled photos.
1. Free Online AI Anime Upscaler
It is an excellent image upscaling and enhancement tool to apply high AI technology and Machine Learning algorithms infused in all of the models that it offers. With this technology, you can expect to get amazing results within mere seconds. Overall, AVCLabs AI Image Upscaler offers free credits for all registered users to upscale, enlarge or enhance their anime photos.
Steps to increase image resolution with AI Image Enhancement:
Step 1:
Go to the online AI Image Upscaler site.
Open the https://enhance.avclabs.com/ in your default browser, which use AI to free enlarge photo online. A good network condition will make the whole process fluent.
Step 2:
Register an account.
This is an important step since all registered users can get free 8 credits. Just input your email and password to register an account.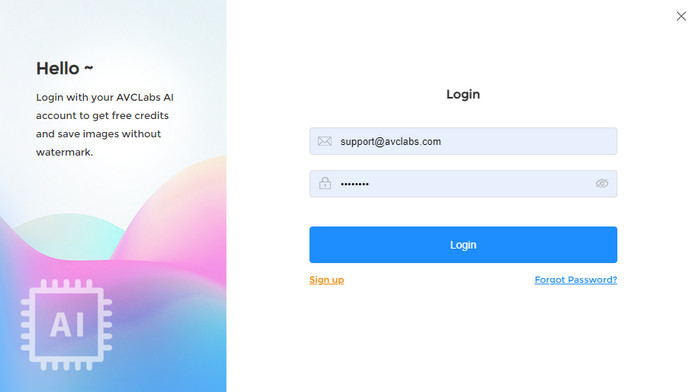 Step 3:
Upload the anime or cartoon image.
Click on the "Click to upload" button to upload the image to AVCLabs AI Image Enhancement Online. You can also drag the image to upload it. The supported formats include: *.png, *.jpg, *.jpeg, *.bmp, *.jfif and *.webp.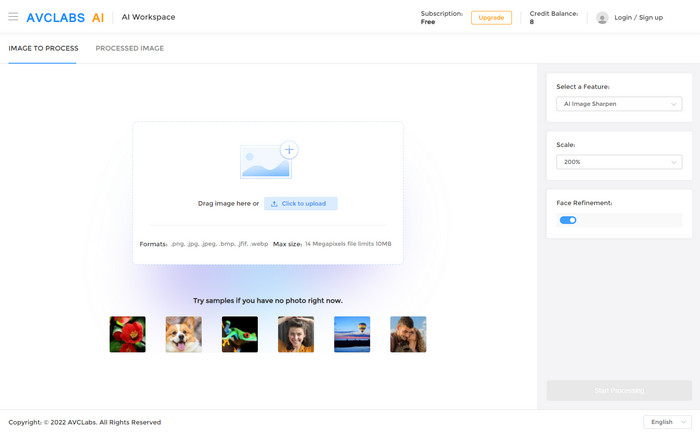 Step 4:
Choose an AI feature.
Hence we want to increase the resolution and improve the anime quality so we choose "AI Anime Upscale" model. Then go to option "Scale" and choose a resolution for the photo. You can enlarge the photo to 200%, 300%, and 400%. You can switch off the "Face Refinement" function if your image isn't a portrait.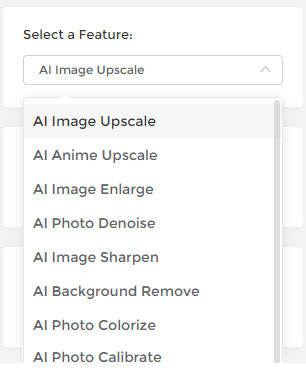 Step 5:
Start the enhancing process.
After setting the parameters, now you can click on the "Start Processing" button to start the enhancing process.
Note: Different AI feature requires different credits. Before you begin the processing, it will prompt you how much credits will cost.
* Processing 1 image costs 1 credit.
* Upscaling 1 image up to 300% costs 3 credits, and 400% costs 4 credits.
* Using Face Refinement costs 2 credits.
Click Yes to continue or pick No to back to set the options again.
Step 6:
Preview the effect.
Once the process finishes, the upscaled anime photo will be shown under the "processed image" tab. You can click the eye icon in the right place to preview the processed image. Put the cursor on the image and move it from side to side, then the dividing line will move accordingly to let you see the final effect on the right side. There is NO Watermark on the photo. Please note that the processed images will be deleted after 72 hours, so we suggest downloading them to your computer in time. Click on "Download Image" to save the image to your computer.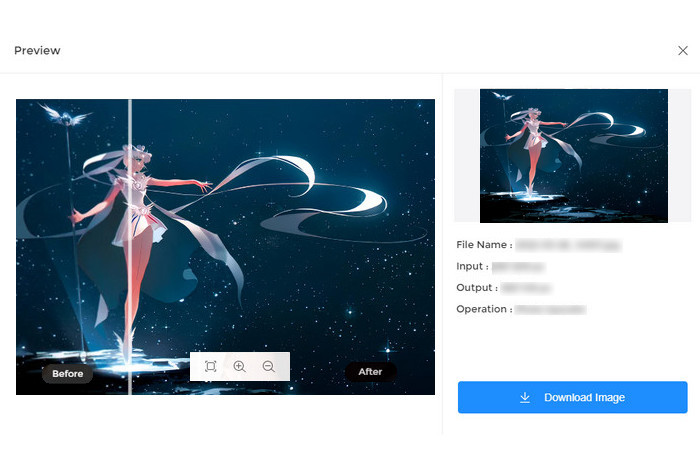 Big Jpg
The Big Jpg is an online application that offers its tool for free but you can purchase a subscription for more image credits and better features.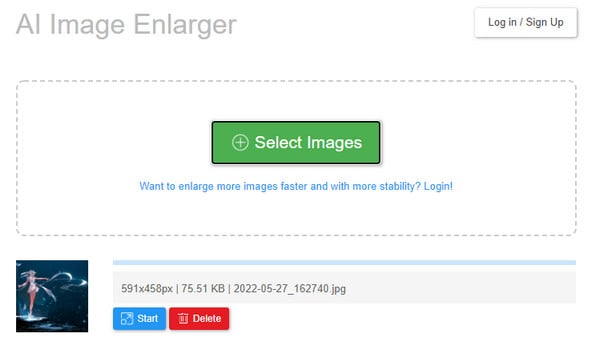 Features of it:
Mostly free to use with paid options offering extra features and credits for heavy use.
Simple UI enables users to get results with convenience and ease.
A highly accessible tool that is available on Windows and mobile devices.
It can only upscale images and you can set the times of upscale if not register an account. No other features are provided. Takes too long to process images.
Compare the results created by the Gig Jpg (left) and AVCLabs Online Anime Upscaler (right). Obviously, the AVCLabs gets the better effect.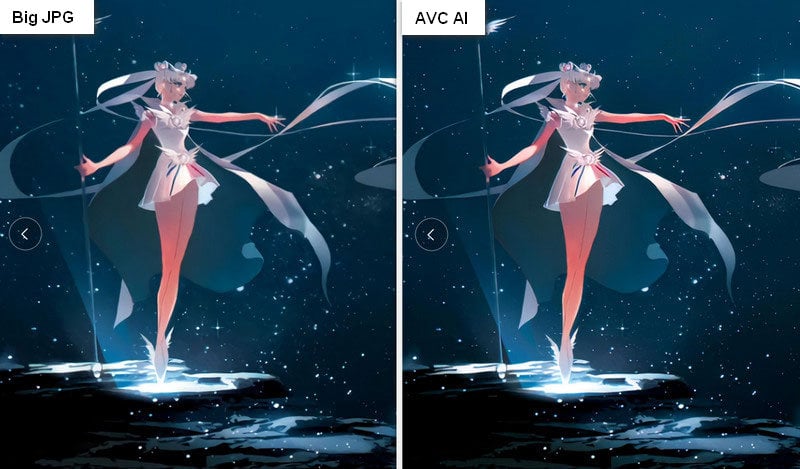 ---
2. Desktop App Program
AVCLabs Photo Enhancer AI is not a free APP. It provides more AI models and you can combine multiple AI features. It also offers a preview function, which enables you to compare the original and enhanced photo before exporting the photo.
How it works
Open the program and add photos.
Choose AI model and upscale size, denoise or face refinement.
Click the Preview button to check the enhanced result.
Click Save All button to export the upscaled photo.
Tips: You can evaluate the program to preview and get the best effect of your anime photo and get a free upscale via the online platform.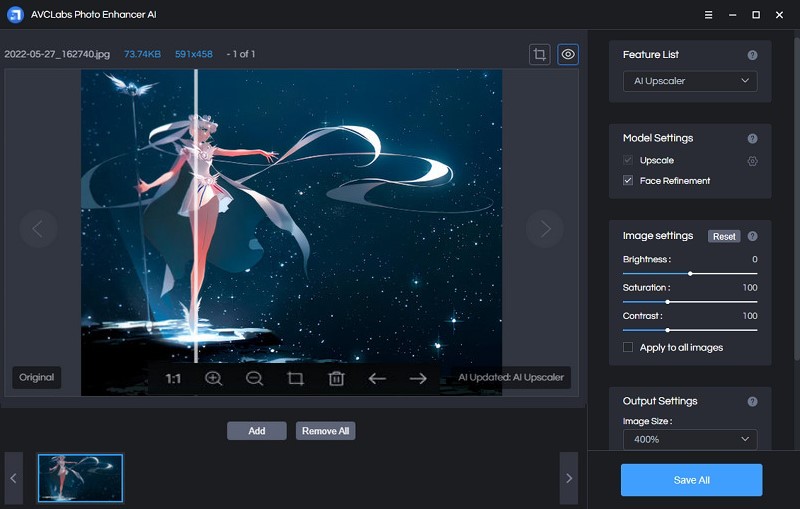 ---
Conclusion
Getting the anime photo you love as a perfect anime wallpaper is so an amusing thing. With the free online AI anime upscaler, you can do it exactly. And if you want to realize more detailed features, you can use the more powerful desktop app.
What's next? Try the more powerful software version of AVCLabs Photo Enhancer AI: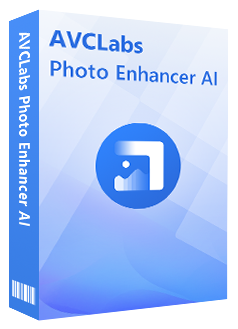 Photo Enhancer AI
Automatically enhance photo color, contrast, and quality
Make the old, blurred, or low-quality photos to high-definition and clarity
Colorize black and white photos; Remove noise and calibrate colors in one click
Enlarge/up-scale the photo size without losing quality
Enhance and restore photo quality
with the power of AI