How to Enhance Photo Color and Quality Online for Free
"How can I improve picture quality and color online?" - Jonas Dudman
When we try to take a colorful photo of the sunset clouds, flowers, food, and so on, we sometimes find that neither the color looks dull or flat compared to what we see with our eyes, nor it looks bad-quality because you shot the scenery from a long distance. What's worse, the two bad situations can happen in one photo at the same time. To save such a bad quality photo with incorrect color, AVC.AI is a good tool. Because it can enhance photo color and quality online for free at the same time. With its powerful AI image enhancement algorithms, it allows you to enhance a photo automatically and requires no editing skills. No matter whether the photo is too blurry or the color is dim, you can solve these problems with a few clicks by using AVC.AI.
This article will investigate various methods to enhance photo color and quality online for free, along with the most effective alternative desktop AI-powered tool.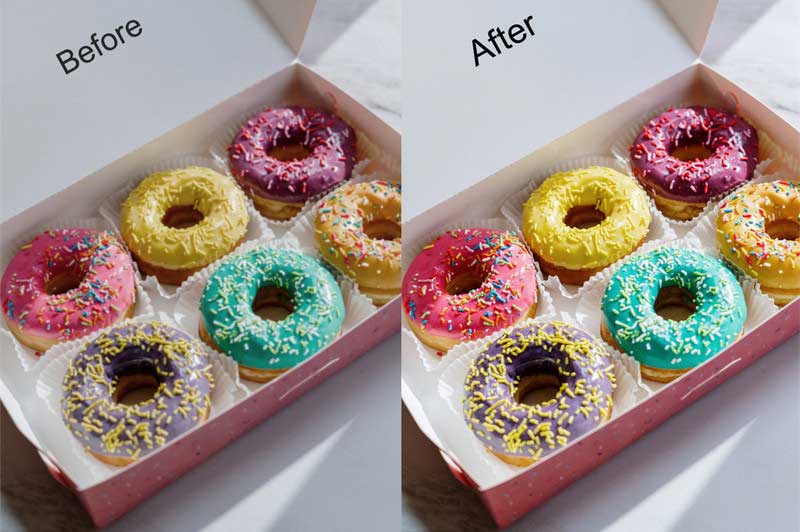 ---
Part 1: Enhance Photo Color and Quality Online for Free
1. AVC.AI
A free online image enhancer tool named AVC.AI is highly recommended here. It uses AI technology to enhance photo color and improve photo quality online for free. With this online free tool, you can not only enhance image quality, but also denoise, colorize, remove image background and calibrate color, etc. Once you logged in, you will be awarded 13 free credits to use all features without limitations. If that's not enough, you can click "Get Free Credits" to join the event to get additional 60 free credits.
Here is a step-by-step guide to improving photo quality and color online for free via AVC.AI.
How to Enhance Photo Color and Quality with AVC.AI
Step 1: Upload Photos to AVC.AI
Click on "Upload Image" and find the one or more bad quality or incorrect color photos on your computer to upload them.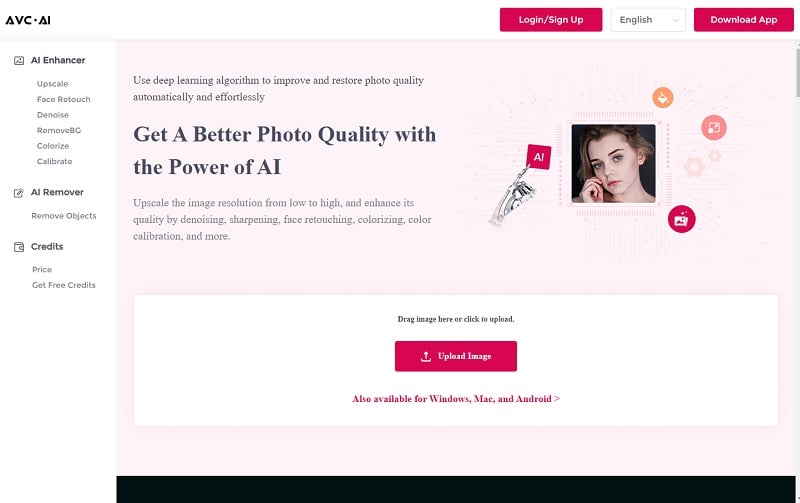 Step 2: Choose the AI Model
There are several AI features for you to choose. To enhance photo color and quality, click "Upscale" option. It offers 4 options of 100%, 200%, 300%, and 400%, the tool is set to keep the photo's original resolution with 100%. If you want to increase the photo's resolution at the same time, then you can also choose 200%, 300%, or 400% .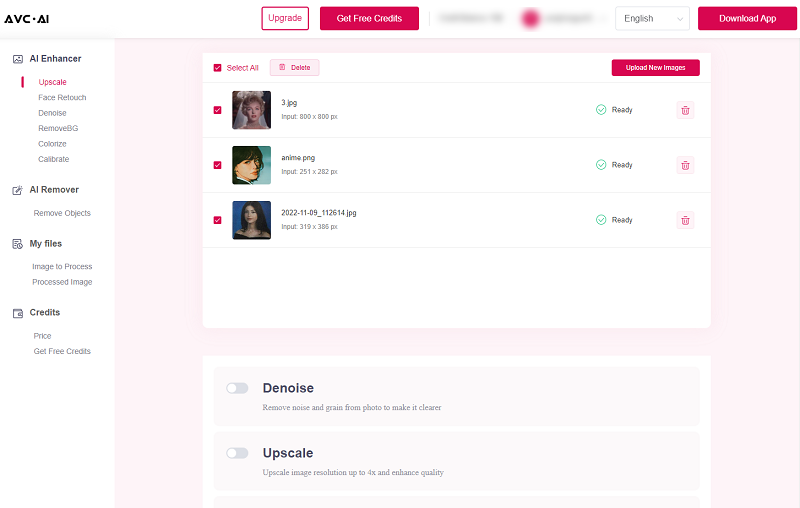 Note: Different amounts of credits will be required based on the AI features you choose when using the online service. The free license has 8 credits. Processing 1 image costs 1 credit. Upscaling 1 image up to 300% costs 3 credits, and 400% costs 4 credits. Using Face Refinement costs 2 credits.
Step 3: Start the Photo Sharpening Process
After setting the parameters, now you can click on the "Start Processing" to start the enhancing process. The whole process will take about 1 minute, just wait for it to do its job automatically.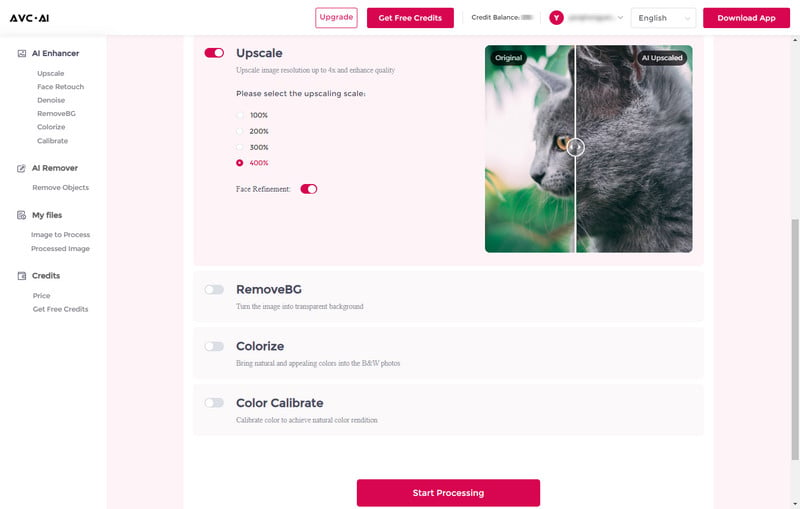 Step 4: Preview and Download Enhanced Photos
Once the process finishes, the enhanced photo will be shown under the "processed image" tab. You can click the eye icon in the right place to preview the processed image. The left side is the original part of the photo, and the right side is the final effect after the AI enhancement. Put the cursor on the image and move it side to side, then the dividing line will move accordingly to let you check the final effect bit by bit. Please note that the processed images will be deleted after 72 hours, so we suggest downloading them to your computer in time.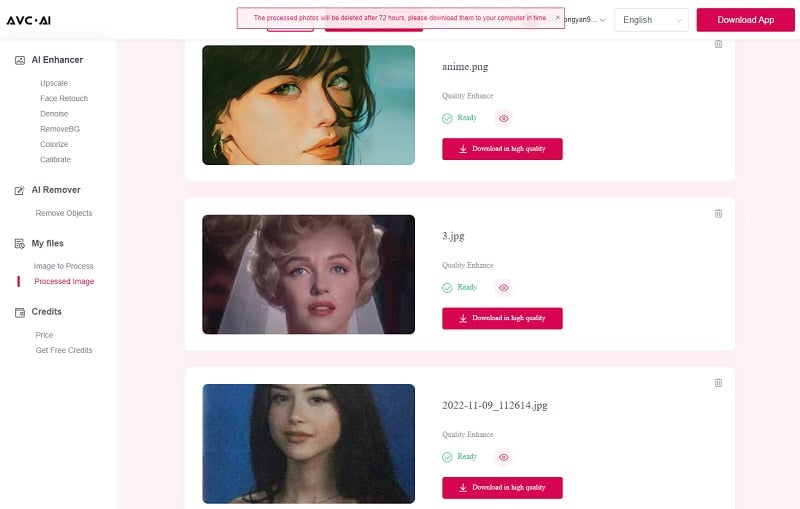 If the enhanced photo's quality suits your demand, then click on the "Download Image" button to save it to your computer. You can also back to the "processed image" tab and click the download icon to save it.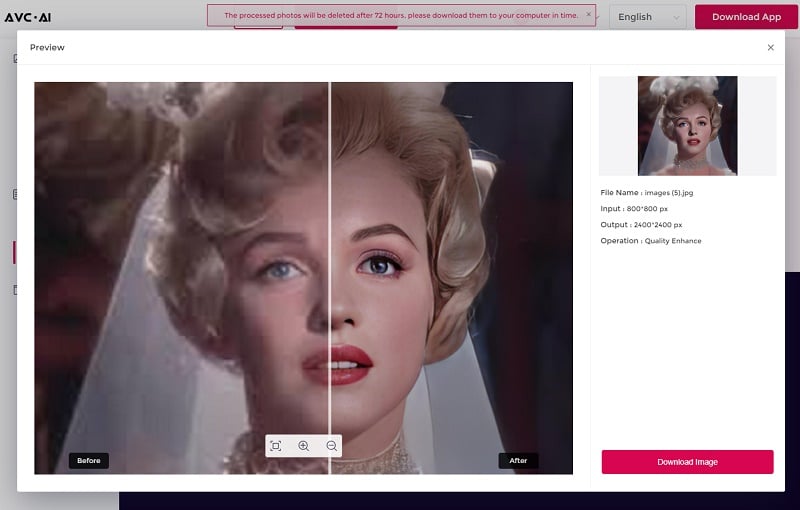 ---
2. Cutout.Pro
Cutout.pro is a popular online tool for enhancing and upscaling images. When an image is uploaded, the tool processes it promptly, enriching low-quality photos by augmenting finer details, making it particularly efficient for portrait enhancement. The free version allows users to download images with lower resolutions, while Full HD images necessitate 2 credits each. During the free trial version, users receive 5 credits for utilization. At present, the platform only supports two output formats: JPG and JEPG.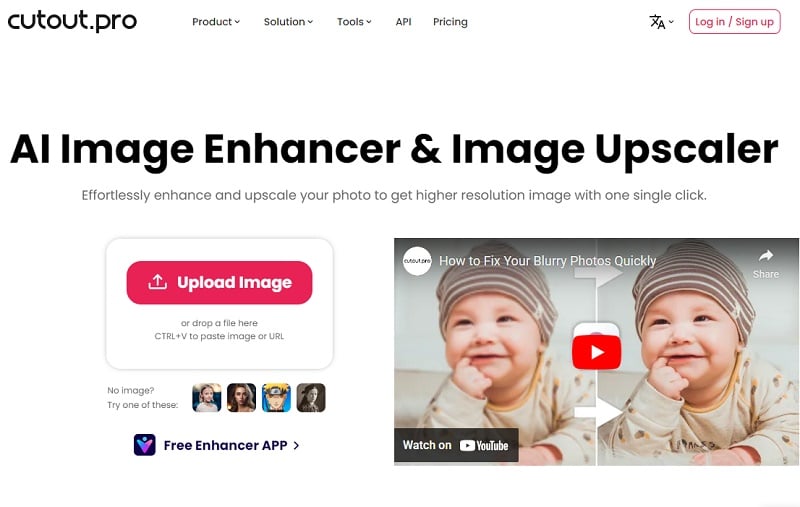 ---
3. Media.io
Media.io image enhancer is an online tool that ranks highly in Google search results and can also effectively enhance images. It provides six AI functions, but the effect of image enhancement is weaker than the above two tools. It offers a free trial version, and users will be given 1 free credit for downloading enhanced photos without a watermark after logging in. That is to say, you can only process and download 1 photo without a watermark for free.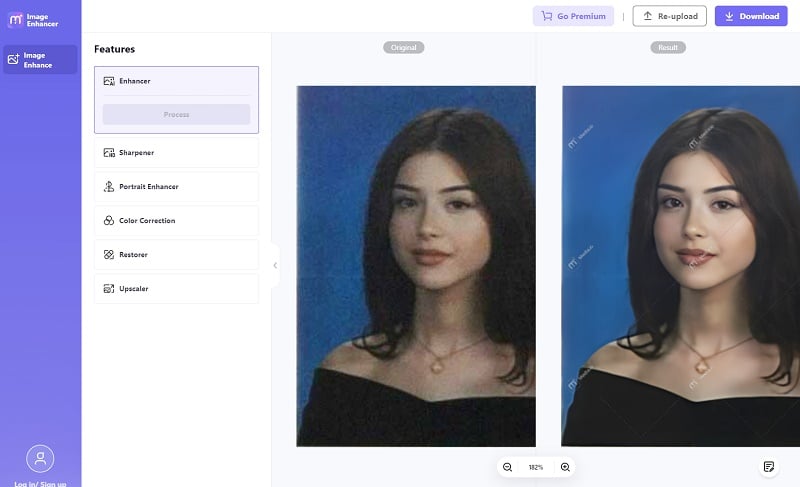 ---
Part 2: Enhance Photo Color and Quality with AVCLabs PhotoPro AI
AVCLabs PhotoPro AI is a cutting-edge, AI-driven automatic photo editing software that utilizes deep learning algorithms to intelligently identify, analyze, and enhance digital photographs. Users can effortlessly enhance photo quality (You are allowed to enhance the whole or just partial photo with quick selection tools, sharpen blurry images, create transparent backgrounds by cutting out objects, colorize, upscale images without compromising quality, and seamlessly remove unwanted elements from pictures without causing any damage to the overall composition.
Key Features of AVCLabs PhotoPro AI
Enhance photo quality with advanced technology
Change the style of image to create unique look
Upscale photos up to 3x, 4x without losing quality
Remove unwanted objects, people, watermarks
Colorize B&W photos to make it come to life again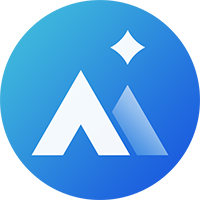 Steps to Enhance Photo Color and Quality with AVCLabs PhotoPro AI
Step 1: Import the Low-quality Image
Download and install AVCLabs PhotoPro AI with the provided links. Then launch it.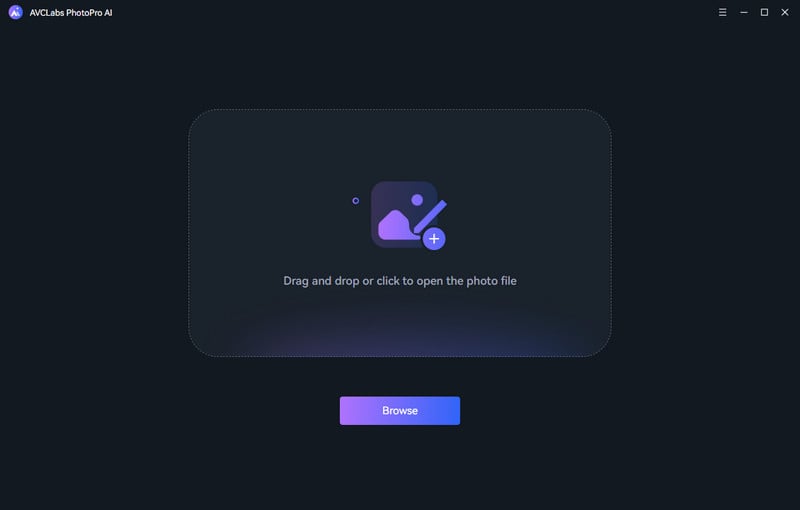 Click the Browse button to import the image you want to enahnce or drag and drop the file into the workplace directly.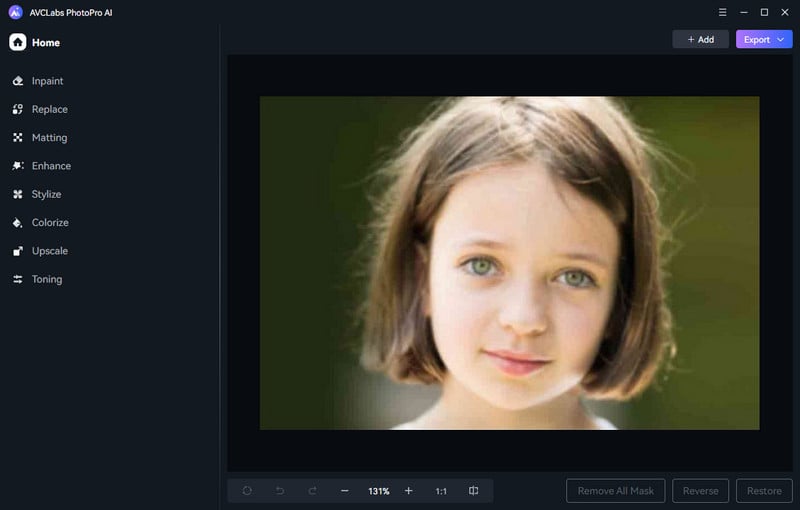 Step 2: Select the Part You Want to Enhance (For Partial Enhancement)
Tips: This step if for partial enhancement. If you enhance the whole image, just skip this step and follow the step 3 directly.
There are six selection tools on the left side, choose the tool that best suits your needs and select the part you want to edit. For example, click the object selection tool, then left-click to select the part and right-click to erase an area.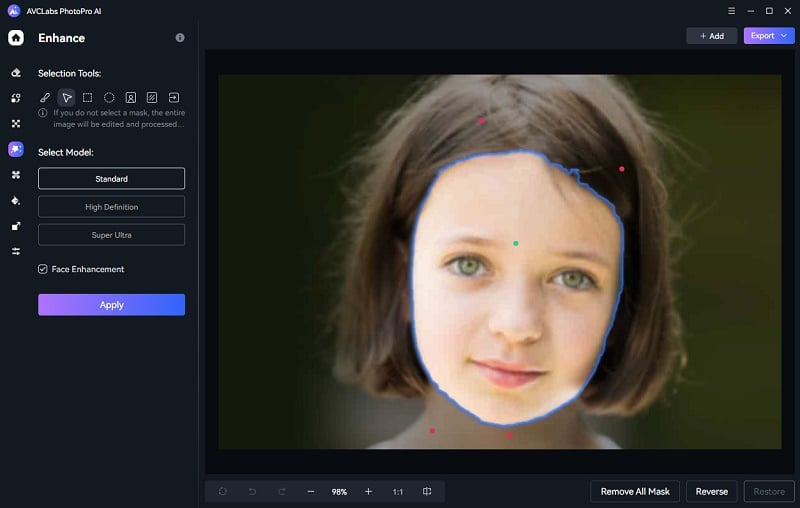 Step 3: Apply the Enhance AI Model
Once you have selected the desired part of the image, click the Enhance AI feature located at the top of the program and apply it.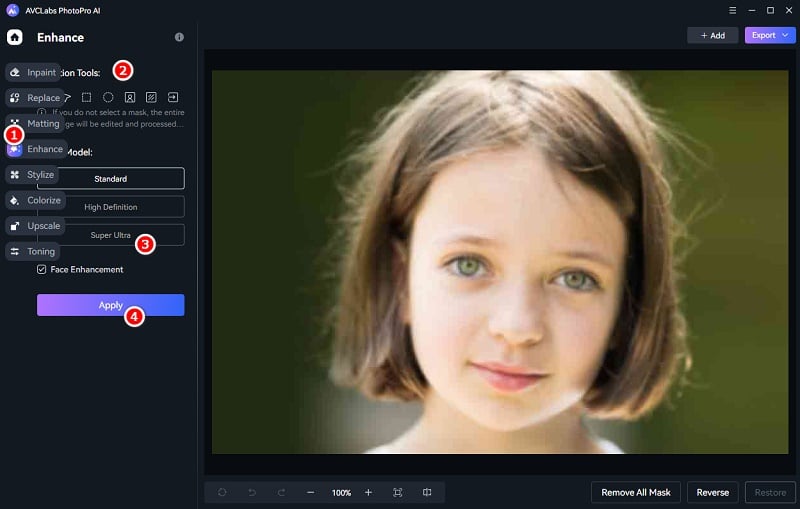 Step 4: Preview and Save the Enhanced Photo
After the enhancement process is finished, you can preview it side by side. If you are satisfied with the effect, just click the Save button to download it to the corresponding folder.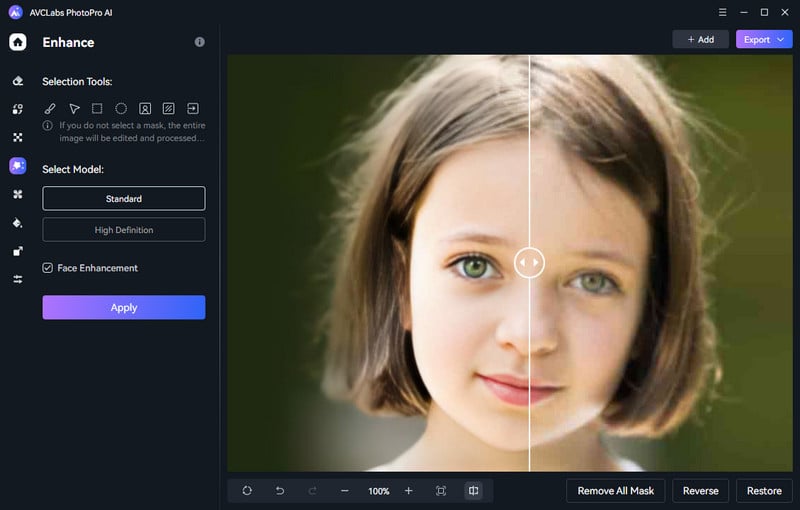 Video Tutorial: How to Enhance Photo Color and Quality with AVCLabs PhotoPro AI
---
Conclusion
Because of the too dim or too bright light, or shaking hands, we sometimes take a photo which has incorrect color or bad quality. It's not easy to bring its vibrancy back or to improve its quality by using Photoshop and other professional photo editing software. Then why not try the AI online product like AVC.AI for free? The tool with its powerful AI technology can save your bad quality from blur, noises, low resolution, incorrect color automatically. If you prefer a desktop solution, then AVCLabs PhotoPro AI is worth to try. With these tools, all you need to do is to click a few buttons and they don't need any editing skills to fine-tune by yourself. Just vist the AVC.AI or download AVCLabs PhotoPro AI and upload a low-quality or a bad color photo to try them.
---
Related Articles