Sharpen Blurry Photos Online for Free
"How can I sharpen blurry photos online?- Valery Dym"
Blurry photos are unavoidable when we photograph, no matter whether we use a phone or a camera. So there is always a huge demand for sharpening blurry photos. Indeed, a clear and sharp photo can give people a much better view, so here comes the problem: how to sharpen blurry photos? Traditional methods can be very complicated, but don't worry, this article will introduce an easy method of how to sharpen blurry photos online for free with an online AI photo sharpening tool named AVC.AI.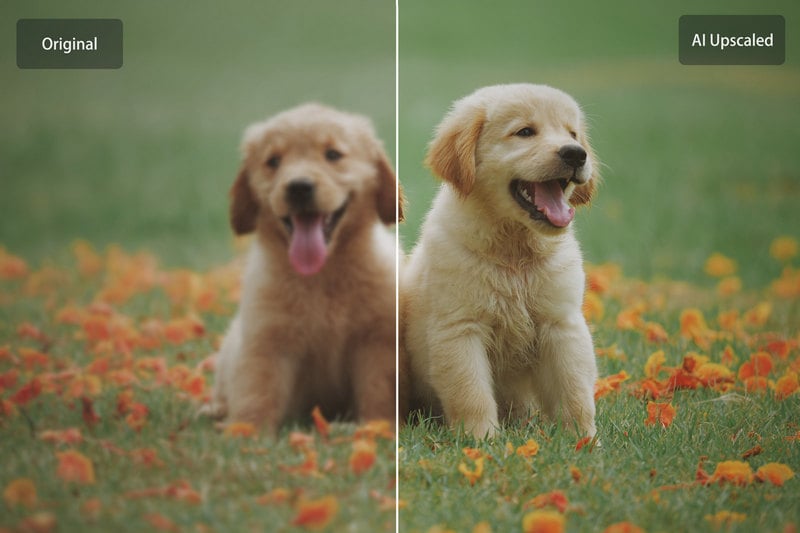 ---
Part 1: The Rise of Online Image Sharpening Tools
With the advent of artificial intelligence and machine learning, online image-sharpening tools have gained popularity. These AI-driven platforms use sophisticated algorithms to analyze and enhance images automatically, making the process of sharpening photos accessible to everyone.
The benefits of using online tools for image sharpening are numerous. They are user-friendly, require no installation, and are compatible with various devices and operating systems. Additionally, they often offer a quick and straightforward solution for individuals who lack the time or expertise to engage in manual editing.
---
Part 2: How to Sharpen Blurry Photos Online for Free?
As an online free AI photo sharpener, AVC.AI can sharpen blurry photos, and deblur images online to make photo clearer without causing any artifacts or halos. Fully automatic. Here are simple steps to sharpen blurry photos online via AVC.AI.
Key Features:
Sharpen blurry images with one-click.
Remove noise and restore details with AI.
Upscale photos to 1x, 2x, and 4x without losing details
Automatically detect face details and adjust photo color
Colorize old black and white photos
Benefits of AVC.AI:
Supports batch-processing.
Join the event and receive additional free credits.
Free-frial without any limitation (13 free credits for first registration).
Steps to sharpen blurry photos online for free:
Step 1: Upload Blurry Photos to this Online AI Photo Sharpener
Click here to visit the website of AVC.AI. Then click on the "Upload Image" button to upload blurry photos.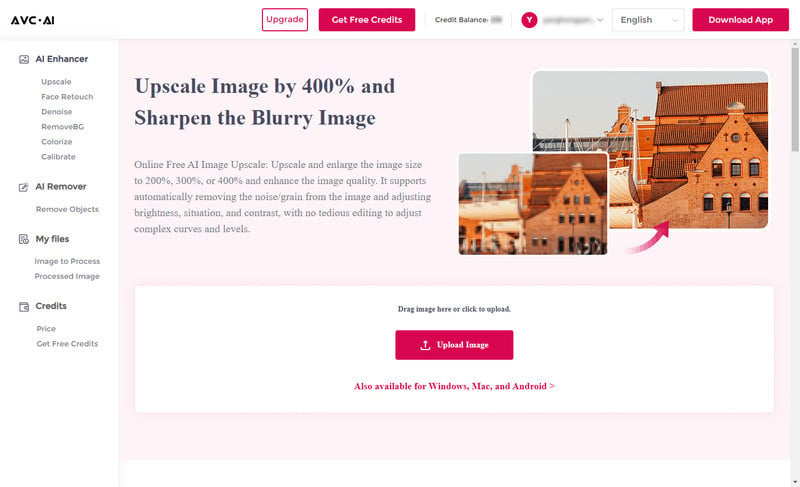 Step 2: Choose the AI Model and Scale
To fix the blurry photo online, you need to choose the "Upscale" model. Then you can select "Scale" as 200%, 300%, or 400% to improve the resolution or keep the original resolution of the photo by choosing 100%. You can switch on/off the "Face Refinement" function according to your photo's subject.
Note: Different amounts of credits will be required based on the AI features you choose when using the online service. The free license has 8 credits. Processing 1 image costs 1 credit. Upscaling 1 image up to 300% costs 3 credits, and 400% costs 4 credits. Using Face Refinement costs 2 credits.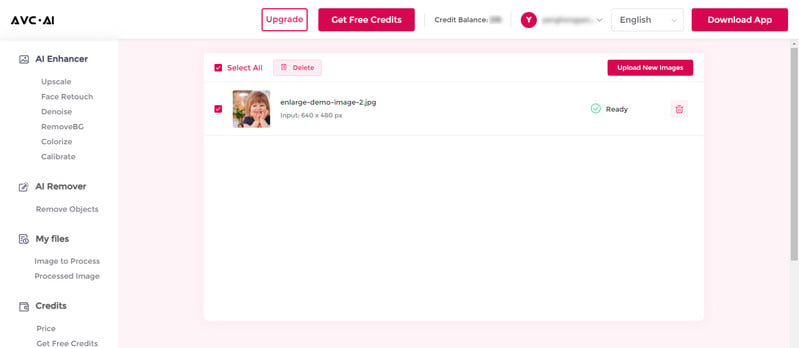 Step 3: Start the Photo Sharpening Process
After setting the parameters, click on the "Start Processing" button to begin the photo sharpening process.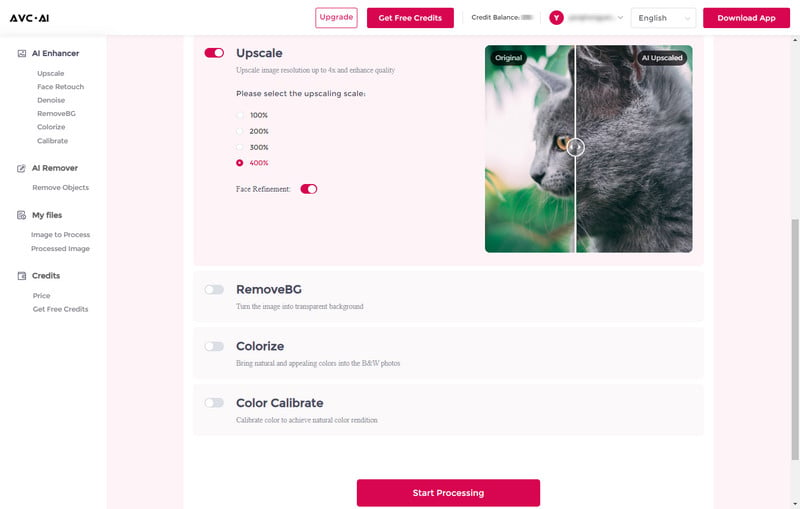 Step 4: Preview and Download the Sharpened Photo
Once the process finishes, the sharpened photo will be shown under the "processed image" tab. You can click the eye icon in the right place to preview it. You can drag the line to move it side to side, then the dividing line will move accordingly to let you see the final effect on the right side.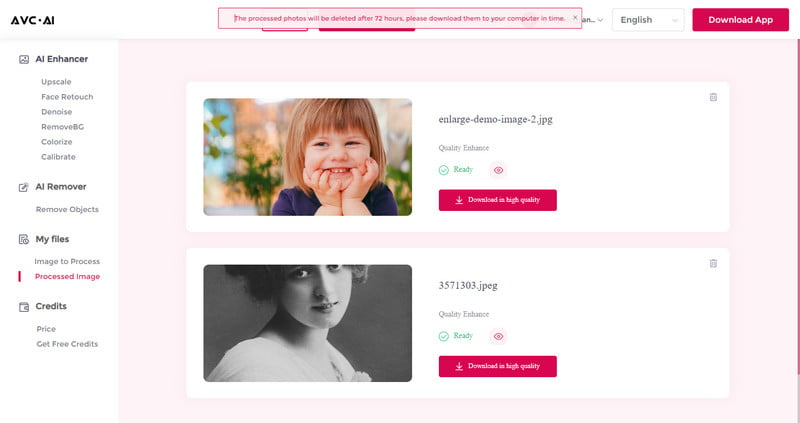 If you are satisfied with the result, you can click the "Download Image" button to save the sharpened photos to your computer.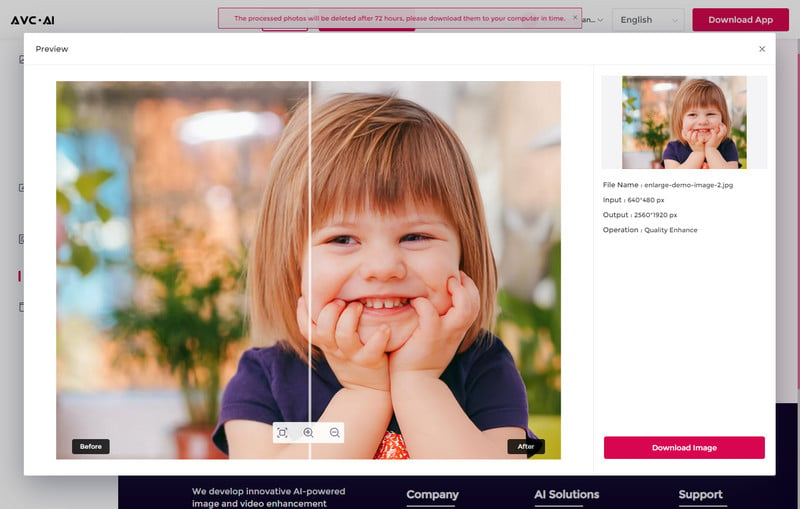 Video Presentation: Wildlife Photograps Sharpend by AVC.AI
---
Part 3: How to Sharpen Blurry Photos with an AI Photo Sharpener?
If your internet speed is not good, the process of using the online tool will be slow and unsteady. So if you have many blurry photos that need to be sharpened, a professional AI photo sharpener can help you accomplish this work easily. And here we recommend AVCLabs PhotoPro AI which lets you do the easiest operation to make the blurry photo the clearest. Empowered by AI technology, the whole process is 100% automatic, and no fine-tuned work is needed. Besides enhancing the photo's quality, it can also enlarge photos without losing quality; colorize black and white photos in one click; fix/calibrate bad or wrong colors in the photo; accurately remove the photo's background automatically.
Key Features of AVCLabs PhotoPro AI
Make the blurred, low-res photos to high-definition
Automatically remove noise/grain from images
Upscale the image resolution without losing quality
Immediately improve your portrait photography
Quickly colorize the old black&white images
Cut out and remove the background from images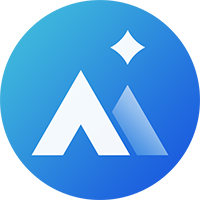 Steps to sharpen blurry photos with AVCLabs PhotoPro AI:
Step 1: Install and run AVCLabs PhotoPro AI
Install and run AVCLabs PhotoPro AI on your computer, you will see the following main interface. It is available on both Windows and Mac computers.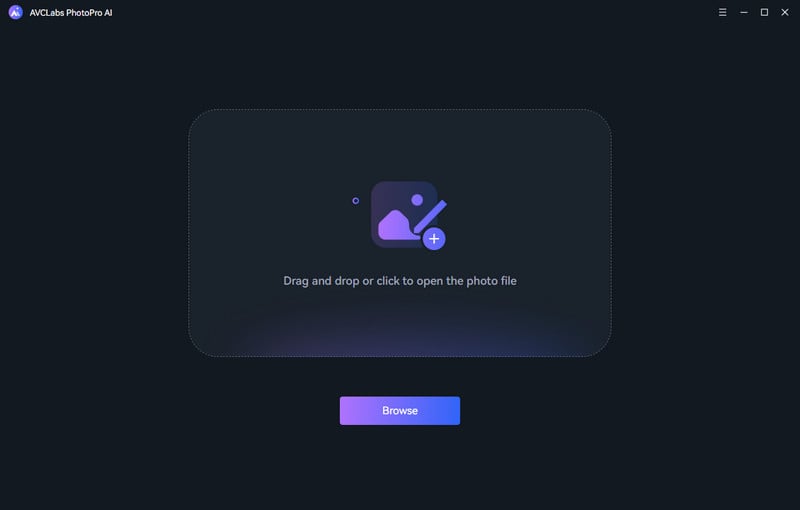 Step 2: Import the blurry photos
Click on the "Browse" button to import the blurry photos, or drag and drop to import directly.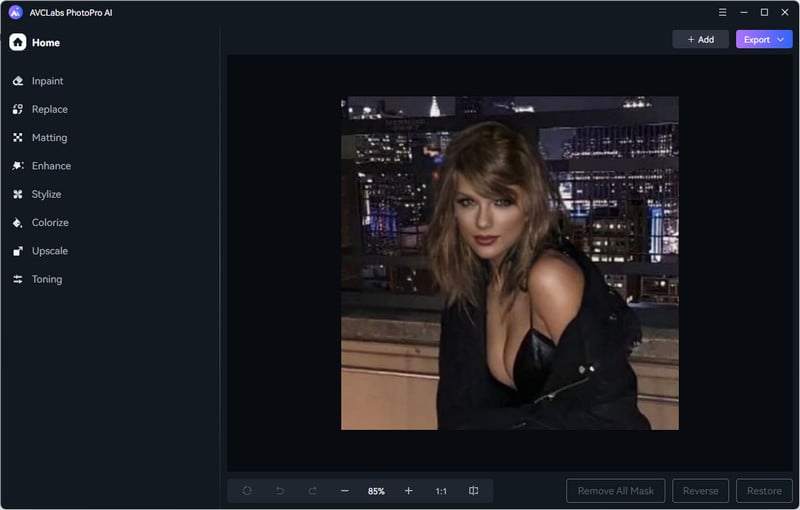 Step 3: Apply enhance AI model to start sharpening blurry photos
To sharpen blurry photos, click on the Enhance AI feature and select the SD or HD enhance model. If you are processing a blurry portrait, then it's highly recommended to check the Face Enhancement feature, for it is useful to restore facial details from blurry portrait and make it sharper. Then, click the "Apply" button to start sharpening the blurry photo.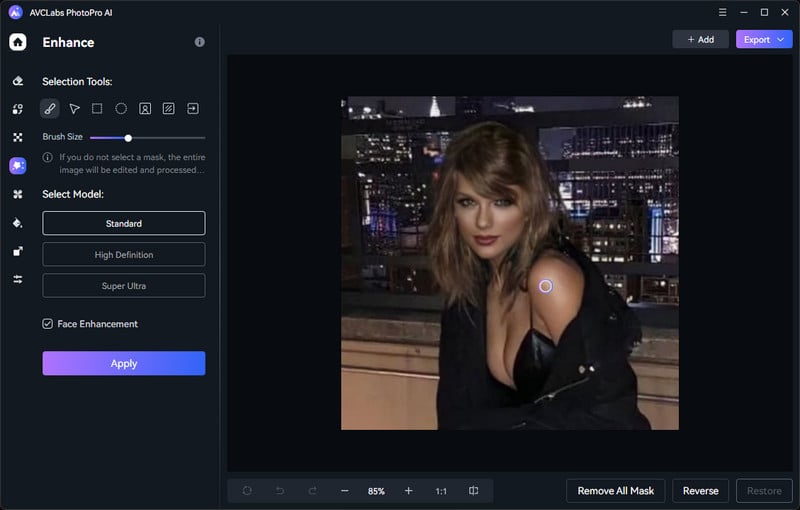 Step 4: Preview and save the sharpened photos
After the sharpening process is finished, you can visually see the comparison of the original and sharpened photos by clicking on the "Contrast" button. If you are satisfied with the effect, just click the Save button to download it to the corresponding folder.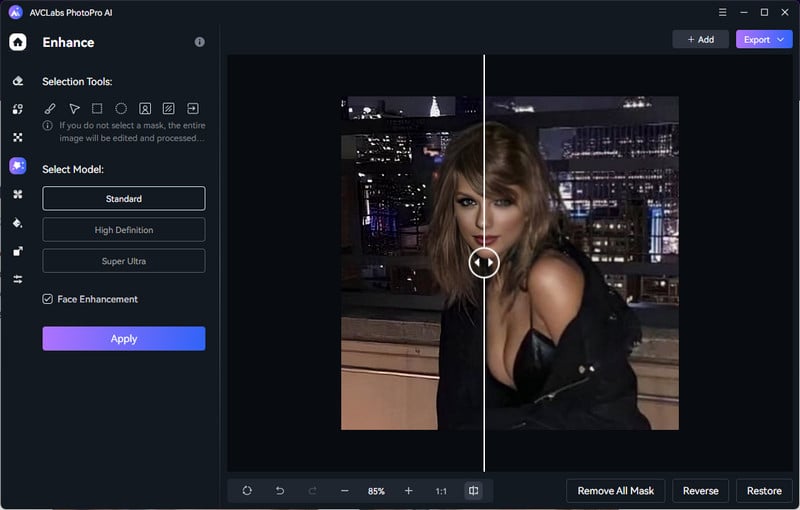 ---
Conclusion
Blurry photos are unavoidable, but they can be fixed easily as long as you use the right tool. An online free tool like AVC.AI is a good choice. While professional desktop software like AVCLabs PhotoPro AI can process more steadily and efficiently. They all offer the free-trial, so why not download and try them for free to make your blurry photos sharp and clear?
---
Related Articles