AI Upscale Videos in One Click
Since the new year is coming and families are united together, there may be some old family videos we would like to play on this special date. However, these old low-resolution videos will look blurry and bad-quality on the high-resolution monitor like 1080p, 4K, or even 8K TV. But when people tried to seek a way to upscale videos and improve overall quality, they found out that it's kind of "beyond the realm of possibility" to accomplish it — especially for those who don't know any video editing skills. It's not that easy even for professionals. But lucky for us, now AI technology is very mature and has been developed in many fields including software. So actually, using AI technology to upscale videos in one click is a possibility now.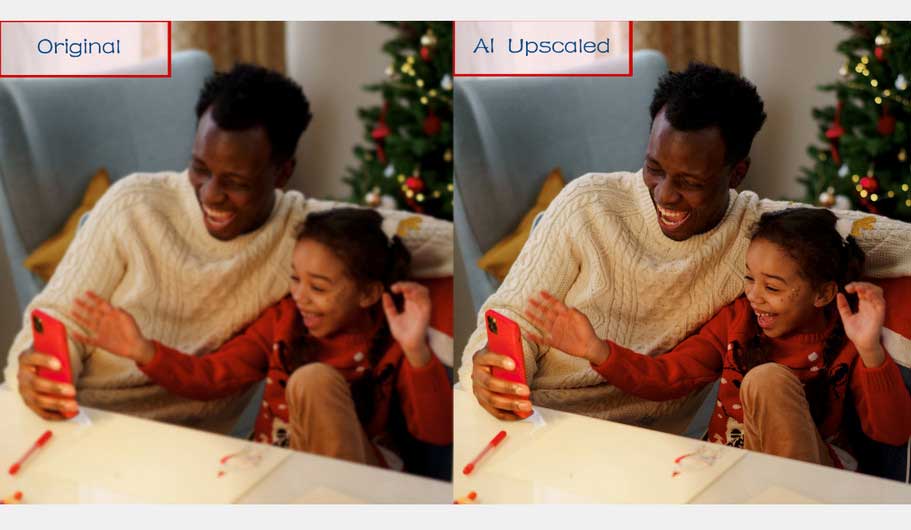 To accomplish this possibility, we need a powerful and easy-to-operate AI video upscaler — AVCLabs Video Enhancer AI. As a professional AI video quality enhancer tool, AVCLabs Video Enhancer AI can upscale video from SD to HD, HD to 4K, or 8K with one click. The enhancing process is 100% automatic without any fine-tuning.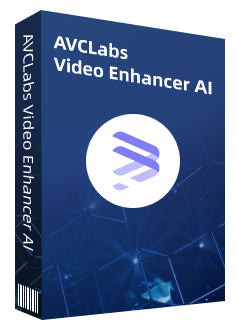 Video Enhancer AI
Improve your video quality with the power of AI
Upscale video from SD to HD, HD to 4K, or 8K
Trim your footage frame by frame to delete the unwanted part
100% automatically process the video without fine-tuning
Steps to Upscale Videos Using AVCLabs Video Enhancer AI:
Step 1:
Download and install AVCLabs Video Enhancer AI.
Firstly, you need to get the tool on your computer. You can click on the above button to download it. Before downloading, please read the system requirements of AVCLabs Video Enhancer AI carefully. You can click here to get more detailed information about the requirements.
Step 2:
Import the source video.
After installing, launch the program, and you will see the main interface. You can drag and drop or click the "Browse" button to import the source video file. AVCLabs Video Enhancer AI supports the most normal video formats like 3G2, 3GP, AVI, DIVX, FLV, F4V, M2TS, MTS, MOV, MP4, M4V, MKV, etc.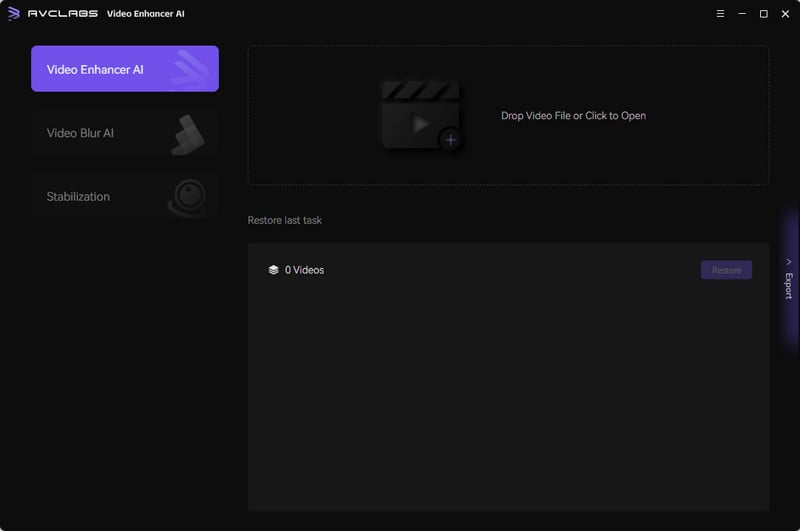 Step 3:
Set the AI Model and Resolution.
After importing the source video file, you need to set the AI Model and Resolution in the right panel. To meet the different needs of customers, the program offers different AI Models.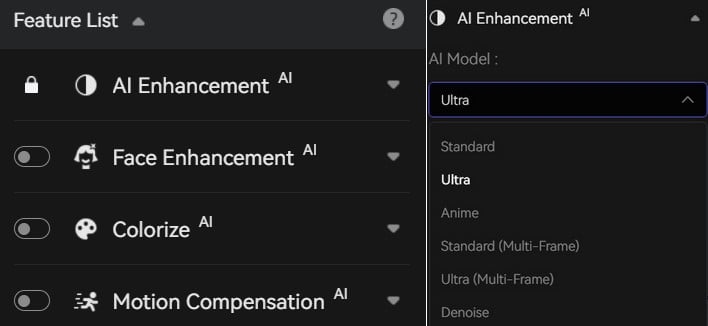 For the Resolution, AVCLabs Video Enhancer AI provides upscaling videos to 1080p, 2K, QXGA, Quad HD, WQXGA, UHD, 4K, and 8K. And the output format is MP4. Although the higher resolution will generate with better video quality, it also has side effects like the enhanced video will be very large, and the process will consume more time. So you'd better think it over before selecting the resolution.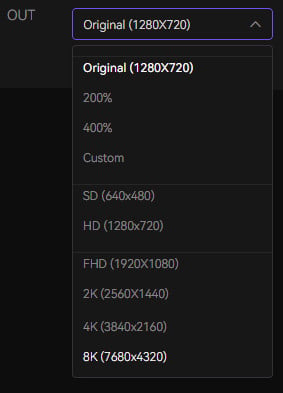 You can trim the video frame by frame or input the start and end frame manually to cut the video with the precise frames before processing. Thus, you can delete the unwanted part of the video to save processing time.

Step 5:
Start processing with one click.
After all the settings are done, you can click on Start Processing to begin enhancing your video. Now all you need to do is wait patiently for AVCLabs Video Enhancer AI to upscale the video automatically and efficiently. If you use the GPU acceleration (NVIDIA GTX 1050 Ti and higher are recommended), the processing will be much faster. During the process, you can view the original video and the upscaled one at the same time.
When it finishes processing, you can click on Open Folder to check the enhanced video.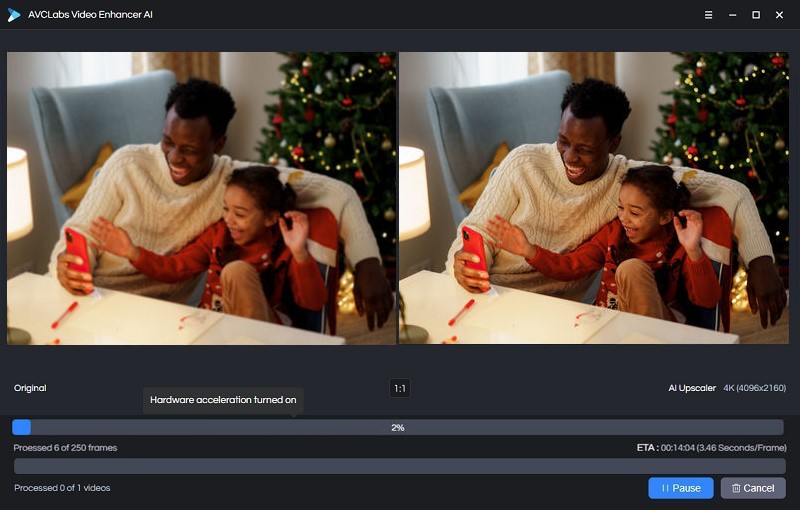 ---
Conclusion
With the help of the professional AI video enhance tool - AVCLabs Video Enhancer AI, upscale videos to get a better watching experience can be easy work to people who don't know any video editing skills. It offers you three times free none-function limitation trials, why not download and try it now?
Enhance and restore video quality
with the power of AI