Automatic Video Color Correction: How to Enhance Video Color Like a Professional
When it comes to enhancing video color, like color correction, color grading, and brightness, saturation, contrast adjusting, what firstly come to our mind are professional video editors like Adobe Premiere Pro CC, VEGAS, Pinnacle Studio, etc. Especially with the technology and network speed upgraded, our visual delight is greatly improved and becomes more particular. However, there are always exceptions. For example, you shot some beautiful scenery, animal, or portrait videos but found that the color, hue, saturation, and brightness of the videos have become poorer when looking at them on your computer or uploading them to YouTube, Vimeo.
How to correct the color of your videos to make them more realistic and natural? We already know that Adobe Premiere Pro CC is the master in video color correction, color grading, and adjusting brightness, saturation, contrast. But for beginners and semi-pros, the Automatic Video Enhancer AI is highly recommended.

1. What is Video Color Correction & Enhancement?
The color correction or enhancement is used during post-production, including video color correction and color grading. If you shot some beautiful scenery, animal, or portrait videos, when you get to post-production you might find that the video color (hue, saturation, and brightness) has changed drastically on different displays, the first thing you need to do is a color correction to make the image look as naturalistic as possible and more adaptable of the human eyes.
Color correction is the process of adjusting the basic color and white balance, exposure, and contrast to be consistent from shot to shot.
Color grading is the process after correction is done, the footage can be color graded to fine-tune the colors and create a specific look.
2. How to Do the Basic Color Correction & Enhancement?
There are a number of tools and effects that can be applied or used to help you both correct and grade your footage. If you are a mature video editor or a beginner who is willing to learn the basic skills, Adobe Premiere CC is a good place to start. Once you have an accurate sense of your monitor's color profile, you'll know that the colors you're choosing are the right ones for a natural look. If you are a beginner who has no accurate sense of color profile, Automatic Video Enhancer AI is your best alternative.
3. Why Automatic Video Enhancer AI?
1) Now, with Automatic Video Enhancer AI, color correction, tone adjustment, video denoising, deblurring, deinterlacing, debouncing, deep restoration, super-resolution, and more can be done just in one click, 100% automatically, no needing the professional skills. Beginners do not need to dive into to learn Adobe Premiere CC or other professional video editors.
2) On the contrary, although Adobe Premiere Pro CC is robust with all kinds of presets to allow uses to tune, is too complicated and a very long way to learn it. You will need to take some time to learn how to change the lighting in your scene, adjust the hue, saturation, and luminance, change the white balance and exposure, then color-correcting, and finally color grade. If you are not good at adjusting the value or parameters, the final effect is not that ideal.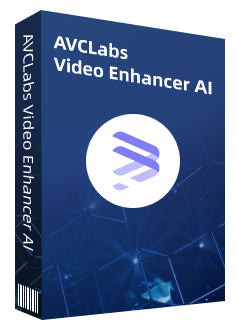 Video Enhancer AI
Improve your video quality with the power of AI
Upscale video from SD to HD, HD to 4K, or 8K
Trim your footage frame by frame to delete unwanted part
100% automatically process the video without fine-tuning
If you are ready to do color enhancement with an AI-based color tool, start with AVCLabs Video Enhancer AI to see how this Automatic Video Enhancer does the color correction automatically without fine-tunning.
How to Enhance Video Color with AVCLabs
Step 1:
Download AVCLabs Video Enhancer AI
Firstly, download and install the AVCLabs Video Enhancer AI desktop app on your computer. (Check system and hardware requirements of the program before downloading).
Launch AVCLabs Video Enhancer AI, then click the Browse button to import the videos file or drag and drop the source file(s) to the program. Here we will import a scenery video shot on Koh Samui Thailand by iPhone 7 Plus.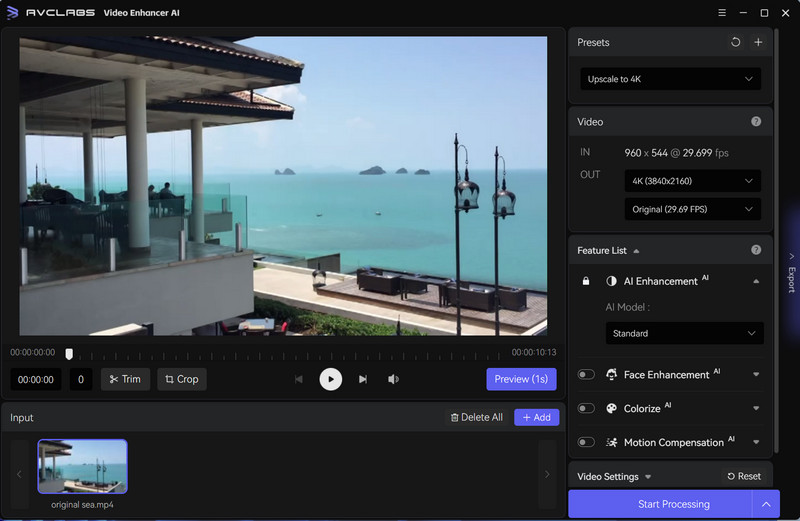 Step 3:
Choose the AI model and resolution
On the right panel of AVCLabs Video Enhancer AI, you can choose the AI Model as "Upscale" and "Multi-frame Enhance".
Note: As an AI-based application, AI processing for each frame of video is a resource-consuming task for your computer, so the system and hardware requirements for Video Enhance AI are more stringent than others.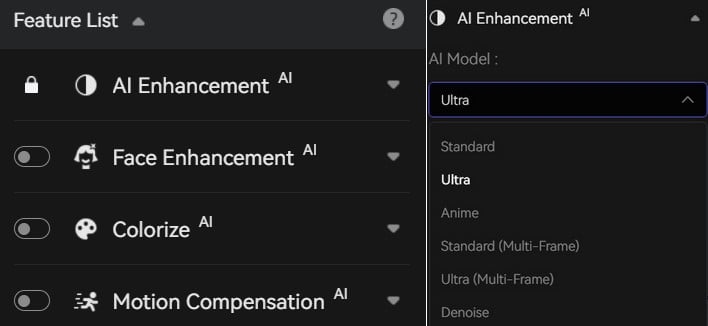 Then choose the Resolution as 720p, 1080p, 2K, QXGA, Quad HD, WQXGA, UHD, 4K, or 8K.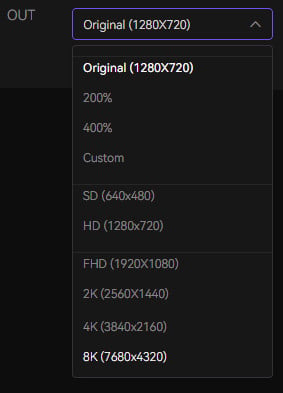 Step 3:
Start processing your videos
Finally, click the Start Processing button to start processing your videos. During the processing, you can preview to see the comparison between the original video and the AI processed one. After the processing is complete, you can open the file folder and enjoy the final video with the color enhanced.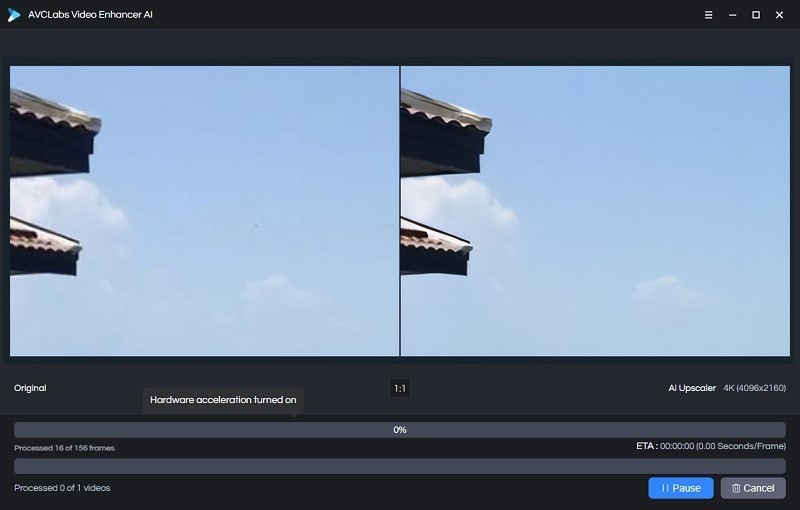 Just have a look at the video below to see how AVCLabs Video Enhancer AI does color correction.
After processing, you will find that the color of the final output video was enhanced, so it looks more naturalistic and bright than the original. What's more, you do not need to do any tune and change values during the whole process. Just add your source video and let AVCLabs Video Enhancer AI do the next steps.
Upscale video and enhance its quality
with the power of AI