Best AI Tools Collection: Covering All Your Needs to Boost Productivity
What are the best AI tools?
The practicality and importance of artificial intelligence technology speak for itself. It streamlines repetitive or intricate tasks, enhances overall efficiency, and brings convenience into our daily lives. Since the launch of ChatGPT on November 30, 2022, AI has garnered significant attention from both corporations and individuals. Notably, even widely recognized software like Photoshop continually refines and expands its AI capabilities. Concurrently, a growing number of individuals are actively seeking AI tools to boost their productivity.
This article compiles a comprehensive selection of today's top AI tools, spanning categories such as AI chatbots, AI writing assistance, AI image and video processing solutions, and more to meet your various needs.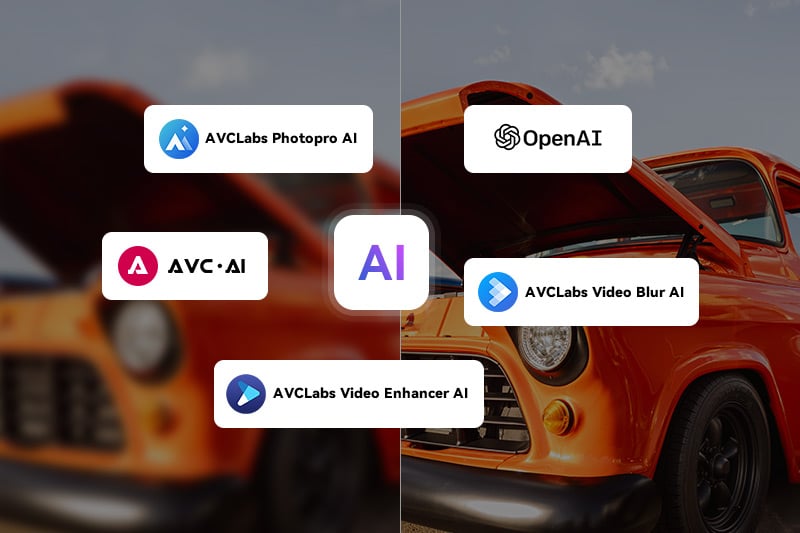 ---
Part 1: Why You Need to Learn More about AI Tools
What are AI Tools?
AI tools are software or applications powered by artificial intelligence algorithms and technologies. These tools are designed to perform tasks that typically require human intelligence, such as data analysis, natural language understanding, image recognition, and decision-making.
Why AI Tools Matter?
The significance of AI tools lies in their ability to automate and enhance various processes, leading to increased efficiency, accuracy, and innovation. As businesses and individuals face the challenges of the digital age, AI tools offer a competitive edge by streamlining operations, enabling data-driven decision-making, and unlocking new opportunities.
AI tools are particularly significant for individuals. The rapid advancement of AI technology has triggered concerns about potential job displacement. The impact of AI on the workforce and society as a whole depends on various factors, but to some extent, those repetitive and routine tasks in manufacturing, data entry, customer service, etc. are increasingly being automated and this can lead to some job displacement. However, it's essential to recognize that, before being replaced by AI directly, individuals are more likely to face fierce competition from those adept at harnessing AI tools effectively.
---
Part 2: Best AI Tools for Video Processing and Generating
1. AVCLabs Video Enhancer AI—AI Video Quality Enhancer
AVCLabs Video Enhancer AI, as its name states, is software designed to increase video quality. This software offers a range of features, including upscaling videos to 4K resolution, reducing noise, colorizing black-and-white footage, and effortlessly creating slow-motion effects with just a few simple clicks. This tool is perfect for people who want to recover old home videos or videos full of noise or pixelated.
It is easy to use without the steep learning curve, making it accessible for users with no editing experience. Additionally, AVCLabs Video Enhancer AI offers a free trial, allowing users to process three videos and explore all its features without any cost.
Compatibility: Win and macOS
Price: Free trial, 39.95$/Month, 119.95$/Year, 299.90$/Perpetual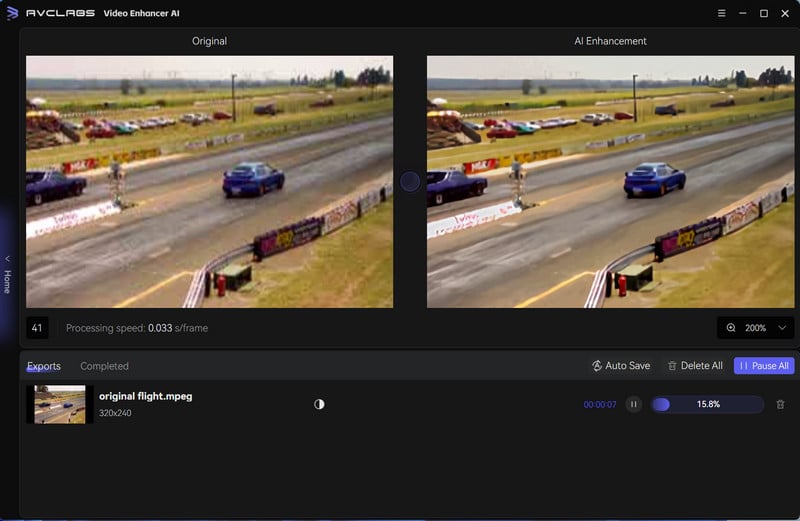 Pro Features of AVCLabs Video Enhancer AI
AI Upscale video to HD, 4K, and even 8K
Enhance video quality with multi-frame
Remove noise to make the video clearer
Recover and enhance facial details with AI
Colorize B&W videos to bring them to life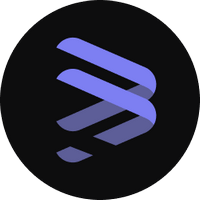 ---
2. Pictory — AI Video Generator
Pictory is a web-based AI video generator that enables you to easily create and edit high-quality videos. All you need to do is supply a script or article as your video's foundation, and AI will do the rest. It offers four main sections: script-to-video, article-to-video, video editing using text, and visuals-to-video.
Although it is effective and convenient, Pictory also has some limitations, such as sounding more robotic compared to some alternatives and potential challenges with understanding languages other than English.
Compatibility: Web-based
Price: Monthly (23$-Standard, 47$-Premium, 119$-Teams); Annual (19$- Standard, 39$-Premium, 99$-Teams)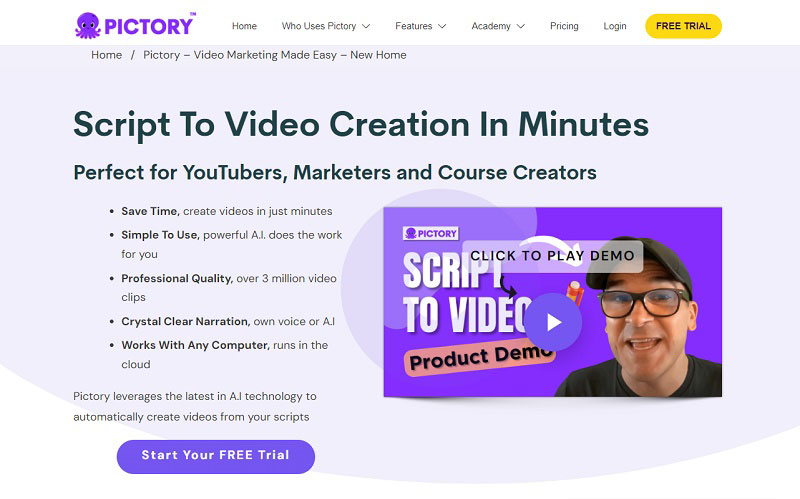 Pro Features of Pictory:
Generate easily shareable video highlight reels.
Automatically add captions and create video summaries.
Gain access to a vast library of over three million royalty-free visuals.
Customize Pictory's output to align with your specific preferences and requests.
---
3. AVCLabs Video Blur AI—AI Video Blur Tool
AVCLabs Video Blur AI, developed by AVCLabs Inc., offers a distinctive approach compared to conventional video editors. While typical editors necessitate extensive timeline editing to blur faces or parts of videos using blur filters, this AI tool simplifies the process by automatically blurring moving faces and car plates. It offers three versatile Blur modes: Background Blur, Face Blur, Fixed Blur, and License Blur, effectively catering to a wide range of video blurring needs. This tool proves particularly valuable for individuals seeking to safeguard privacy or address rights-related concerns, such as protecting identities or brands, by effortlessly blurring sensitive information within videos.
Compatibility: Win and macOS
Price: Free trial, 9.95$/Month, 19.95$/Quarter, 29.95$/Year, 69.95$/Lifetime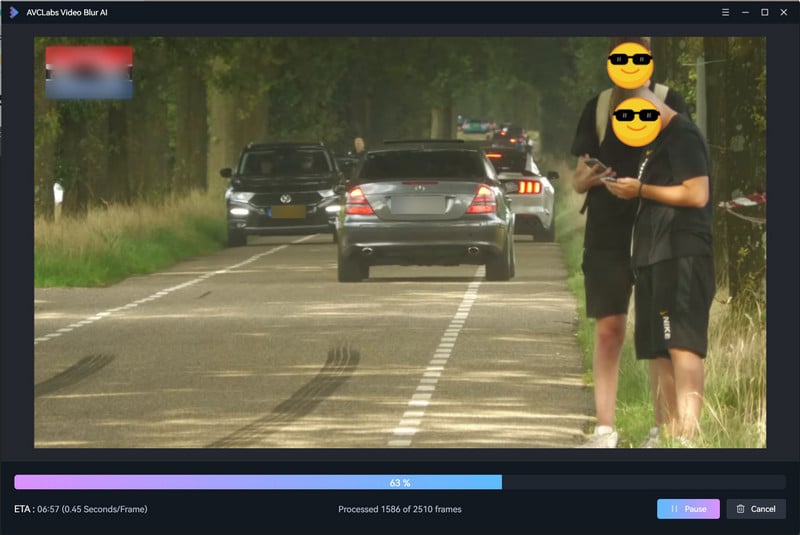 Pro Features of AVCLabs Video Blur AI
Blur any parts of your video as you wish
Blur video background and foreground with one click
Track and blur static and moving car plates automatically
Blur the detected faces selectively for single faces or multiple faces in a video
Detect, recognize, and track faces in videos for anonymization with precision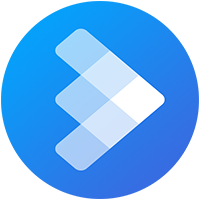 ---
4. VEED.IO — Best Online AI Tools for Video Editing
VEED.IO, to be precise, is not a pure AI tool like those previously mentioned. Instead, it's an online video editor that incorporates some AI functionalities. Similar to traditional video editors, VEED.IO handles fundamental editing tasks like cutting, trimming, merging videos, and enhancing them with effects, text, transitions, and other visually appealing elements. It boasts user-friendliness as a notable trait. What sets it apart from standard video editors are its unique capabilities, including text-to-speech conversion, audio-to-subtitle transformation, AI avatars, and video generation from text.
Compatibility: Web-based
Price: Monthly (25$-Basic, 38$-Pro, 70$-Business, 100$-Enterprise); Annual (18$-Basic, 30$-Pro, 59$-Business, 100$-Enterprise)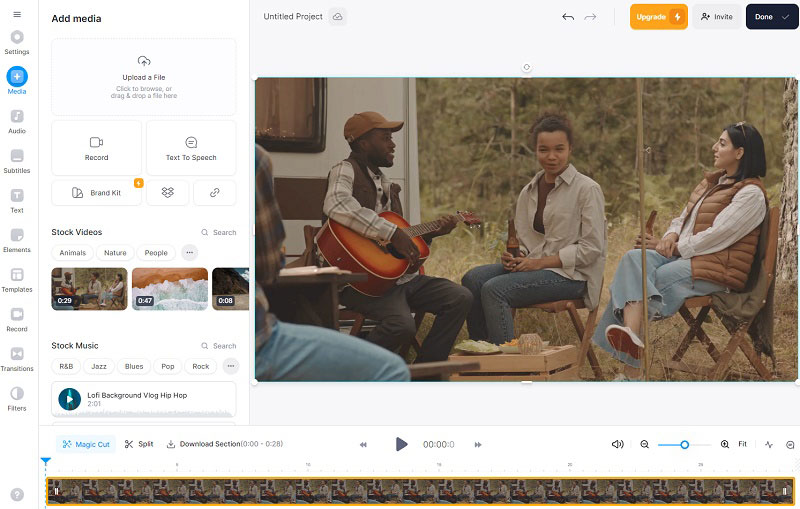 Pro Features of Veed.io
Support text-to-speech in various languages, including dialects.
Record screen, webcam, audio, and slides, and directly edit them in one place.
Create personalized AI videos with lifelike digital avatars, instant voiceovers from text, and automatic subtitles.
---
Part 3: Best AI Tools for Image Processing and Generating
1. AVCLabs PhotoPro AI—AI Image Enhancer
AVCLabs PhotoPro AI is an AI photo editor and enhancer designed to elevate the quality of your images. It offers a comprehensive range of AI models designed to tackle various image-related challenges, including Inpaint AI, Matting AI, Enhance AI, Stylize, Colorize, Upsale, and AI Color Calibration. Different from other AI image enhancement tools that can only process the whole image, this AI tool allows users to selectively enhance or colorize specific portions of an image using its set of quick selection tools.
While all its models excel in image processing, the Upscale model particularly shines. However, the stability of the Inpaint AI function could be improved. If your objective is to remove watermarks or unwanted objects from images, consider using its online counterpart, AVC.AI, which offers a free trial with enough credits.
Compatibility: Win and macOS
Price: Free trial, 39.95 $/ Month, 89.95$/Year, 169.90$/Perpetual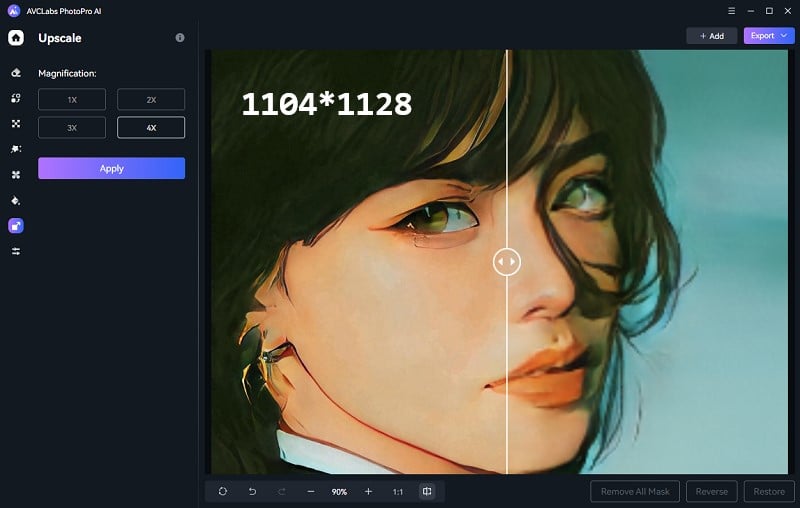 Pro Features of AVCLabs PhotoPro AI
Convert black-and-white images into color
Enhance photo quality to remove noise, pixelation, and blurriness
Remove unwanted objects, people, and watermarks
Change the style of the image to create a unique look
Upscale photos up to 3x, 4x without losing quality
Erase the background, change its color, and customize it with other pictures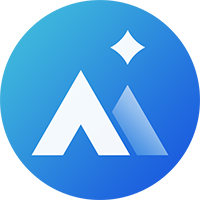 ---
2. NightCafe— AI Image Generator
When it comes to AI image generators, many people might think about Midjourney. It is indeed an excellent choice. But to be honest, the process of using Midjourney can be considered somewhat intricate compared to other available AI image generators. Among the alternatives, NightCafe stands out as a strong performer. It offers access to a range of AI algorithms right within the app, including DALL-E 2 and Stable Diffusion. Users can benefit from a daily 5-credit top-up and even earn additional free credits by achieving badges.
NightCafe currently supports the generation of art solely through text prompts, unlike some AI image generators that allow the transformation of existing images into various artistic styles. Additionally, there may be limitations imposed by prohibited words, which can influence the diversity of generated results.
Compatibility: Web-based, tablet and mobile friendly
Price: credit-based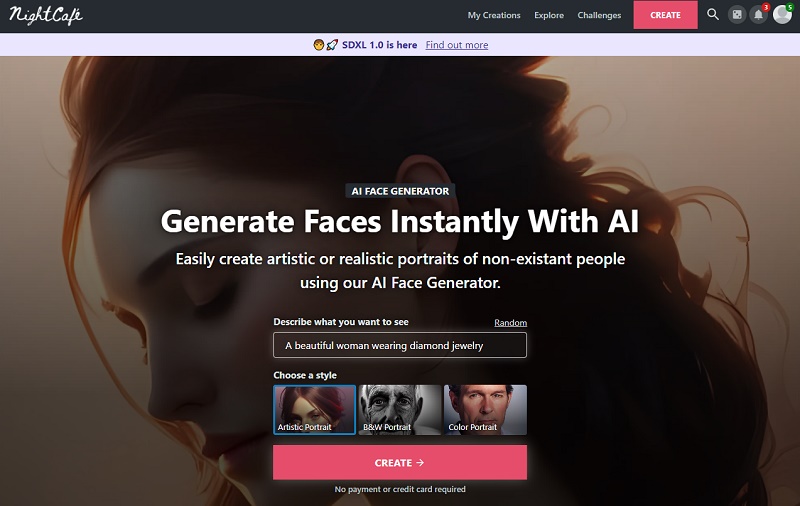 Pro Features of NightCafe
It has strong community attributes and you can also create together with your friends.
Preset plenty of styles like Artistic Portrait, Photo, Dark Fantasy, Modern Comic, Pop Art, and more.
Provides a variety of models for users to choose from, including Stable Diffusion, OpenAI DALL-E 2, Coherent (CLIP-Guided Diffusion), and more.
---
Part 4: Best AI Tools for Content Creation
1. Jasper — AI Writing Tool
Jasper is an advanced AI writing assistant designed to generate creative and engaging content on demand. Whether you need well-crafted social media posts, compelling tweets, informative blog posts, or imaginative short stories, Jasper has got you covered. This AI writer can browse the web in real-time for the latest information from across the internet, ensuring that the content it generates is not only fresh but also relevant.
Compatibility: Web-based
Price: Business- Contact with sales; Creator- $49 per month for one user, billed annually; Teams-$125 per month for three users, billed annually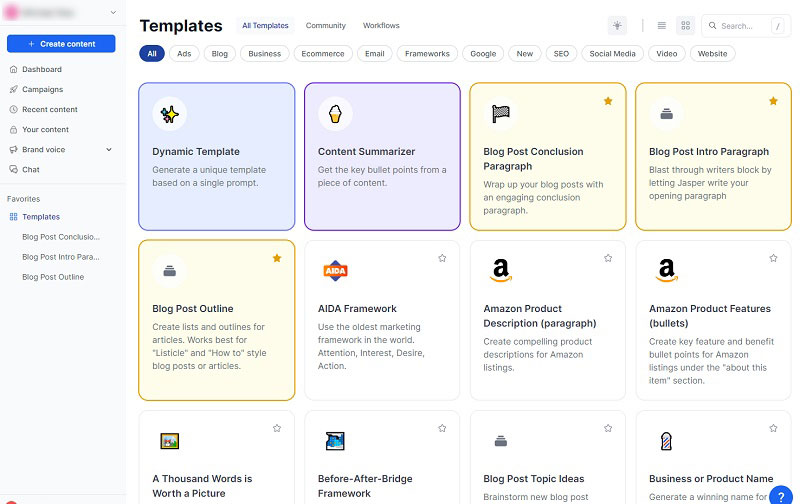 Pro Features of Jasper
It packs dozens of templates to help you get started.
Allows to connect Jasper to thousands of other apps using Zapier.
Tailor your responses to any kind of tone, including professional, academic, or technical writing.
---
2. ChatGPT — Best AI ChatBot
ChatGPT can be said to be the most well-known AI chatbot. It is an advanced AI language model developed by OpenAI. It's designed to engage in natural and informative conversations with users, making it a versatile tool for a wide range of applications. What you can do with ChatGPT is more than you think, it can engage in conversation, explain complex topics, assist in research, create content, and even generate code.
While ChatGPT remains a valuable and comprehensive AI tool, it's important to note that its knowledge base was last updated in September 2021 for free users of GPT-3.5.
Compatibility: Web-based, tablet and mobile friendly
Price: Free for GPT-3.5, $20/Month for Plus (GPT-4)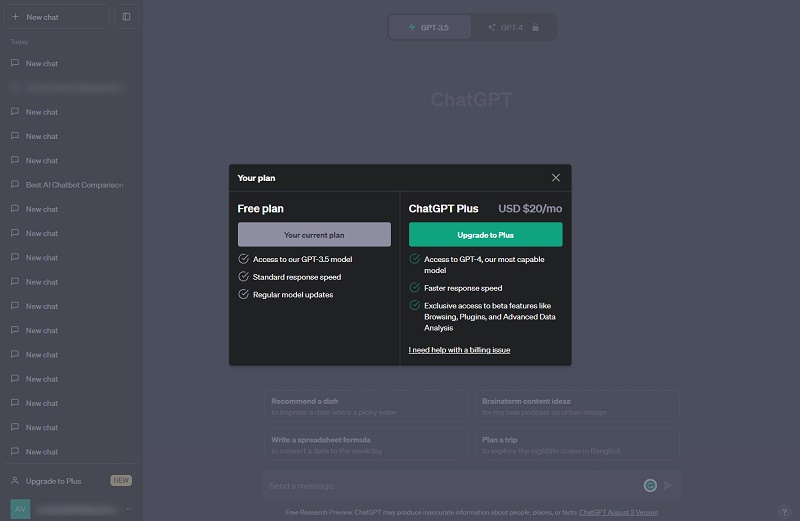 Pro Features of ChatGPT
Facilitates communication in numerous languages.
Boasts an extensive knowledge base encompassing various industries and subjects.
Sustains conversation context, resulting in responses that are coherent and contextually pertinent.
---
3. Bing Chat— Best ChatGPT Alternative
Bing Chat, developed by Microsoft, is a free AI Chatbot that stands as a noteworthy alternative to ChatGPT. It leverages the GPT-4 language model, offering users a chance to experience the capabilities of GPT-4 at no cost. While Bing Chat shares similarities with ChatGPT and other chatbots, it distinguishes itself by supporting input images and ensuring answer accuracy through careful sourcing. However, it's important to note that Bing Chat imposes a limit of 30 replies per conversation (although it rarely reaches that threshold) and may not exhibit the same level of context awareness as ChatGPT.
Compatibility: Web-based
Price: Free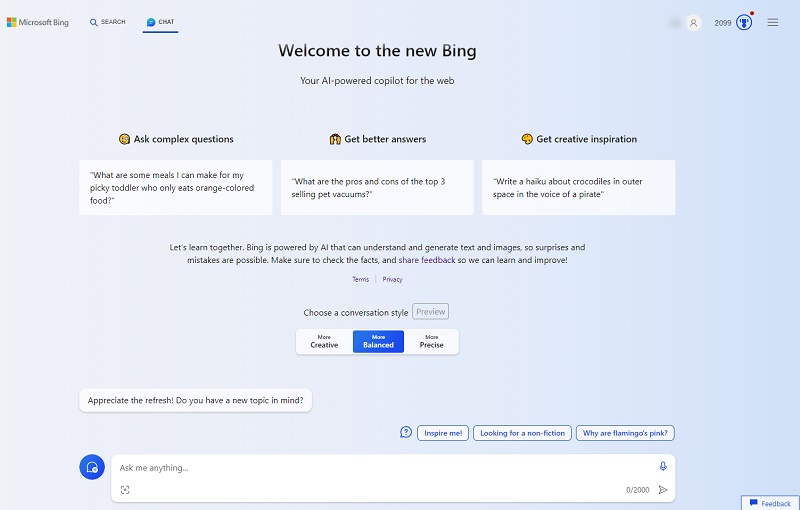 Pro Features of Bing Chat
Up-to-date Information.
Allows to upload images from their devices, capture photos in real time, or paste image links.
Answers are associated with their sources, making it convenient for users to verify their accuracy
---
4. Grammarly —Best AI Tools for Text Enhancement
Grammarly is highly recommended to everyone who needs to write articles or create any kind of content. To get started, simply search for "Grammarly" in the Google Play Store and install the extension. When you write with the above recommended AI tools on the website, Grammarly will detect spelling, grammar, punctuation errors, and more in real-time, and then you can revise them with one click, which greatly increases the quality of your content, saving you lots of time and boosting productivity effectively.
Compatibility: Web-based, Win, macOS, mobile
Price: Free
Pro Features of Grammarly
Instantly rectify text errors with a single click.
Offer recommendations spanning from grammar and spelling to style and tone.
Operates wherever you work, encompassing websites, desktop applications, iPhone, iPad, and Android devices.
---
Conclusion:
As AI technology continues to advance and shape industries, the right choice of AI tools can be a transformative force for individuals and organizations alike. By understanding your specific needs, evaluating tools effectively, and implementing them thoughtfully, you can harness the full potential of AI to drive innovation, efficiency, and success in your endeavors. Embrace the power of AI tools, and stay ahead in the age of intelligence.
---
Related Articles