Denoise Photo: How to Remove Noise from Photo
It is inevitable to have digital noise when shooting photos by camera or mobile phone. Especially there is low light in shooting or a high ISO setting on your camera. What can we do to reduce or remove digital noise from photos? In pre-production, you can choose a better camera, and ensure full exposure to avoid the noise as possible as you can. If it doesn't work, you can also utilize the photo-editing software in post-production to reduce or remove noise from photos flawlessly.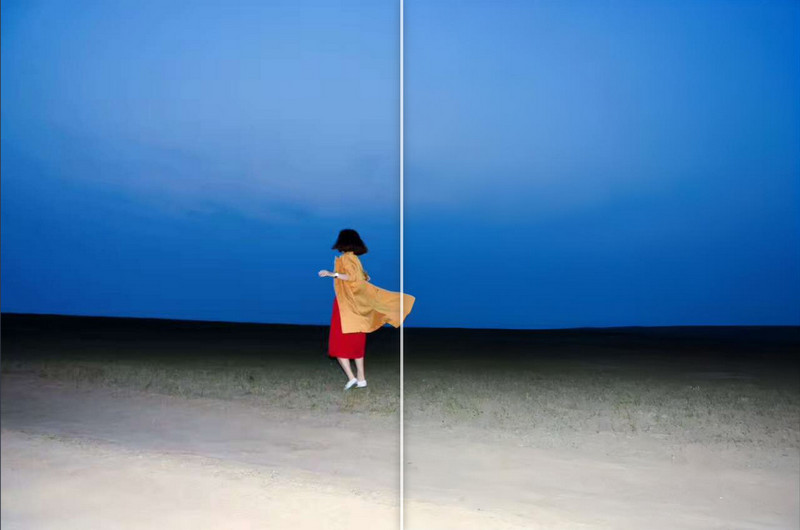 Thankfully, there are tons of applications that can help you reduce or remove noise from photos, manually or fully automated. The traditional photo-editing software allows you to make subtle tweaks in color or saturation with the built-in filters, and remove noise or artifacts with the advanced options. Everything is under your fingers. In this article, we will introduce some of the different and simple methods to denoise photos. Let's look at how to do it to turn the laborious functions performed with just a tap of a button.
As we all know, Adobe Photoshop is one of the most advanced and professional applications that give users a lot more versatility and refinement, so it is time-consuming to dive into learning how to reduce noise. Now, thanks to the AI algorithm, denoise photos or images can be done in a few seconds. As an online photo quality enhancement tool, AI Image Enhancer can 100% automatically remove noise and grain from your photo, including portraiture, landscapes, creatures, fashion, architecture, nature, and black and white photographs, without any hassle, as well as to enlarge photos by up to 1x, 2x, 4x without losing any quality. What's more, you can use this online photo denoiser with no need to sign up and log in.
Tutorial on How to Remove Noise Online
1. Open site https://enhance.avclabs.com on your computer, mobile phone, or tablet. Before starting, please make sure that you have good internet condition.
2. Click the + Select Image button to upload a picture from your device.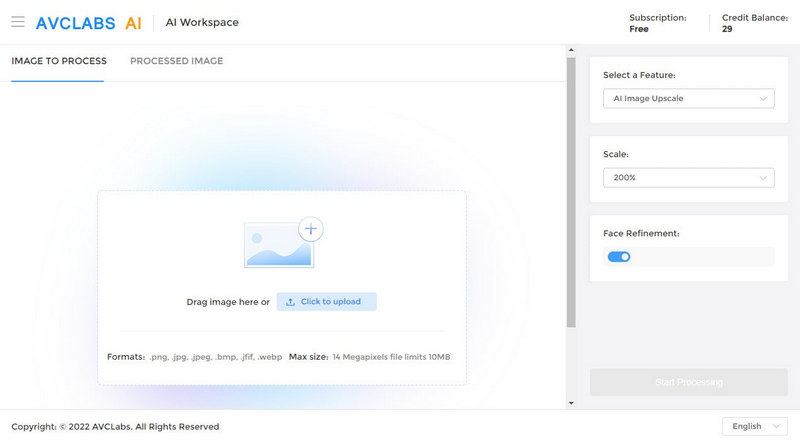 Note: The web version supports processing one picture at a time. If you have multiple pictures to be done, go to the desktop version.
3.In the right pane, choose Photo Enhance as the AI Model, and "Enlargement factors to 1x, 2x, 4x.
Tips: It also supports removing background from an image. To do this, you can choose the AI model as Remove Background.
4. In the lower-left corner, click the Start button to start processing a photo. The process will be completed in a few seconds to 1 minute. After completed, you can preview the final result to see if it removed noise from the photo, if not, you can reset the enlargement factors.
5. Finally, you can click the Download button to download the denoised photo.
After trying the online photo denoiser, you will find that it is the easiest way to remove or reduce photo noise. This web application can be used by anyone who has access to the web browser and will not be restricted by the hardware requirements of the device on which they run. Easy-to-use, available for all platforms, no complicated functionality, and working as desired as you expect, but the drawbacks are not supporting processing pictures in batch and not too much stable if there is a poor internet connection. If there is no need to process multiple pictures and has a good internet connection, this online tool is a good choice for you. It is applicable in situations where you need to perform tasks quickly over the internet.
Why Choose Client Version of Video Enhancer AI over the Online One?
However, if you have large collections of photos to be noise removed in bulk, just try the stable client version of AVCLabs Photo Enhancer AI. The client version covers all features of the online one, and it runs more stably and has no unexpected errors.
Moreover, this application also allows you to crop images to delete unwanted parts or edges. With the combination of AI technology and Graphic Cards, the client version is capable of processing pictures in batch with greatly improved performance, and it is more suitable for time-consuming tasks, and can support full features even when it is offline.
If you take intellectual property security especially seriously then the desktop app is the way to go. Considering that when you're on the web browser, practically everything you do is tracked by others in some way, the desktop app is more secure in that regard.
Let's look at how to remove photo noise with AVCLabs Photo Enhancer AI.
Step 1:
Download the Application
You can download the desktop app of AVCLabs Photo Enhancer AI. Please make sure that your computer is running Windows 7 (64bit only ) and above.
Note: AVCLabs Photo Enhancer AI can run in CPU mode, but this is a little bit time-consuming. So it would be much faster if your computer has the NVIDIA Graphics Cards (GTX 745 and higher) installed.
After the installation is completed, launch application and you will see the clean interface as shown below. You can click the blue Browse button and select one or multiple photos from the local drive. Then selected photo(s) will be shown in the bottom pane.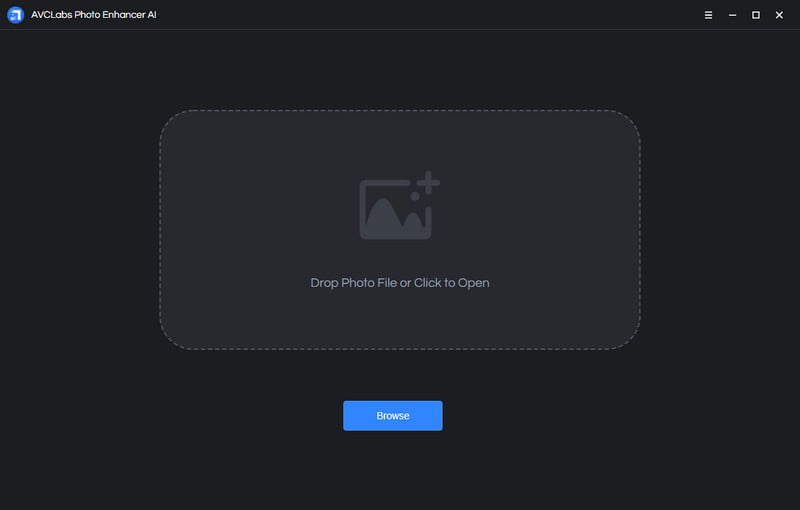 Step 3:
Choose AI Feature and Enlargement Factor
At the right pane of the application, you can choose AI Feature and enlargement factor. If your computer has dedicated NVIDIA graphic cards (GTX 745 and higher), you can choose "Ultra" as the AI Upscaler to process the images faster with improve performance, as well as keep the great details and the best quality.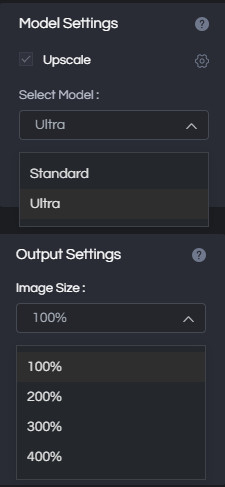 If your computer has NO NVIDIA graphic cards, the application can also run in CPU mode, but then the processing time will double or more times. So you can choose "Standrad" as the AI Upscaler.
Then you can choose the enlargement factor as 100%, 200%, 300%, 400%.
Step 4:
Crop or Preview the Photo
Before starting processing, you can click the little square icon to crop the image by adjusting the image coordinate to delete the unwanted part. You can also change the Aspect Ratio before applying this effect.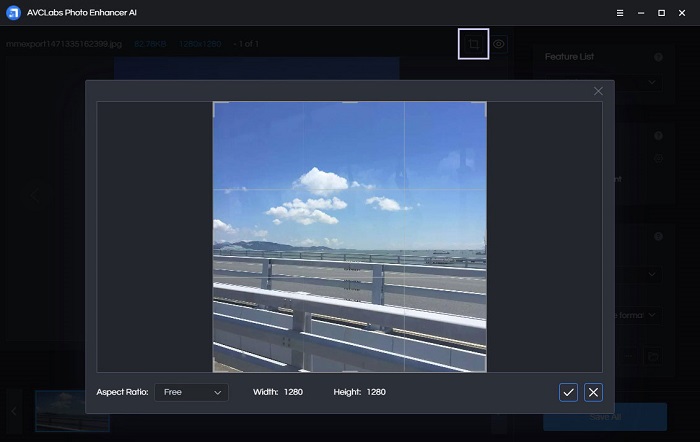 Or click the littel eye icon to preview the comparison between the original and AI processed images. If you are satisfied with the processed result, you can go on.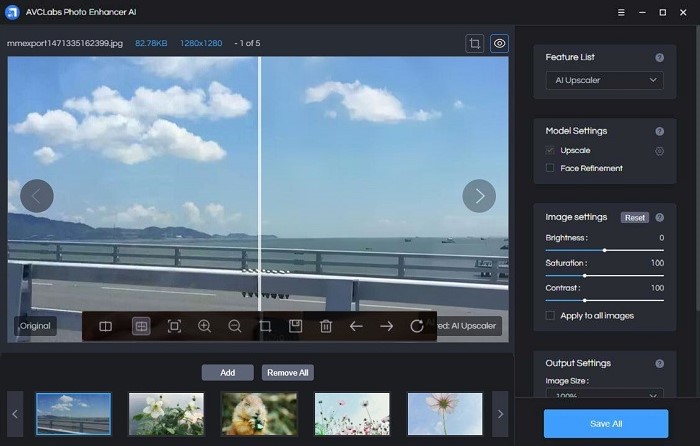 Step 5:
Start Processing the Photos
After all things are ready, you can click the "Save All" button to start processing the photos you uploaded. AVCLabs Photo Enhancer AI will 100% automatically remove or reduce the noise from photos.
During the processing time, you can stand up to have a cup of coffee or do something else.
After the processing is completed, a prompt will appear where you can click the "Open Output Directory" to locate the final photos processed by AI.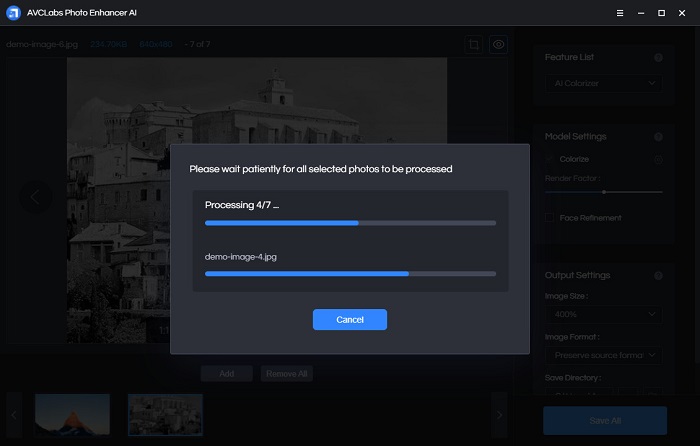 With Photo Enhancer AI, the color noise, luminance noise, artifacts, etc can be reduced or even removed to the max, and keep as much image detail as possible. This is a good reason to choose AI-powered photo editing software. With machine learning, you can be focused on workflow with the tap of a button rather than spending too much time on the tedious manual tasks in editing apps.
Conclusion
AVCLabs Photo Enhancer AI should be a perfect choice for designers, photographers, photo editors. It can be used as a standalone photo editing software or collaborate with Photoshop or other traditional photo editing software to make your creation more effective and time-saving.
The web version can be accessed by simply going to its URL. This makes it quick and easy to start processing the photo whenever you need to. There are no big files on your hard drive taking up storage space and you can access it from any device. However, this method is highly dependent on the internet. If there is no reliable internet connection, the web application is naturally slower in comparison to the desktop equivalents. What's more, the web version does not support allowing you to choose the output format and process photos in batch. By comparison, the desktop version of AVCLabs Photo Enhancer AI is your first choice. The desktop one has undoubtedly better performance. The same operations are completed faster and the range of features is often larger.
Enhance and improve photo quality
with the power of AI