AI Enlarge Image: Enlarge Photos & Images successfully without Sacrificing the Quality
How do you successfully engage an average image into a high-quality one? There are many strategies to achieve, but an AI image enlarger is best for working on low-quality images.
There are some moments we need to enlarge photos, for banners of the wedding day or parties and other fun events, for posters, for wall art for home, for printing, for wallpapers, for the website to make images attractive look. There are many factors you need to consider, including ratios, color profiles, quality, and resolution. But the first thing you need to do is to find an image enlarger, which can handle everything for you. If you don't know how to use Photoshop to enlarge images with quality kept, an AI image enlarger is the best alternative. The AI image enlarger, as a combination of deep convolutional neural networks, is able to enlarge image without losing quality of it.
In this article, we will give you a comprehensive guide on how to AI enlarge a photo online for free, and enlarge photos in bulk with AI image enlarging desktop software.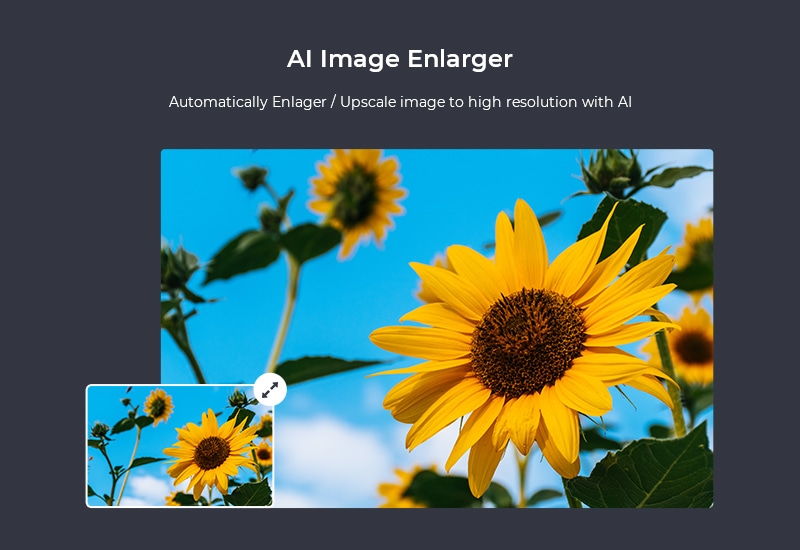 Part 1: Enlarge Images & Photos Online for Free
Online AI Image Enlager is flexible to use on multiple platforms. It delivers satisfactory results with consumes the minimum resources of your computer. The online AI image enlarger uses the latest deep convolutional neural networks to intelligently remove noise and grain from images. This allows the images to be enlarged without losing quality. Let's look at how to use online AI Image Enlager to enlarge images & photos without sacrificing quality.
1. AVCLabs Online Image Enlarger AI
AVCLabs Online Image Enlarger AI is powered by AI enlarger technology, can enlarge the image by x2, x4 without losing quality, and produce the clearest visual effect, without losing details. The free trial version allows you to enlarge 10 images for free. This online AI image enlarger can also automatically remove noise/grain from the image and restore details automatically to the image you upload. With AVCLabs Online Image Enlarger AI, you can easily enlarge the image with simple 3 steps.
Step 1:
Upload image to AVCLabs.
Step 2:
Choose "Photo Enhance" as the AI model and x2, x4 as the enlargement factors.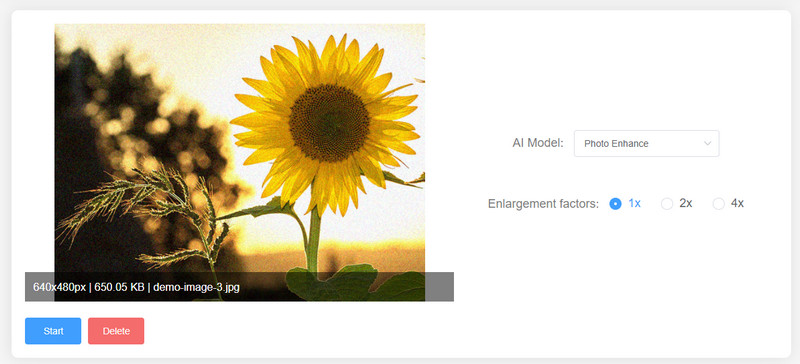 Step 3:
Click the "Start" button to start AI enlarging the image.
After processing, you can click the "Download" button to download the AI enlarge image to your local drive.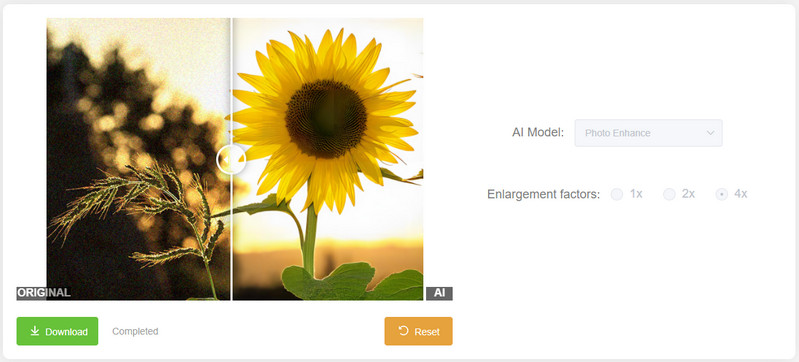 2. Bigjpg AI Image Enlarger
Bigjpg AI Image Enlarger also uses neural networks with a special algorithm adjusted specifically for the images' lines and color. It allows you to customize the configurations like image type, upscaling factor, and noise reduction. We choose the Photo as image type, 4x as the upscaling factor, and High as the noise reduction, but the output quality is inferior to AVCLabs.

3. Imglarger AI Image Enlarger
Imglarger AI Image Enlarger could upscale image size and increase resolution without quality loss. Improve image quality by reducing noises and sharpening. We upload the same demo image, choose High quality, and x4 as the enlarging factors, the AI enlarged image was good but without all noise removed.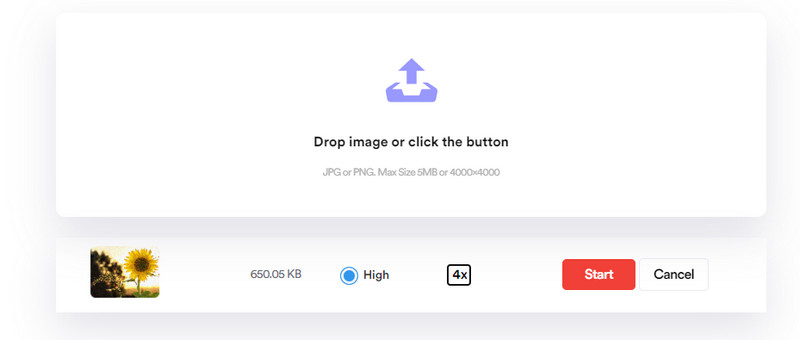 Verdict:
After the comparison among AVCLabs Online Image Enlarger AI, Bigjpg AI Image Enlarger, and Imglarger AI Image Enlarger, we could find that AVCLabs Online Image Enlarger AI delivers the best image quality, enlarging the image by x4, with all noise/grain removed.
Part 2: Enlarge Images & Photos with Desktop AI Image Enlarger
Having tried the online AI image enlarger but found that it heavily depends on the internet condition, and some of them do not support AI enlarging images in batch. In this circumstance, you can try the desktop version of the AI image enlarger. AVCLabs Photo Enhancer AI is such kind of desktop AI image enlarger which is the all-in-one AI image enlarger, AI image upscaler, AI image denoiser, AI image colorizer, AI background removal, AI image calibration, and AI face retouching tool. Let's look at how to use AVCLabs Photo Enhancer AI to AI enlarge images by x2, x4 with the best quality kept and all image details enhanced.
Features of AVCLabs Photo Enhancer AI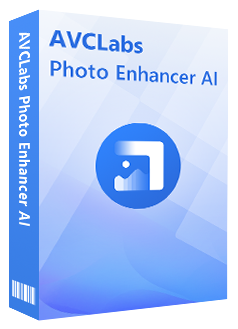 Photo Enhancer AI
Automatically remove noise/grain from images
Upscale the image resolution without losing quality
Make the blurred, low-quality photos to high-definition
Immediately improve your portrait photography
Quickly colorize the old black&white images
Remove the background from images with one-touch
Step 1:
Import images to AVCLabs Photo Enhancer AI
Click the "Browse" button to import images from your local drive in batch.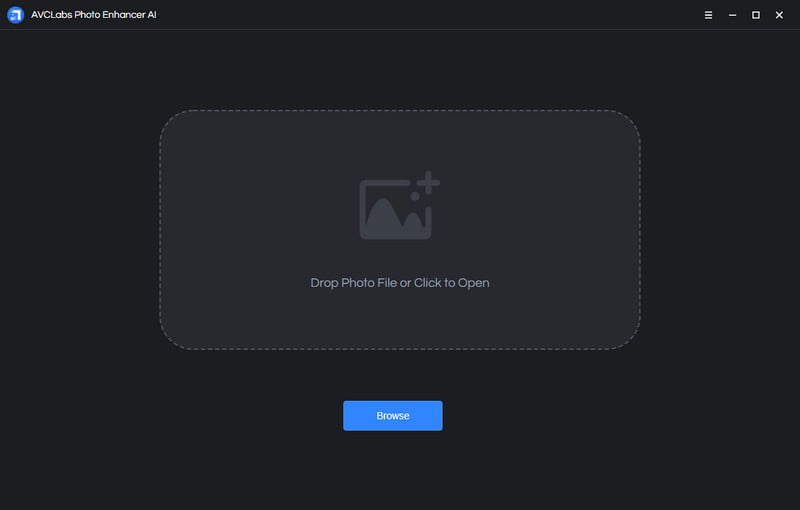 Step 2:
Choose AI feature and enlarging factor
In the upper right pannel of AVCLabs Photo Enhancer AI, you can choose the feature of "AI Upscaler", the enlarging factor as "400%".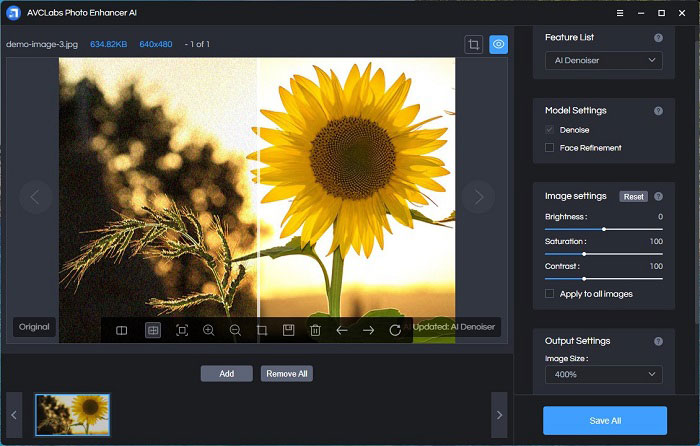 Step 3:
Start AI enlerging images
Finally, click the "Save All" button to start AI enlarging images in bulk. After processing, you can open the output directory to enjoy the AI enlarged in a better view. Please note that the free trial version will saved the images with a watermark. You can purchase the full version to remove the watermark.
Enhance and restore photo quality
with the power of AI