Best 3 Solutions to Enhance Video Quality
After we took videos, we can find some videos are of poor quality, such as blurred, crappy, foggy, etc. Are there any ways of improving the poor quality of these video clips that have been previously recorded? Here are some possible solutions.
Solution 1: Try professional video quality enhancer AI tool
Video enhancers tools can optimize the brightness, saturation, and contrast of videos to get a better result. And now the AI technology on video enhancing bring great progress. The AVCLabs Video Enhancer AI is the one you can not miss.
Features of AVCLabs Video Enhancer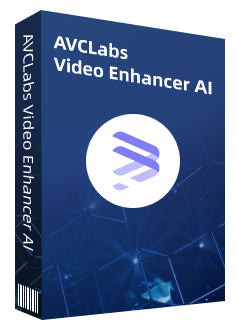 Video Enhancer AI
Improve your video quality with the power of AI
Upscale video from SD to HD, HD to 4K, or 8K
Trim your footage by frames to delete the unwanted part
100% automatically process the video without fine-tuning
How to improve the quality of a video that has been in poor quality
Step 1:
Download and install.
At first, please click the above button to download the AVCLabs Video Enhancer AI program on your computer. The file size is a little large so it needs a few minutes to download the file. Please be patient. And high-end dedicated graphics cards (NVIDIA GTX 1050 Ti and upper) are recommended strongly for GPU acceleration when processing the videos in high efficiency and saving time. Please click here for more system requirements of AVCLabs Video Enhancer AI.
Step 2:
Launch the program and import the video.
After installing, launch Video Enhancer AI and you will see the main interface like below.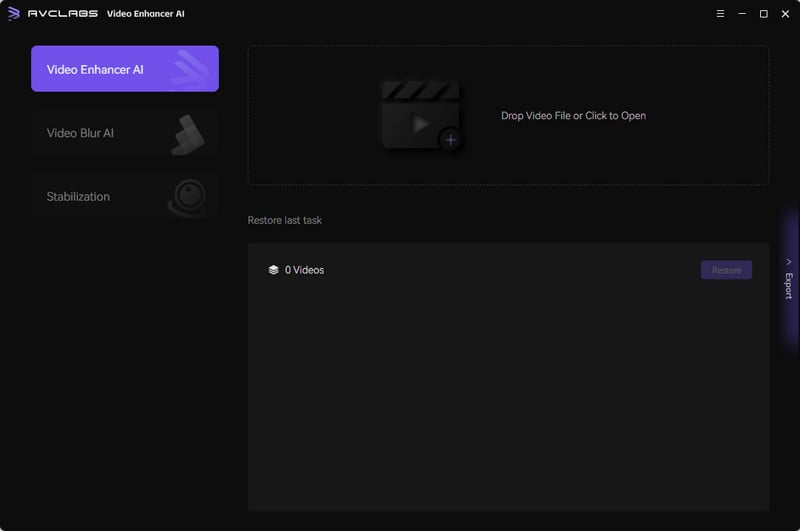 You can click the Browse button or click the Menu button

on the top-right corner and choose "Open Video File...". Surly you can also drag and drop the video file to the square area to open the video in the program directly.
After loading the video files, you could view the setting options to enhance your video quality on the main window like the below image.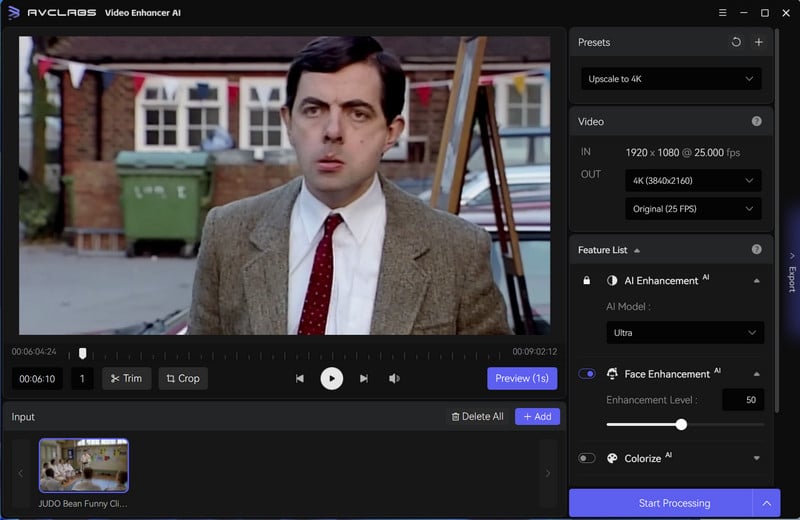 Choose an AI model and set the size, etc.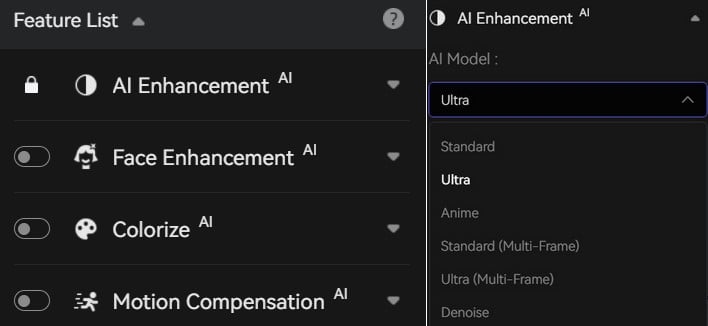 Step 4:
Enhance the video quality with AI
After the simple settings, click Start Processing. The program will start to enhance the quality of movies. On the processing interface, you can see the original and processed video in a comparing-view. You also can see the progress bar, processing time, and the use of GPU.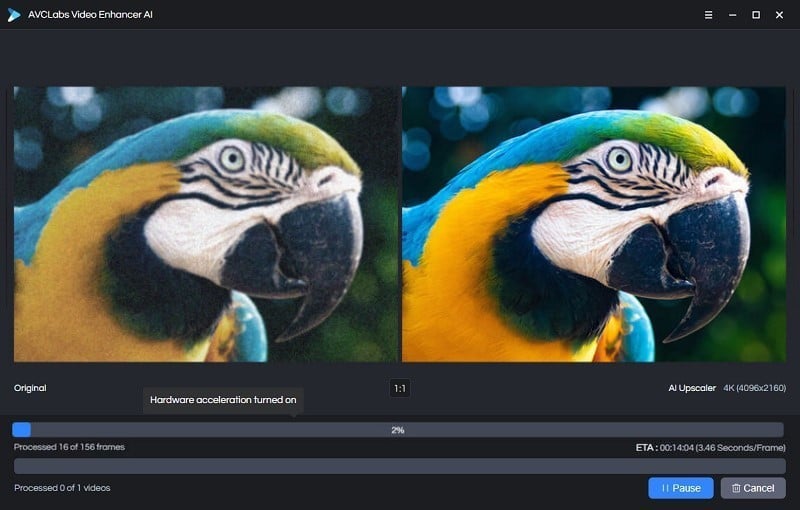 After the processing is completed, you can click "Open Folder" to check the enhanced video. With this AI-based video enhancer, you can get better video quality and bring you a satisfactory result. And all the enhanced work is done by AI automatically so you are not required any skill.
---
Solution 2: Get help from video editing tools
Video editor tools can also enable you to improve the quality of a video. These applications allow you to crop, rotate, edit, zoom video clips, change the brightness, saturation, and contrast. Among these tools, Premiere Pro, available on Windows and macOS, might be the most famous one. But it will also be more challenging to enhance video via its complex workflows and diverse editing options. This video enhancement software requires more skills to edit the movie so as to improve the peak quality.
---
Solution 3: Convert video to another format such as MP4 with H.624 codec
Another way to enhance video quality is by converting it to a much stable video format that is often used in recording and distributing high-definition video. When your video was converted with this format, its quality gets stable even after it was uploaded on the World Wide Web. Plus, this format will also make the video clip ready to be burned on a DVD for later usage. You can try Any Video Converter. It is a comprehensive video conversion program that lets you convert any video you have stored on your hard drive to a more stable format.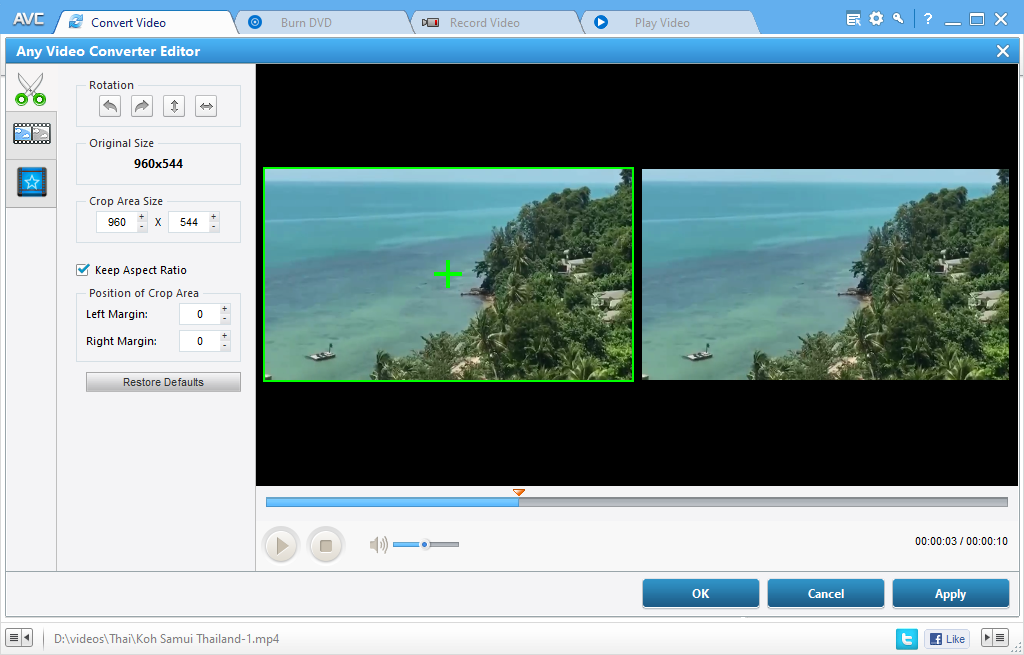 ---
Conclusion
The quality of a video is a critical point for the audience's perception and better experience and the solutions that are shown above in fact perform well in enhancing the video quality. If you are not familiar with video editing, the AI Enhancer is the best choice no-doubtlessly. Since it provides a none-function limitation trial, why not have a try?
Enhance and restore video quality
with the power of AI